"If it weren't so enjoyable, one might be tempted to call it opera" – so said theatre critic Brooks Atkinson re-assessing Carousel some years after its first premiere. This new Opera North production of Carousel, co-produced with Théâtre du Châtelet, Paris, and directed by Jo Davies, revives the second production in Richard Rodgers and Hammerstein's epic 17-year partnership – recently voted as the best musical of the 20th century by Time Magazine and Richard Rodgers' personal favourite, declaring the score "more satisfying than any I've ever written".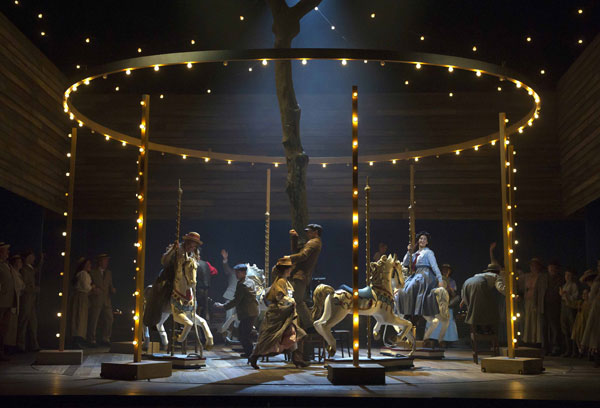 Carousel first premiered on Broadway in April 1945, during the final months of World War II, and with songs such as If I Loved You and You'll Never Walk Alone, it captured the mood of a people mourning the loss of husbands and lovers – fathers some would never know or remember. Reuniting director Robert Mamoulian and choreographer Agnes de Mille, although it was never as commercially successful as Rodgers and Hammerstein's first stage production Oklahoma! a few years earlier, Carousel is now widely considered the most moving and refined in their musical repertoire. It ran for 890 performances and won the New York Drama Critics Circle Award for Best Musical in 1945.
The 1956 film version, boasting the latest widescreen technology, was filmed on location at Boothbay Harbour in Maine and starred Gordon MacRae and Shirley Jones, the same stars of Oklahoma! released just months earlier. This led to much comparison of the two Rodgers and Hammerstein works – often to the disadvantage of Carousel – however, the soundtrack quickly became the best selling album of the year and firmly immortalised their musical partnership. If I Loved You went on to be covered by many stars including Barbara Streisand and, ironically, Frank Sinatra who was originally cast to play Billy Bigelow in the film, but walked off the set declaring "you're not getting two Sinatras for the price of one" when he was told he had to shoot scenes twice – one in regular Cinemascope and one in CinemaScope 55.
This Opera North production is a sensation. The brilliant costume and set designs by Anthony Ward pay tribute to the romance and glamour of a lost musical age, and the opening carousel sequence on a revolving stage is fully atmospheric of a New England fairground. The cleverly designed prop and set changes, ingeniously choreographed by Kay Shepherd, somehow alter magically before your eyes as James Holmes conducts the familiar Carousel Waltz with the orchestra of the Birmingham Royal Ballet.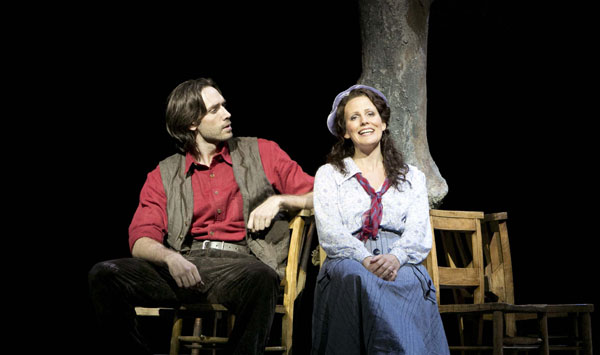 Oscar Hammerstein II adapted the story from Ferenc Molnár's 1909 play Liliom, re-setting it to the Maine coastline in the late 19th century, but this production sits comfortably in 1915 to 1930 – where carousel barker Billy Bigelow, the town romancer, loses his job when Mrs Mullin, the widowed owner of the carousel, jealously accuses him of flirting with millworker Julie Jordan. Julie is in love with Billy and in turn sacrifices her job at the mill in order to stay with him. Although Carousel may seem outdated at first glance, the timeless themes of unacknowledged love, pride, and friendship continue to strike a chord with audiences globally.
Making his Opera North debut as Billy Bigelow is Michael Todd Simpson, a native of North Carolina, who is ideally suited to the role and perfectly portrays the character's inherent wildness, sensitivity and weaknesses. Ashamed to confess his true feelings, Billy's duet with Julie, If I Loved You, played by Katherine Manley, confirmed the necessity for tissues.
The couple marry, but as in the original Liliom, the tragedy of the story revolves around Billy and his inability to settle down. Julie – against the advice of her best friend Carrie, played by the outstanding Sarah Tynan – loves Billy unconditionally, even when he lashes out at her due to his increasing frustration at remaining unemployed. Carrie, meanwhile, happily daydreams of her wedding to Mister Snow, humorously played by Jospeh Shovelton – a kindly but controlling and ambitious fisherman – with the song When The Children Are Asleep.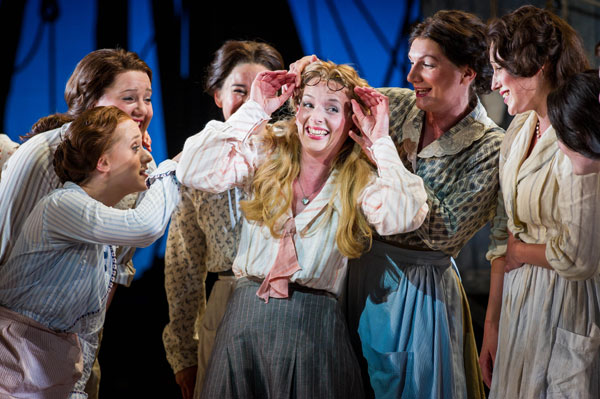 Before long Julie becomes pregnant and Billy turns to desperate means in the hope of providing for his young family. Things take a distressing if predictable turn when Billy's wayward friend Jigger persuades him to act as accomplice whilst attempting to rob the mill owner one night. The bodged robbery is Billy's final downfall, when, instead of holding his hands up he turns the knife on himself, dying in Julie's arms and leaving her to bring up their unborn daughter alone – both of them never having spoken their true feelings for each other.
Billy is given a final chance to set things right when he reaches the 'back gates' of Heaven. Fifteen years later, Billy is permitted to visit Earth for one day by the Starkeeper, wonderfully acted by John Woodvine – a day in which he is finally able to express the love he feels for his wife Julie and his joy in having a beautiful daughter, Louise, who is verging on womanhood and preparing to graduate. The ballet sequence in this Opera North Production was a revelation; choreographed by Kim Brandstrup, and danced by Beverley Grant as Louise, it poignantly expressed the lost relationship between father and daughter and the irrecoverable time and distance between the two.
Unafraid to tackle emotional and psychological issues in their musicals, Rodgers and Hammerstein bravely incorporated song and dance elements to help convey the story to their audience. Songs flow into speech and vice versa in an almost operatic style that was rarely seen before in musical theatre. Carousel's extensive ballet sequence gives full scope to the sweeping melody and acts as both a dramatic and emotional backdrop to the nearing close. You simply can't help seeing this production without appreciating this captivating, heart-bursting tribute to the golden age of musicals.
Information: 170 minutes with interval. Barbican Theatre, Silk Street, London, EC2Y 8DS. Runs until 15th September 2012 prior to tour. Tickets: £12.50-£75. For more information, visit www.barbican.org.uk
Tags: Barbican carousel opera north rodgers and hammerstein