After much pontification with the editor of this worthy tome, a suitable place was discovered in which to celebrate the birthday of Terry Barbosa, my most significant other. A northern flavour was required to match his roots, a spa, rich food and the countriest of surroundings demanded to assist in complete relaxation, for the city had become weary to us both. Therefore it was not without relief that I found myself at the chic new concrete concourse that is now Kings Cross at the hitherto unheard of hour of 8am, to catch a train to the unknown quantity of Middlethorpe Hall in York, deepest Yorkshire.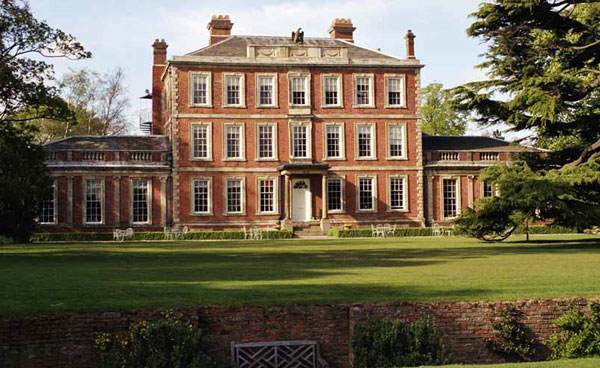 Terry Barbosa was already there, consuming a hot breakfast without yours truly. A sulk ensued (on Mrs Barbosa's behalf) and another breakfast was quickly purchased, tickets collected, sweet nothings murmured and the great journey north (a mere two hours) commenced in bright spring sunshine.
York is a city which creeps up on you like a happy surprise, nestling, golden and slumbery in the blank hills around it. Turning every corner is a pleasure; a church, an old pub there, a flotilla of antiquarian bookshops here and the feel of Yorkshire all around, long associated with my own early childhood in Sheffield, but with none of the dark rising of that industrial town.
T. Barbosa strolled about in his Hawaiian birthday shirt, seemingly pleased with the ambiance and being rather hungry, we retired immediately to the Blue Bicycle (apparently York's finest eatery) housed in a former brothel. Lunchtime in York is clearly not the hectic clamour we know so well from Soho, but a rather more relaxed affair consisting of just two other diners. The decor was jolly, impressionistic paintings lined the walls and nodded to the Deco mirrored bar, with its fin de siècle touches.
The menu was as fussy and generous as restaurants outside of London often are. Local produce abounded, beautiful ingredients, just rather too many on a single plate. The combinations we chose were rich and satisfying, but even T. Barbosa had trouble finishing his rather liberal slab of pork, fois gras and leg of confit duck. Thank heavens he hadn't added to the menagerie by starting with the sliced pigeon, instead opting for a rich truffly soup, imbued with the hefty stock of many a potato.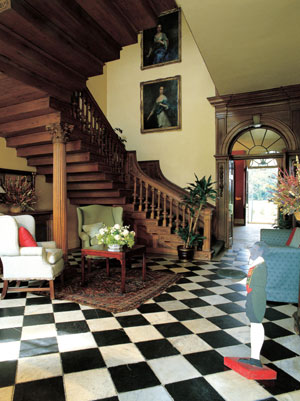 Pudding was gamely refused by those in the know, a good thing really as a large, decorated cake appeared at my request to mark this most important day.
Consequently, filled with cake (carrying the remains too) and rather sleepy, we trundled off to Middlethorpe Hall in a taxi of questionable age. The journey itself was short from the city midden and the Hall itself (Queen Anne, red brick, perfect pointing, symmetry and glassed doors that swished deliciously) marred by nothing except the unfortunate belting of traffic behind the beautiful gardens from a very busy motorway. Sad to see that progress has overtaken where quiet and birdsong once must have ruled supreme.
Our welcome was kind, bordering on friendly and we were ushered at once to a large suite with two bathrooms (the stuff of happy dreams for Mrs Barbosa) where a note from the dapper sounding GM awaited. The decor in the suite (away from the road I noted, not in the main house, but in the refurbished stable blocks) was just the sort of country interior one craves after the onslaught of design led hotels with which Mrs Barbosa is constantly faced. The colours of the bedspreads and sofas were just on the cosy side of old fashioned, ditto the repro, mixed up with some very nice bits of Wedgwood and some original Queen Anne furniture. The chintzy curtains, heavy with lining, drew together comfortingly and the sense of going back in time was deepened after melting into an enormous and feather sandwiched bed, soft as down, for a late afternoon nap, lulled by the chimes of a golden carriage clock and the pleasant sounds of Radio 3.
A discreet veil shall be drawn over the next two hours and I shall jump to a delightful walk through the walled kitchen garden, an afternoon tea of epic proportions consumed in the sunny yellow drawing room and a pleasant early evening swim in the heated pool, housed in a dear little Edwardian gamekeeper's cottage opposite the Hall. Some rather good treatments were observed by Mrs Barbosa and partaken of by his nibs, keen to preserve this most luxurious birthday mood.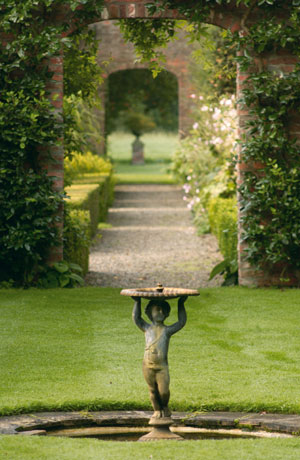 Dinner, in the oak panelled dining room (perhaps once the billiards room?) was a revelation, the ingredients of the highest quality, only marred again by a tendency to mix odd flavours together in the hope of achieving originality. A perfectly cooked tranche of halibut was strangely accompanied by oxtail in a red wine reduction; both were individually spectacular, but together, too much at odds.
More candles and smaller flower arrangements would be lovely, to preserve the intimacy of this beautiful room, and draw the diners further into the most desirous of conversations. The wine list was extensive and well chosen, especially on the Bordeaux and brandy side. Service was at times a touch fussy but the waiting staff so willing to please one could hardly find fault with their enthusiasm and my myriad requests were taken seriously. Four types of pasteurised cheese were found for the pregnant Mrs Barbosa, from an extensive cheese list which was quite the stuff of late night fantasies. T. Barbosa enjoyed a trio of puddings on a single plate (cake had not defeated him), the general theme of which was passion fruit, adorned with the most delicately tasting tonka bean ice cream. This feast was finished with a single glass of Henessey 'Paradis' for T.Barbosa, which along with a plate of petit fours we retired to our room to order an extensive and newsworthy breakfast for the morning.
We left feeling soft and glowing with Yorkshire air two days later, the relaxation cure had done its good work. The prices were more than reasonable for the very high standard of fare and the general ambience, although old fashioned in many ways, is charming and worth supporting, as Middlethorpe Hall is a working National Trust Hotel and all of the proceeds are diverted to this wonderful institution without which hundreds of historic homes and land would go to rack and ruin, my grandfather's former home included.
So I'd much rather pootle off here for the weekend knowing that as I relax in the well equipped spa, dipping my toes in the rather jolly pool, immersing myself in the most delightful afternoon tea, that my presence is not filling the coffers of yet another 'fashionable' country house, but helping the NT to preserve our fast dwindling British heritage. National parks, houses and wildlife depend upon the good work of the trust, and between you and me I'll enjoy a little old fashioned at Middlethorpe Hall again, as I'm pretty sure that my grandpa is winking down from heaven, still able to continue his daily walks around the home and land he once loved so much because of the NT. No one sees him now but me.
Middlethorpe Hall, York, Yorkshire YO23 2GB. Tel: +44 (1904) 641241. Website.
Tags: Middlethorpe Hall National Trust