The Mandeville Hotel, which lies nestled away behind Selfridges in that moneyed hinterland between Bond Street and Marylebone has, it would seem, an extraordinarily limited profile. I mention my impending visit to a number of tasteful acquaintances and I'm met with blank faces. I suspect I would have been similarly unaware of the hotel's existence, had it not been for the staunch genius of novelist Patricia Highsmith. Highsmith's great anti-hero is Ripley, as in Tom, as in The Talented Mr. This is detective fiction for those who eschew detective fiction – pleasures manifold lie therein.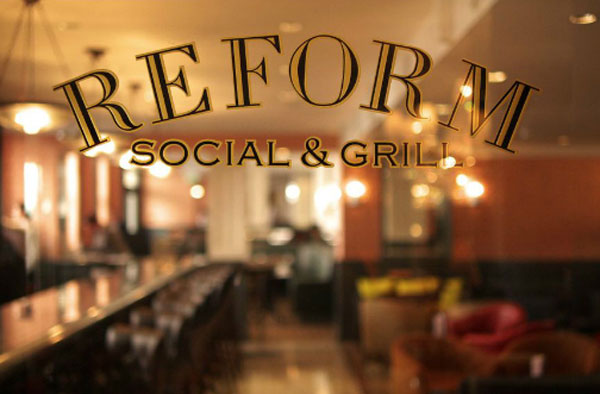 Ripley Under Ground, a later novel published in 1971, sees Ripley once again trying to evade the law and his creditors whilst helping to orchestrate an international forgery racket. Early on in the novel he travels from his home outside Paris to London to meet a client who suspects underhand dealings. With murderous musings already in mind, Ripley wants to check into a discreet lodging. Feeling that Claridges or The Lanesborough might attract interest, he finally selects The Mandeville and this is where we see our antihero meet the American, Murchison, for gin and tonics. It is the calm before the storm, a civilised meeting in elegant surroundings, a ploy to put us at ease before things get a good deal more grisly…
Jonesy and I make our way through the reception area of The Mandeville and slip into the low-lit cocktail bar. Fresh from the book, I immediately feel like Ripley. My recent reading is having a palpable effect on my state of mind, my sanity. I worry that my moral compass might have gone askew. I'm not feeling homicidal thoughts as yet, but dear god, I'm not far off; that's the thing with great writing – it's an immersive and multi-layered experience. I momentarily fear for my editor's safety, but then remind myself that Jonesy is not Murchison and I am not Ripley, this is not the 1960s and I am not evading imminent, inevitable capture. I remind myself of these points, but then carefully survey my surroundings and very little about the bar's appearance reassures me – to the untrained eye this could be the 1960s. The newly opened Reform Social & Grill exudes a low-key 'Mad Men' era charm.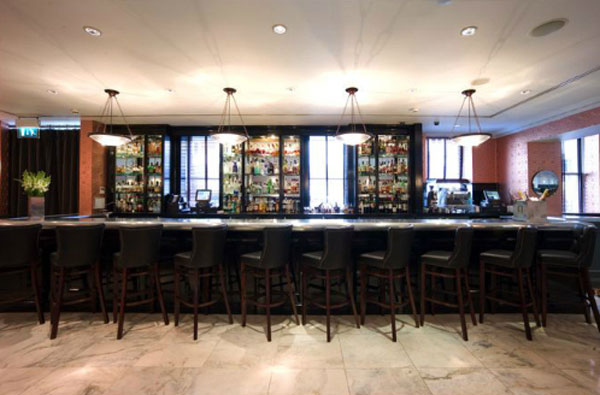 We sit at the bar and select classic, refined cocktails from a zinc topped bar that offers a spectacular range of retro-styled spirits. I enjoy an exemplary gin and tonic. The gin – Monkey 47 – comes in a bottle that looks as if it were designed to contain chloroform. The gin has intense, challenging aromatics; the sense of juniper and cassia bark is almost overbearing, but not quite, just the right level of potency. The bar is quiet and peaceful and we talk in deep murmurs – the atmosphere is distinctly male. This is where Ripley and Murchison would be drinking. Refreshed, we move through to the restaurant. It's a Monday night and things are very quiet, eerily quiet as we sit down. A pin could drop and it would be an event. The restaurant is clubby in style. The waiter explains that inspiration came from the reform act and the late 19th century, but in honesty, to me the décor of oak tables, red banquettes and contemporary art conjures a vision of New York in the 1950s/60s. Even the name 'Social & Grill' seems rather 'Manhattanised'.
A good look at the menu places us firmly in England's green and pleasant lands though. This is a love song to Olde England, to the glens and gullies, the field and fen. We are informed that everything on the food menu is from England, as local as possible and seasonally sourced. It's a line we've all now heard a thousand times and in truth these are things one comes to expect nowadays, but still good to know that delivering quality is high-up on the agenda for the management. If you're a grazer there is a selection of gutsy, retro bar snacks to start with; duck faggots and crispy lamb bacon both tempt us, but in the end we go straight to work with the menu proper. Our waiter enthuses about the ham hock, a dish I've eaten a million times and find reliably appealing. Here it is a marvel, as good as our waiter promises, or perhaps better.The jelly is laden with silky, unctuous fat and the meat is sweet and piquant – one of the better hocks in my memory. Jonesy goes for a clubby classic in crab tart, but one which has been modernised with the accompaniment of avocado, chilli and cherry tomatoes. The crust is excellent and the tart deep of flavour, if a touch over-salted.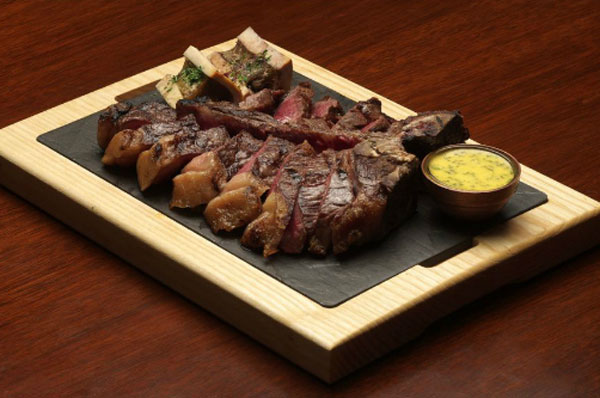 Main courses come from the grill, the sea or from the gentleman's club of old. The latter section includes liver and onion, lamb cutlets, pork chop and Mrs Kirkham's cheese and onion tart. I go for the Buccleuch Sirloin with extra Hereford snails and roasted bone marrow, while Jonesy goes for his first burger of the week (he anticipates several more to follow). The steak is perfect. Full flavoured, well-aged and cooked medium rare as requested. The garlicky, buttery snails work well as a foil, but the only thing that lets the dish down is the one aspect I was looking forward to the most – the bone marrow, which is practically non-existent inside two large, dried out bones. Puddings are, I imagine, the stuff of Proustian boarding school memory: bakewell tart with excellent custard and a stodgy but delicious sticky toffee pudding. We finish up feeling like a pair of clubby old duffers, longing to shout 'send over a bottle of port!'
The Reform Social & Grill is a strange restaurant. The concept seems a touch laboured and try-hard, but the delivery is very good. The food we enjoyed was almost entirely impressive. There is attention to detail in most areas and the cocktail bar is one of the best in this part of town. The restaurant deserves to be busier, it deserves people's interest. At a time when every latest mediocre cicchetti and Aperol bar is packed to the rafters, turning people away, I feel for a restaurant like this. Perhaps it's a seasonal thing; this is, generally speaking, food for a cold winter's night. I suggest you read Ripley, get to grips with Highsmith's prose and Tom's issues. Then come and take a place at the Mandeville bar and let your fragile mind wander.
The Reform Social & Grill, The Mandeville Hotel, Mandeville Place, London W1U 2BE. Tel: 020 7224 1624. Website.
Tags: Aperol Claridges Patricia Highsmith Reform Social and Grill The Lanesborough The Mandeville Hotel The Talented Mr. Ripley