I'm thirteen-years-old again, an eager skipper to my father's captain aboard his beloved Bird Bath, a 24ft bilge-keeled ferro boat. We've set off from the western shores of Macleay Island, my childhood home, and we're sailing around Brisbane's Southern Moreton Bay Islands region, the salty sea breeze heavy and warm.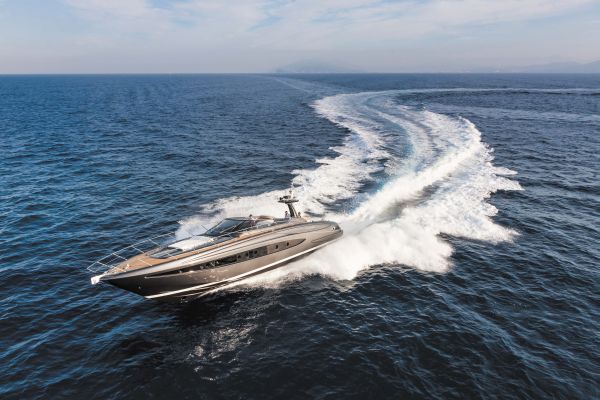 There's a certain feeling you get when you're out on the water: an exciting mixture of total freedom, and of embarking on an adventure in an environment that is so familiar yet unknown. Many years later and there it is again, that sheer exhilaration, although this time I'm thousands of miles from home…and on a boat a thousand times more grandiose than the trusty but lumbering Bird Bath.
I'm in Cannes for the annual Festival International de la Plaisance (Cannes International Boat Show), where luxury Italian yacht makers Riva are celebrating their 170th year anniversary with the launch of a new flagship model, the 63′ Virtus. A veritable icon of the boating world, Riva, synonymous with tradition, craftsmanship and quintessential Italian style, was a logical fit for the prestigious Ferretti Group when they purchased the brand in 2000. The group's exclusive portfolio comprises, along with Riva, eight of the most respected boat makers in the world.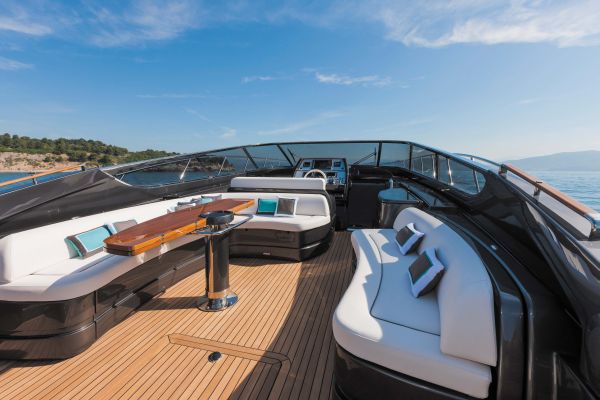 Wandering around Cannes' Vieux Port, I spot and develop a slight crush on the Aquariva Super, a cult collector's item with its carved wooden decks of mahogany and maple. Imagine an elegant number fit for Sophia Loren, Sean Connery, or Liz Taylor – after all, they've each owned a Riva. But today all eyes are on the 63′ Virtus, a 64ft beauty in gun metal grey and the brand's largest open yacht. Her sporty but sleek lines are reminiscent of the 52′ Rivale or the 63′ Vertigo and with a silver hull that shimmers in the light, she wouldn't be out of place in a Bond film: glamorous and ready for action.
I remove my shoes and step on board, my bare feet making contact with the polished teak deck. The captain greets me before taking his place in the cockpit on a three-seater sofa – so designed to allow the yacht owner to share the pleasure of driving with guests. Casting an eye over the seemingly sophisticated control panel, I think I'd prefer to leave the driving to someone else! As we leave the port we pass racy runabouts and uber-luxurious super yachts; impressive, but many lacking the refinement of a Riva. I climb up onto one of two spacious sun decks and have just enough time to get comfortable on a cushy mattress-for-two before we're out in the open sea, the autumn sunshine showing off all of the Riviera's best angles.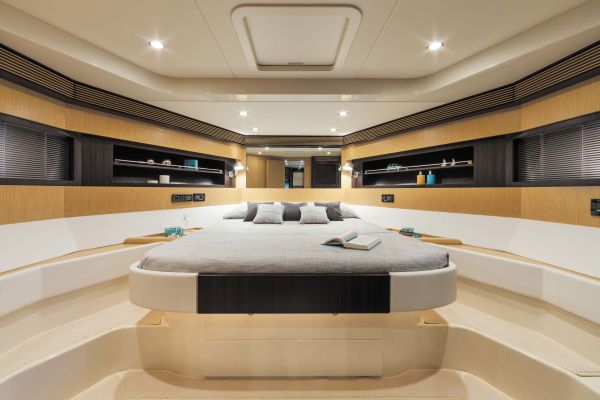 The captain suggests we increase speed to the 40 knot maximum but even at our cruising speed of 35 knots I hold on tight, while a friend has sacrificed her designer sunglasses to the wind. Scrambling back to the comfort of the bridge (sheltered by a double-curved windshield) I needn't have worried about being thrown about, despite almighty twin 1360HP engines. Even at top speed the ride is smooth, quiet. Of course, the captain says. The real indicator of luxury, he explains, is the smoothness of the ride. If that's the case, then this is the Maserati GranCabrio of the sea.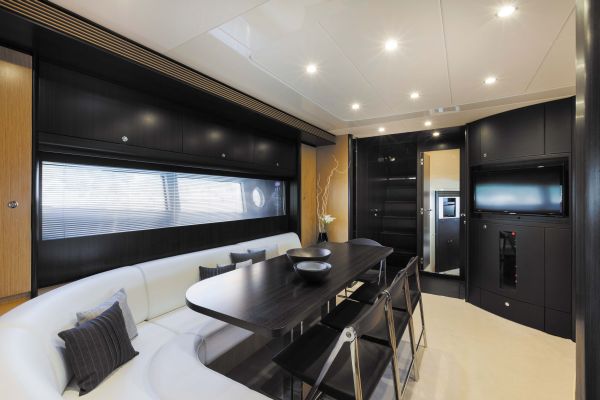 We reduce speed as I disappear below deck to visit the three cabins (master, VIP and guest suites) that are situated off a central dining and kitchen area. Different textures: opaque and lacquered woods – teak and oak, notably – leather and stainless steel, combine for a modern and fuss-free interior. Granted, the sleeping cabins aren't overly roomy, but what is evident – inside and out – is the attention paid to convivial mingle-friendly spaces. With an emphasis on sharing and socialising, from the sun decks (bow and astern), to the seating area of the main deck, the 63′ Virtus makes for an ideal day boat, perfect for pleasure cruises. And Bond villains.
For more information on Riva, visit the website.
Tags: Cannes International Boat Show Festival International de la Plaisance Riva Riva yachts