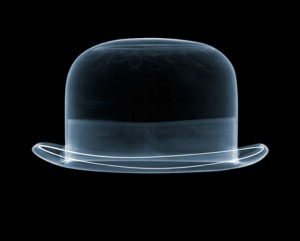 "Integral beauty adds intrigue to the familiar" – Nick Veasey. British photographer, Nick Veasey produces images of illuminated everyday objects through the use of industrial X-ray machines, capturing multiple exposures of each object, and digitally fusing and enhancing those exposures to create a final composite image. Teddy bears, headphones, shoes, hairdryers and even planes have undergone radiation, in order for Veasey to explore and present the inner beauty and energy of objects that surround us.
Now the photographer, and film maker has collaborated with premium organic T-shirt brand, COLLECTIVE, on a limited-edition capsule collection of unisex tees, featuring 6 of his original x-ray prints. The designs include a bowler hat; what lies inside a gift wrapped shoebox; a toy robot, a pair of headphones, a teddy bear and my personal favourite – a skeletal hand expressing a peace sign.
All tees are made from 100% premium organic cotton and produced in a sustainable manner. The unique collection will be available at Harvey Nichols, Flannels, Intro, Cruise and on wearecollective.com, priced at £60 each.
Tags: 6 prints Art bowler hat capsule collection Collective Fashion nick veasey peace sign Photographer Science shoebox skeletal hand tshirt brand xray images