I never learnt to drive. I remember living in some extravagant world of fantasy at seventeen and informing family who enquired as to why I wasn't learning, that by the time I needed a car, I'd be in a position to employ a driver. I think I actually believed this ridiculous fiction. The last time my partner, Sarah, drove was six and half years ago and that was 1.1 litre 1992 Fiat Uno. I rarely think about these minor details of life, but as I stand at the Alamo car hire station at San Francisco Airport waiting for a 3.6 litre Chevrolet Camaro convertible to roar into view, these thoughts are forced into the very forefront of my mind. What on earth are we doing? Will we die? How is this possibly legal? Each of these questions seemed extremely pertinent at this point. The car looks wild and dangerous as it stops in front of us.
Sarah is a level-headed girl, but as we tentatively roll out of the multi-storey car park and career onto the busy freeway, her usually calm nature deserts us here completely.
"Which way?!" she screams.
"This way, I think, I'm not sure, I don't drive," I reply cautiously.
"WELL, I HAVE NO MORE IDEA HOW TO DO THIS THAN YOU, THIS IS AN UNFAMILIAR CAR, I AM NOT AMERICAN, I DO NOT DRIVE ON AMERICAN ROADS!!" she replies, in a chilling wail.
I think I may have blacked out at this point, adrenalin, excitement and abject terror overwhelming my feeble mind. When I come round, the top is down, Sarah's swaying rhythmically whilst listening to 'You Can Call Me Al' by Paul Simon, the wheel is safely nestled between her strong hands. The sun rises through the San Francisco mists and the roads shimmer into the distance.
Suddenly red iron comes into my consciousness. The Golden Gate Bridge rears up in front of us like a muscular, rusty beast. Driving over this monument on a breezy June morning, in a convertible that until moments before, you were sure would kill you is nothing short of life changing. Euphoria floods the senses as our Chevrolet roars into action and sends us soaring over the bridge and out into the bounteous wilderness of northern California.
We're heading to Napa; that fecund corner of America which manages to produce wines that are as impressive as any on earth. The temperature rises as we drive north, eating up the freeway – first stop St. Helena.
St. Helena takes a central position in the wine growing environment of the Napa Valley and is what you might call the county town of the region. With a population of over 5,000 it is a centre for commerce and a focal point for the local industry – wine production.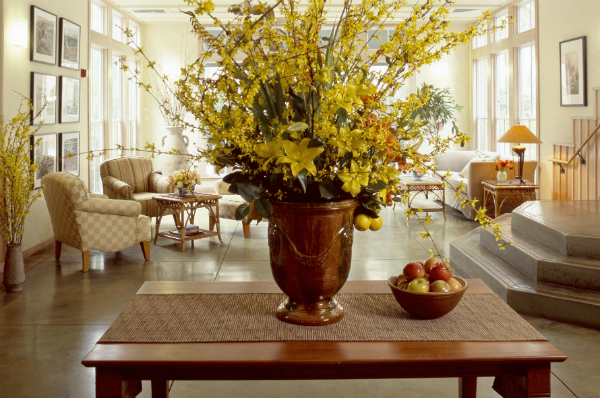 We're staying at Southbridge Napa Valley, a boutique hotel and spa in the centre of town and one of St. Helena's finest destinations. The hotel is owned by legendary entrepreneur, property developer and, latterly, cult wine maker and owner of Harlan Estate. Bill Harlan's first major venture in St. Helena was Meadowood, initially as a country club, then hotel, spa and finally three Michelin-starred restaurant – but more of that later.
Southbridge Napa Valley is modern, luxurious and perfectly-proportioned. As we pull into the car park, the hotel comes into view. It is sleek and stylish, but partly obscured by furls of ivy that add a quaint 'English Country House' feel to the place. The foyer is light and spacious and, as we arrive, dappled with warm afternoon sunlight. The service at Southbridge is a true delight. The team, led by Marcelle Adderley, are consummate professionals, nothing is too much trouble and there is no moment during our stay where anything feels off-key. I would say that there is a dedication to excellence which permeates across all of the properties this company run; it seems to be part of the company's DNA.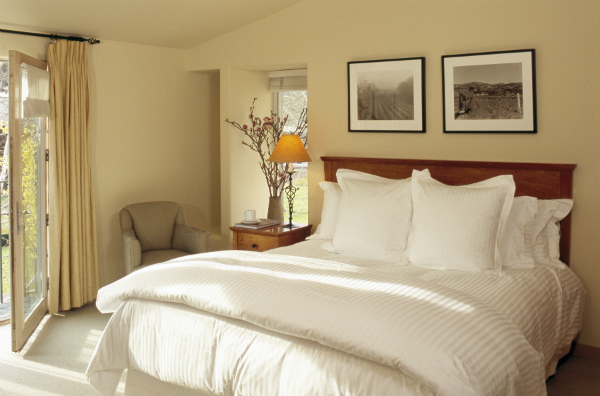 The rooms fan out around the upper floor of the hotel and offer guests superb views out over central St. Helena. Our room is resplendent and large on a grand, all-out American scale. It's huge, joke-big, bigger than my flat. We sit on the bed and try to squint at the 42 inch plasma on the wall about fifty feet from where we're sitting. Highlights of the jubilee celebrations (which look wet and a little dreary against the Napa dusk) come into view. I think I can just about make out Prince Charles trying to kiss his mother's hand which seems vulgar even to me, and seem to displease her Maj no end. We fall asleep as Brian May's hair takes centre stage.
For those looking for the full, holistic hotel/spa experience there is a spa and leisure centre offering a wide range of nourishing treatments, plus the horrors of the gym bike. We are on a tight time schedule in wine country, our work is never done: there's a visit to a cult winery plus what promises to be a once-in-a-lifetime dining experience to deal with before the sun sets, so we pack away gym kits and head for the hills of Oakville.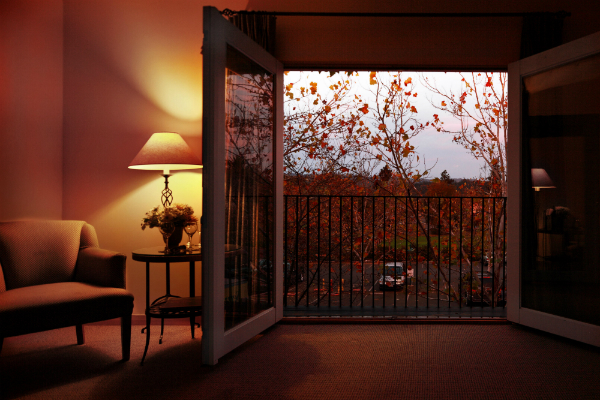 The Restaurant at Meadowood
I feel we must look at America and its strange culinary culture, before considering dinner. America – that land of dichotomies, of confusion, paradoxes and extremes. There is nowhere else that seems to misunderstand itself quite as comprehensively as America – land of the brave, home of the free. I'm not trying to be dismissive or derogatory; I see a sense of wonder in the contrasts and complexities that make up this continent. America is a layered, sinuous land, a land of immigrants and dreamers, of industry and artifice – how was it ever going to be simple story?
Nowhere is the complex paradox felt more strongly than in America's eating habits, in the fuel that drives it on. Food in America is fascinating, terrifying, delicious and vile by turns. Americans are some of the most and least healthy people you'll ever meet: six-packs vie for space with bulging gastric bands. A fierce libertarianism is part of the collective American psyche; irrespective of whether Democrat or Republican, Americans feel they should be able to eat exactly as they please and this has ramifications both positive and negative. Eat badly here and it might be the worst meal of your life, but find a place that serves the best, be it a steakhouse, Vietnamese café, pizza slice stall, or temple of gastronomy and it's sure to stay with you for a lifetime – Americans do things on a grand scale.
It is the latter category that I'll be focusing on here. There is a profusion of three Michelin-starred restaurants on the East Coast, but if you get past Chicago heading west you only have two to choose from: The French Laundry and Meadowood. The amusing thing is that the only two West Coast three-stars are less than fifteen minutes away from one another, Meadowood across town from the Inn at Southbridge in St. Helena and Thomas Keller's multi-award winning The French Laundry down the road in Yountville.
Meadowood is the quintessential Napa destination. When the aforementioned Bill Harlan opened his Hotel and Country Club in 1979, this was the place for self-respecting Napa society to visit for sun downers. Today the property still leads the charge in terms of Northern Californian luxury – this is a venue that would have to be seen to be properly understood.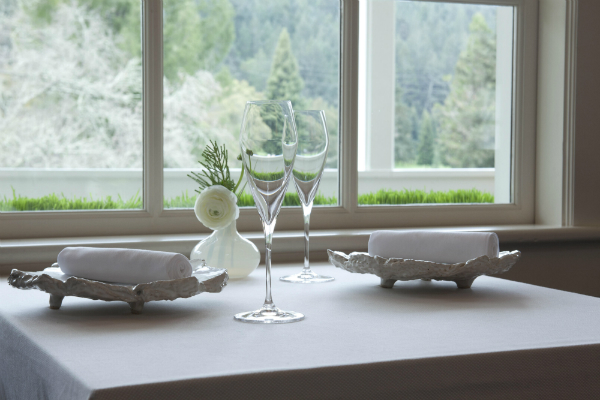 The Restaurant at Meadowood is, in truth, an independent entity in its own right. It is part of Meadowood's appeal, but at the same time operates seemingly autonomously, with people making specific pilgrimages across continents to visit. Head chef, Chris Kostow's vision is very clear – the restaurant is part of the landscape of Napa and should reflect this through all aspects of the dining experience. The finest produce comes from the land surrounding Meadowood, through strong relationships that the team here have forged with farmers, gardeners, grocers and artisan providers of the finest produce. Wine is central to the appeal of the restaurant and plays an integral role in the experience diners have at Meadowood. The wine list is a tome of the finest wines from America and Europe and there is, of course, an extraordinary selection of wines from Harlan Estate, Bill Harlan's labour of love and one of the most iconic wineries on earth.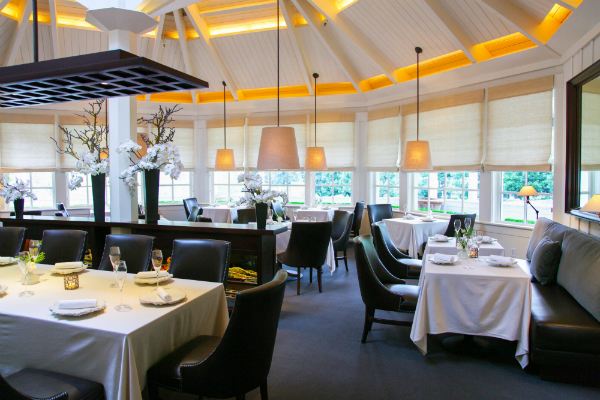 The room is muted and calm in all respects. The colours are soothing and suggest purity and integrity of vision, but there is an earthiness too, a rugged sense of the landscape, the wood, the bark – this is a restaurant that pays great heed to its surroundings. There is no menu at Meadowood. The management eliminated the printed, prescribed menu in favour of a more organic process.
Our waiter is all charm, professionalism and American intensity – you really know you're being served here, subtlety is not king. We are quizzed on our mood and state of mind; this is how menus are devised, the serving staff pass on information about diners' character and mood and this informs what Kostow creates. We begin with pink champagne – Billecart Salmon – the best NV rosé and a selection of light bites. Crunchy, purple-flecked carrots pierce an emulsion of wild garlic in a verdant amuse bouche whilst sweet loins of shrimp lie snuggled in the lightest batter. The first 'proper' plate of food we encounter is whipped yoghurt, sesame seeds, pickled plum and shiso leaves. It's a light, palate-awakening mix of classic flavours combined with less familiar notes that recall fine Asian cuisine. There is already a sense that a process or journey is starting and that this dish has been carefully devised to open the senses for the next stage of the experience. Razor clams come as thin slivers set against smoked avocado and cannellini beans. This is an earthier offering, multifaceted and delicious, but once again somewhat reticent; it builds toward something. The first dish that grabs me and draws me in is tuna belly, toro, served raw with a dense pink strip of cured venison shrouding its oily depths. Sprigs of samphire add a textural crunch to a dish where fat and protein are delivered in perfect ratio, leading to a pleasing sense of completeness.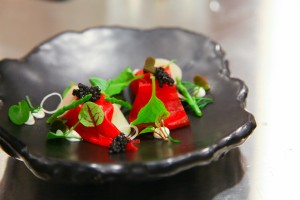 Salmon comes in a thick, lightly smoked and decidedly fudgy slab alongside a light pink emulsion and poached pieces. Deep, orange roe bursts on the tongue sending a salty tang across the palate, whilst a crunch of garden greenery breaks up the fishy elements – quite simply a perfect plate of food. Dramatics arrive in the form of a whole poussin that comes to table in yellowing salt crust before being whisked away and returns having been re-fried in the pan and served with a fragrant, savoury and undeniably profound broth of roasting juices. There is flavour upon flavour here: deep, meaty notes that get caught in the mouth, nose and mind. We enjoy a robust, maturing Pinot Noir and enjoy a moment of sensory extravagance.
Wagyu beef is served with musky wild mushrooms and an intense jus. The beef is of superlative quality, marbled terraces of supple fat run through it, making for fascinating viewing and even finer dining. We've reached the apex of our meal; there's been many courses, more than I've shared with you, yet our minds and bodies are still focused on the meal, its structure and the few joys to come. There is no bloating, no uncomfortable pushing on through; the meal has been extraordinarily well conceived – perhaps the best meal I've ever eaten in that respect.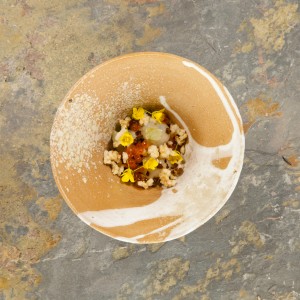 The vinous elements of the meal add as much shape and structure as the food. The wines are chosen with extreme care and precision. American wines are championed, but not at the expense of a perfect pairing if a European wine is up to the job. We taste an even mix of New World and Old World wines and all are of excellent quality. Highlights include Silex – a singular Sauvignon Blanc from Domaine Didier Dagueneau in the Loire Valley and 'Charlene' 2009 from Carlotta Cellars . The latter is a wild, unusual wine akin to nothing I've tasted previously. The wine is crafted from an unfined and unfiltered blend of Roussane, Marsanne and Viognier. Deep orange in the glass and farmyardy on the nose, this wine needs time to open up, but once it has, you're exposed to its unique charms. The aforementioned 'School House' Napa Valley Pinot Noir is a perfect expression of New World Pinot, sweet and opulent, but balanced and with an elegant, measured finish. The management blend the best aspects of classicism, with trailblazing innovative direction and the results are nothing short of spectacular.
The dining experience at Meadowood is extremely unique, even in the rarefied upper echelons of the Michelin system, in that it relies on nothing more than the quality of the products and the intelligence and skill of its kitchen team to create a profound and lasting effect. The restaurant does not trade on history or tradition; it has not served food like this for generations and therefore doesn't need you to place it in a particular historical context or explain the route that led them to where they are today. Neither does the kitchen look to surprise and enchant with food that is wilfully shocking. A rock is never an egg here, soil is never edible – the focus is on honesty and integrity rather than endless playfulness. What the restaurant offers, in my mind, is a perfectly executed, balanced and intellectually conceived journey through a range of courses and wines that really say something about the Napa region. They seem to understand the way the body works and show sensitivity towards its needs – nothing overwhelms, but rather enhances and delights the senses. It's a dining experience that feels vivid, nourishing and authentic – it makes you feel alive in the best possible way.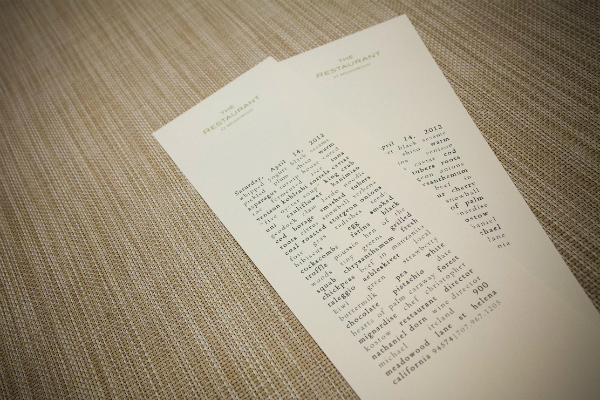 Southbridge Napa Valley, 1020 Main Street , St. Helena, CA 94574
Tel: 001 (707) 967-9400 http://www.southbridgenapavalley.com/
The Restaurant at Meadowood, 900 Meadowood Lane, St. Helena, California 94574
Tel: 001 (707) 967-1205 http://www.therestaurantatmeadowood.com/noqt
Tags: Meadowood Napa Southbridge