Rowan Atkinson's return to drama on the West End stage for the first time since the 1980s was keenly anticipated, though many might have wondered why he chose the role of St John Quartermaine in Simon Gray's drama. Quartermaine, despite being the title character, is a passive figure, a kind but hopeless man who is forever planting himself in an arm chair and delivering dialogue that mainly consists of the word 'Terrific!', delivered at various pitches and levels of emphasis. I was worried that he would do what many an insecure comic actor has done and try and impose his Bean-ish persona on the role, eliciting cheap laughs from gurning and eye-rolling where instead the play requires precise underplaying and subtle emotional gradations to work.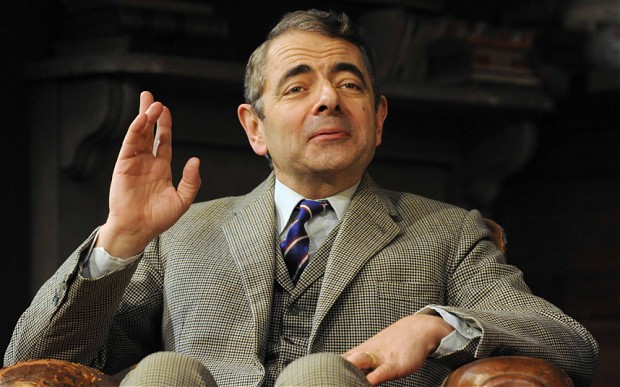 Thankfully, apart from a couple of brief moments at the very start, Atkinson resists the temptation to play safe and delivers a masterclass in restraint and poignancy, showing that he can yet have a long and distinguished career in this sort of classy comedy-drama should he so choose – he's picked a fine play to stage his comeback.  Gray's 1981 drama is commonly regarded, along with Butley and The Common Pursuit, as one of his best, dealing as it does with the staff of a 1960s Cambridge school for teaching foreigners English, and their interpersonal foibles, difficulties and tragedies. There are echoes of everyone from Chekhov to Rattigan (via Alan Ayckbourn), but the half-amused, half-elegiac sensibility for a world that was disappearing even back then is typical of Gray, an underrated writer whose mastery of the 'well-made play' is slowly coming back into focus.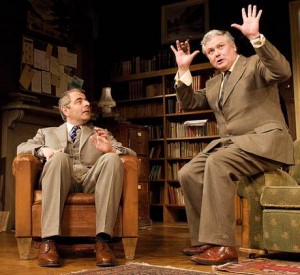 In Richard Eyre's typically focused and energetic production, a Rolls-Royce cast is brought together to lift the material to rapturous heights. Other than Atkinson, particular stand-outs include the always wonderful Conleth Hill as the flamboyant yet troubled academic tutor Henry Windscape, Will Keen as the chippy, accident-prone part timer Derek Meadle (whose initial appearance in the final scene brings the house down) and the superb Malcolm Sinclair as the school's uptight headmaster, Eddie Loomis.As ever with Gray, the female parts are less well characterised (Louise Ford does a sterling job with the most underwritten of them), but Felicity 'Lynn from Alan Partridge' Montagu manages to bring a fierceness and poignancy to the potentially clichéd role of Melanie Garth, the eternally frustrated spinster who comes to find Jesus.
A capacity audience, including the usual smattering of the great and the good, laughed uproariously throughout, and it's true that there are countless hearty chortles and guffaws to be enjoyed. Yet, when the bittersweet denouement comes around, the overall impression is that of a quiet and understated sense of regret at lives that have somehow been left behind in the slipstream, a feeling accentuated when Eddie says of the hapless Quartermaine, contemplating his other options in life, 'Where would he go? Who'd have him?' Thus, Gray's writing achieves a Chekhovian mixture of humour and stillness, and this is the highest compliment that one can pay both him, and this fine staging of his work.
Quartermaine's Terms at Wyndham's Theatre, Charing Cross Road, London WC2H 0DA, until 13th April 2013. For more information visit the website.