How you react towards Kevin Toolis's ingenious one-man play about Britain's last PM Gordon Brown will largely depend on which end of the political spectrum you belong to. If, like Toolis, you swing to the left, you're likely to warm to his astute combination of political satire, Shakespearean character study and virtuoso monologue. If your political sensibilities are more right-of-centre – or you believe Brown to have been the worst prime minister for over a century rather than a wronged man – you might find the experience an interesting but eventually wearying one, even at just over an hour. Either way, the show, which proved a smash hit at the Edinburgh Festival earlier this year, is only in London for a few weeks and deserves to be seen, even if it'll lead to some ferocious debate afterwards.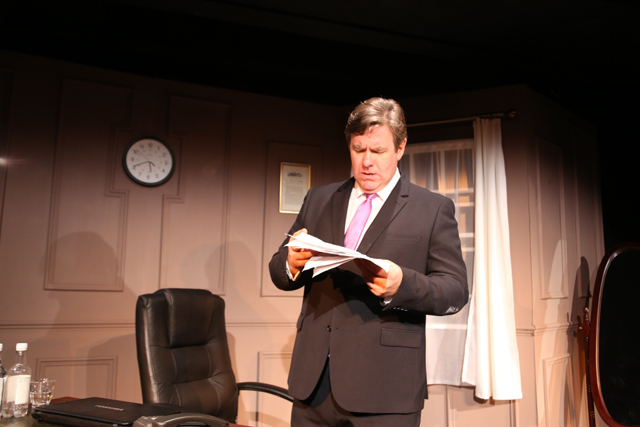 What cannot be denied is that, as Brown, the Scottish actor Ian Grieve gives a startlingly effective performance, and although he isn't an especially close physical match for him, it is a subtly nuanced account of the politician that touches on his quick temper and his loathing of Blair; when a mobile unexpectedly ran on press night, Grieve, in character, said 'If it's Tony, tell him to fuck off'. His ultimately tragic lack of self-understanding that led him to attempt a job that he was never remotely suited to. Grieve makes Brown likeable and sympathetic, as far as he can, even as he's playing to the gallery with jokes involving mobile phones, Kit Kats and Alistair Darling's eyebrows.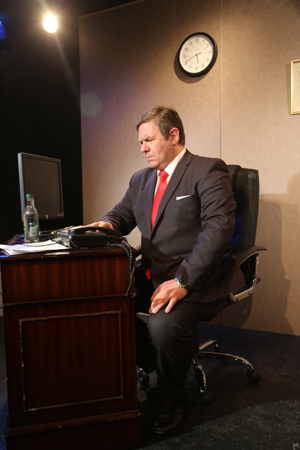 Where Toolis' play feels strained and essentially undramatic is in its inability – or refusal – to offer answers as far as Brown's concerned. While his intelligence and energy were never in doubt as a leader, his apparent inability to connect with other people becomes a dramatic flaw as well. Watching the arguments and thoughts of a sociopath is an initially arresting experience but, at 75 minutes, there is a limited amount of interest to the experience, despite Grieve's skill in cajoling, blustering and charming the audience into keeping their attention focused on the protagonist.
It might ultimately be that Brown, for all his flaws and virtues, simply isn't as interesting a character as a Blair or Thatcher, neither of whom has been especially well served by fictitious representations of them. If a great contemporary playwright was to offer an account of either of those two, one can only begin to imagine the excitement of a scintillating one-actor show. But in the meantime, this account of a strange, rather pathetic figure ought to be seen, if only to marvel at Grieve's uncanny impersonation of one of Britain's most controversial leaders.
The Confessions of Gordon Brown, at the Trafalgar Studios, 14 Whitehall, London, until 28th September 2013. For more information and tickets visit the website.