The starry cast of Lindsay Posner's revival of Chekhov's classic Uncle Vanya received something of a shock at the press night. The play ends with a heartfelt speech by the permanently lovelorn Sonya, in which she bemoans her and her family's lot but hopes for peace in the afterlife. As delivered by the actress Laura Carmichael, it's a moving and elegiac treatment of a profoundly touching moment. Not, however, for one heckler in the stalls, who was heard to say "Stop! Stop! It's just not working!" This would be graceless enough, but it was soon discovered that the heckler was none other than Sir Peter Hall, legendary theatre director and the man behind several different (and hugely acclaimed) productions of this ever-popular play. Hall claimed he was misquoted and sent Carmichael a letter of apology, but the damage was already done. Not by Sir Peter, I should add. It was down to Carmichael's starring role as Lady Edith in Downton Abbey, that before she even took to the stage, the play was christened 'The Downton Vanya'.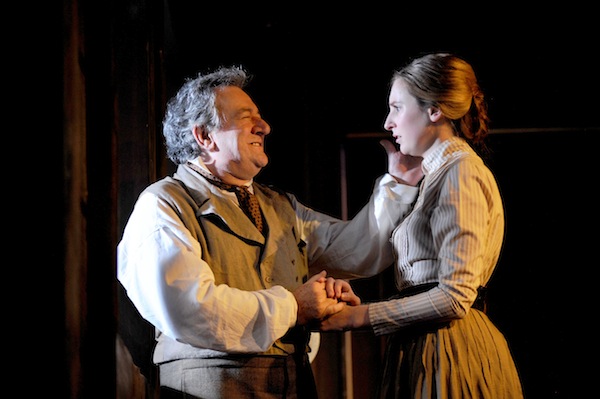 Such a comparison is superficially appealing – both feature people involved in complex romantic entanglements and bemoaning their lot in life, intoning in immaculate RP while sporting three-piece suits or voluminous dresses – but even Julian Fellowes in his most pompous moments wouldn't dream compare what is an increasingly silly and overblown series to the subtlety and art with which Chekhov paints a picture of the declining Russian bourgeoisie at the end of the 19th century. In the trials and tribulations of the endlessly frustrated Vanya, his heartless brother-in-law Serebryakov and his beautiful young wife Yelena, and the passionate doctor Astrov, Chekhov neatly encapsulates a world in which misery and frustration were so commonplace as to be unremarkable.
It is a hugely popular play, and so this production was eagerly anticipated, particularly because of the luxury casting that it enjoys. As Vanya, Ken Stott is aggressive, coiled and pugilistic; you genuinely believe, in the famous third act, that he is capable of doing violence, either to Serebryakov or to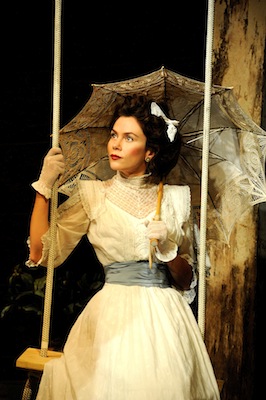 himself. Anna Friel proves that there's more to her than just good looks as Yelena, making a substantial impression in what can so often be played as a merely two-dimensional role. And Samuel West conveys Astrov's passion and intelligence, while not forgetting to demonstrate his cynicism, lechery and boredom at the passive state that he finds himself shrunken into.
And what of the unfortunate Laura Carmichael? She's very good as Sonya, although perhaps a trifle too hesitant and bird-like at the beginning, but grew in confidence and stature as the evening progressed. Hall's criticism, then, seems not only unfair and lacking in chivalry, but positively misjudged. It transpires he had succumbed to an octogenarian's unfortunate foible and nodded off, waking with a start and the aforementioned outburst. Whether an intended commentary or not, while this might not be the very best Uncle Vanya that there's ever been (for me, it didn't compare to the Simon Russell Beale/Sam Mendes 2002 production at the Donmar Warehouse), in its quiet, reflective way, it is a decent and thoughtful production of a classic, and well worth catching, providing of course that you're not sitting next to any dozing theatrical knights.
Uncle Vanya is currently running at the Vaudeville Theatre until 16th February 2013. For more information and to book tickets visit the website.
Photos by Nobby Clark.