This one reclines on a bed of ginger nuts and has enough festive spice to make it an appropriate addition to any December dinner party. It can be prepared ahead of time and chilled in its glasses until you want to serve – a huge point in its favour; gotta love a pudding where all the work is done up front. At the end of the recipe I give you a few ways that you can make this recipe less labour-intensive should you want to. But first up, here's the how for those who share my inclination to serve something that will delight with its simplicity but which took more than a little loving care to achieve.
For the Ginger Nuts (well, you didn't think we were buying them, did you?)
These can be done a couple of days beforehand and kept in an air-tight container to keep them crisp. The quantities here will make seven biscuits – one for each serving and one to nibble as your reward. But they are pretty moreish so it might be a good idea to double the amounts and have a stash of ginger nuts on hand for your afternoon tea.
25g butter
2 tbsp golden syrup
25g dark muscovado sugar
85g self-raising flour
1 tsp ground ginger
1/2 tsp ground cinnamon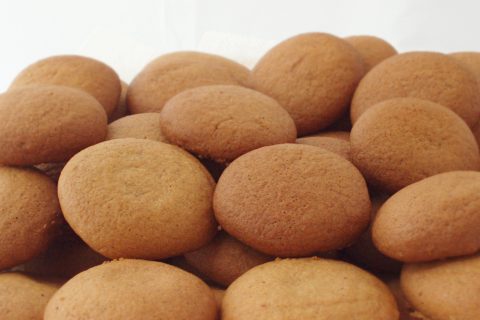 Preheat the oven to 180C.
Melt the butter, syrup and sugar over a low heat. Take off the heat as soon as its melted and take care not to let it burn.
Meanwhile sieve the flour and spices into a large bowl; and line a tray with baking paper.
Add the melted butter mixture to the flour bowl and work it all together into a dough.
Divide into seven equal pieces and roll each one between your palms into a walnut-sized round. Space them out evenly on the baking tray and then flatten slightly with the back of a spoon.
Bake the biscuits in the oven for about 10 mins. When ready they will still be a little soft to the touch and just starting to go that lovely brown ginger-nut colour.
Take them out of oven and leave on the tray for 30 seconds before transferring to a wire rack to cool. They'll crispen up as they cool down.
Store the ginger nuts until you need to build the syllabub. Just don't get carried away and eat too many – remember you need to save six.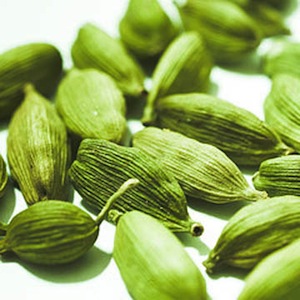 For the Syllabub:
Start this the night before and then resume at least 2 hours before you want to serve it.
150ml sweet white wine
1 tbsp medium-sweet sherry
2 tbsps brandy
1 orange
5 cardamom pods, bruised in a pestle
50g caster sugar
300ml double cream
Serve in 6 serving glasses or bowls – any kind you fancy using. Martini glasses work nicely but I like to use a champagne coupe with the syllabub almost bursting over its banks.
Peel the orange, making sure not to take with it any of the white pith. Put half of the peel into a large bowl and set the other half aside. Squeeze the orange juice into the bowl with the peel and add the wine, sherry, brandy and cardamom. Cover and keep overnight.
When you are ready to start building your syllabub, start off by simmering the other half of orange peel in a pan of water for a couple of minutes. You'll be using it for garnish and this removes its bitterness. Dry the peel and set aside again.
Now strain the boozey orange juice into another large bowl. Throw away the bits of orange, the peel and cardamom. Stir the sugar into the liquid until the sugar dissolves.
Add the cream and whisk it all slowly. The most important thing here is to not over- whisk. If you do then your syllabub will curdle and that will be that. You just want to whip enough to achieve billowy and beautiful clouds of cream. Soft peaks.
Crumble a ginger nut into the base of each serving glass.
Spoon the syllabub over and chill for at least a couple of hours. It'll keep just fine for 8 hours or so.
When ready to serve, just snip some shreds of de-bittered orange peel over the top of each glass.
All of which is lovely and gorgeous if you have lots of time. But syllabub can be a very handy emergency pud too. Speed it up by:
buying ginger nuts instead of baking them yourself;
skip the overnight soaking, forget the orange peel and use Grand Marnier instead of brandy for that hint of extra orangey-ness. It's now 'Orange Syllabub with Ginger' and no cardamom, but that's ok;
serve straight away without chilling – it'll just be a little floppier;
top with flaked almonds or a smattering of ground cinnamon instead of the peel snips.
Angela Clutton is writing a book about all kinds of ways of living and doing things that have been passed down through generations. For more information, visit her website.