Craft brewing is on the up in the UK. But across the pond our American cousins have mastered the art. Sophie McLean takes the booze cruise to new heights as she covers the breadth of upstate New York, sampling craft beers and fine wines in a bar crawl of State-sized proportions…
I can taste pickle juice. It's laced with an underlying warmth from the shot of Irish whiskey that came just before it. This is known as a pickleback. Something of an in-house 'must-try' at the Empire Brewery that sits just below street level in Syracuse, a newly re-developed University town set deep in the heart of upstate New York.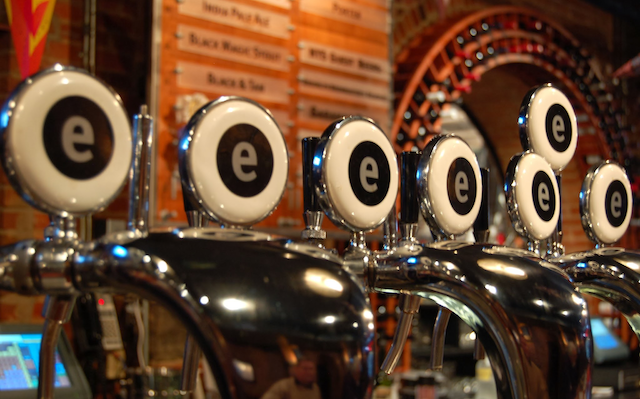 At tables strewn with craft beer in varying colours including countless pints of 'White Afro' – a lavender and ginger infused pale ale – the other thing that marks this place out as a choice destination is the regular 'Sunday Blues Brunch'. Giant portions of syrup-laced chicken and sweet toasted waffles are consumed to a soundtrack of Los Blancos, a local blues band that today fills the small dancefloor by the door with happy revellers. Amongst them is a man who must be well in to his eighties; he turns a young lady around on his arm with a warm, infectious smile. In the band is a washboard player wearing a corrugated silver chest plate that is strummed in upbeat time with the accordionist to his left. This is David Katleski, one time lawyer and accountant, now president of the New York State Craft Brewers Guild, businessman and founder of Empire Brewing Co which he started in this building twenty years ago. David and his company now make 2,200 kegs of up to 40 different styles of beer a year. With neatly coiffed hair, a crisp white shirt and well-managed sideburns he has an almost Italian charisma about him, and his drive for success is palpable in each word he speaks. True to character, he tells me the 'Empire' is set to expand into the nearby town of Cazenovia early next year.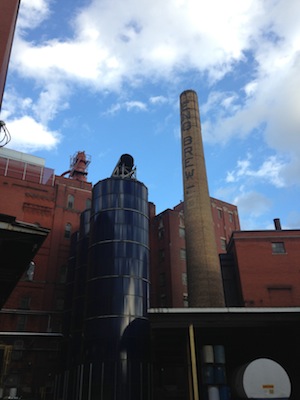 Later the same afternoon we find ourselves at Saranac, formerly known as the West End Brew Co. and home to Utica Beer – a truly iconic place that this year is celebrating 125 years of business. The original factory scene is framed with red brick and a large chimney rises up into the bright blue sky above us – one that is only half the size of what it once was; charred black letters now simply read: '…end brew co'. Inside we meet Nick and Fred Matt, a third and fourth generation uncle-nephew duo who head up the business and a legacy begun by FX Matt and this 'royal family of beer families' in 1888.
A huge display cabinet shows off bottles and cans that date back through the years including the bottles of fruit juice, root beer and malt tonic complete with the label, 'warning: do not add yeast' – the mainstay of the business during prohibition. From large elevator doors we wander into the heart of the brewery and a setting that could very easily have been the muse for Roald Dahl's chocolate factory.  The look is Victorian retro; huge tiled walls of yellow surround enormous bright copper kettles. Machines set with large, important-looking buttons leave us breathless with intrigue. The urge to press one is hard to resist.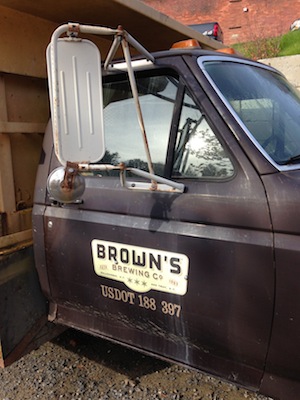 Visits from here back towards New York city make it obvious that craft breweries in the state are increasingly gaining momentum and popularity. We press on to Garry Brown, who makes a delicious oatmeal flavoured stout, Riverside, then on to meet Gary Mitchell at his shiny glass-fronted Ithaca Brewery; next up is Ommegang (meaning 'to walk about' in Flemish) before, finally, concluding with a 'Captain' Lawrence whose quirky 'Hops n Roses' beer reminds me of Haribo's Tangfastics.
Paul Leone from the New York State Brewers Association tells me that the rise of places like these has been helped in no small part by recent change in legislation. The Farm Act in particular has made a big difference in ease of operation for all those who work in agriculture. Within this bracket are the apple growers (New York is the second largest in the States) and the numerous wineries, too. "It takes a lot of good wine to make good beer" 'Empire' David comments over a mouthful of brunch when I tell him of my excitement for what I've seen of New York State's wine so far. Like brewing, the wine industry here is booming, perhaps more subtly than craft beer, but it shows just as much potential nonetheless. Outside of the state it may still come as a surprise to learn that New York makes wine, but good wine it does well. Riesling is the show off grape variety, suiting the cooler climate that surrounds the dazzling collection of deep and enchanting Finger Lakes, but there are also more unusual indigenous grape varieties such as red Lembuger, Iona, Diana, Vergennes and the almost crystal-clear Niagara. Other interesting vitis vinifera (European grape varieties) planted here include Blaufränkisch and Teraldego – the latter both made beautifully at Red Tail winery. Here, and state-wide, wine glasses sit brimming with elegant, restrained fruit and soft spicy surprise.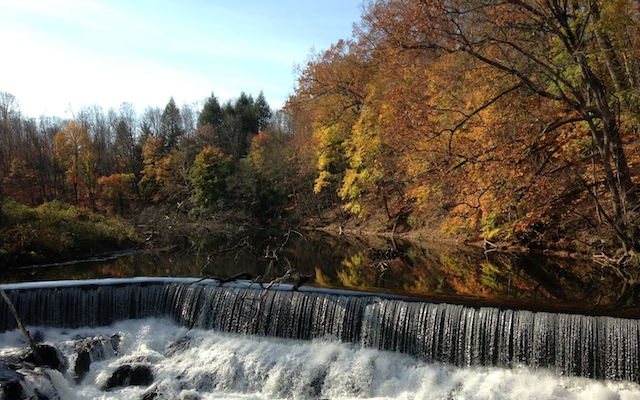 Over a glass of 90 point methode champenoise Long Island 'Sparkling Pointe' on our first night in the region – stylishly appropriate after having just watched The Great Gatsby on the plane, I meet Jim Trezise, president of New York State Wine. We are dining at the New York State Culinary Center on the fringes of Canandaigua Lake, a few hours south of Lake Ontario and 'the falls'. He welcomed us "to Paradise" – a sentiment not lost on us over the ensuing days. In a myriad of copper, mustard, flecks of red and evergreen, the landscape here comes wrapped in autumnal colour vision. Expansive views of trees sprout like giant sponges, dinghies bob around quaint country houses and sunshine catches fantastically on the lakes that stretch out long in front of us. On the plane as we land our noses stick to glass, eyes wide open in very real awe.
Jim takes us to visit Fox Run Vineyard where we walk (some of us skip) through vines that we're told grow an inch a day. In the winery itself we realise we are in the company of the mother of one of the young winemakers – here 'on vacation' to see her daughter at work with a couple of friends. Huge hugs are exchanged – a warmth that is assimilated later in the building that was originally a dairy farm, now shop and offices of the winery. The wider net of inclusive New York wine industry family is echoed later at Lakewood Vineyards where Liz Stamp, originally a vet scientist, talks about her kids and her hope that they might one day want to join the family business "[Ultimately] you have to ask yourself, what do you enjoy to do?"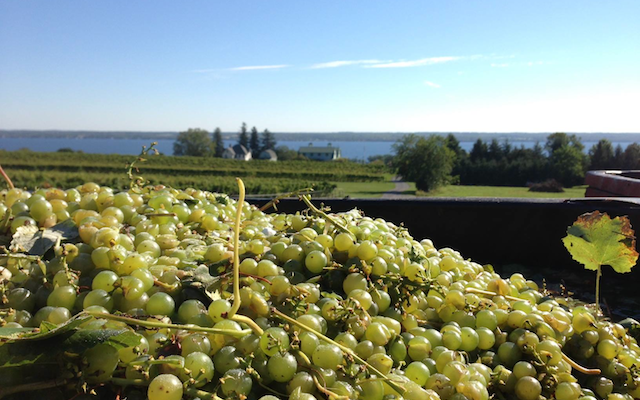 More than any other career perhaps, this is a real lifestyle choice and for those who we meet there has been no looking back. Kelby Russell, another young winemaker at Red Newt winery has a degree from Harvard and a background in government and Economics but he left these to instead turn his hand to wine "having learned enough about both of these disciplines to realize I wanted no part in either" Incredibly, a third of the 130 wineries here have been created in the last five years but despite the relative youth the wine scene here does not lack in history or tradition: Chateau Frank is the prime example. Against the backdrop of Keuka Lake we drink in the history of Dr Konstatin Frank, pioneer of bringing European grape varieties to the US in 1951. His is a personality-fuelled story and one that is attributed to starting a wine scene that is now recognised internationally.
At Lamoreux wines we are afforded a brief moment of reflection on the tasting room balcony. It is here that I realise that colours are not simply on the trees I can see across the water in front of me, or even in the glass of Cabernet Franc in my hand. Here they also live in the people. It has been an all-encompassing trip; a setting that has provided unrivalled, often stumbled-upon memories. There is a saying that appropriately echoes: 'In Vino Veritas, In Cervesio Felicitas.' In wine [there is]truth; in beer, happiness. For me, this is the prose that underscores beautiful, upstate New York. Leave the skyscrapers behind and explore where the personality really lies. #IspyNY
For information on the breweries and beers in the state, visit the New York Brewers' Association website and, similarly, visit the New York Wines' website for information about the wineries and wines in New York.
Finally, there's plenty of information about upstate New York (and more than just beer) in the official tourist board website.