Picture the following scene. I'm standing in the top room of a Dublin pub, late on a Thursday night. Nothing that unusual about that, but there's a coffin in front of me. In front of this coffin is a wild-eyed man, looking not unlike Begbie's Irish cousin, who's regaling the increasingly terrified-looking audience with the sort of supercharged homilies that bring nothing to mind so much as Atticus Finch on crystal meth. (A mild example – 'If someone's a good friend of yours, and you're in trouble, they're not someone that you ask for help. They're already in the cell next to you!') Behind him, a band launch into ceilidh versions of various 'pop songs', including the White Stripes' Seven Nation Army, a song that I would never have guessed would be improved by a quasi-Riverdance fiddle breakdown halfway through.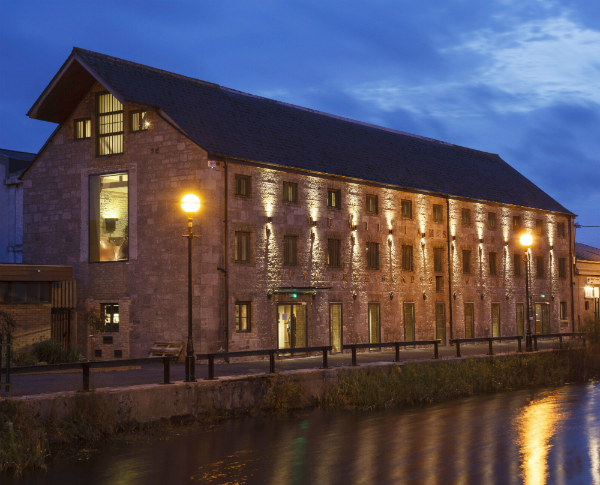 Is this some sort of weird fever dream? A hallucinatory experience derived from one too many misspent late nights? A typical example of the legendary Irish craic gone somewhat awry? Nope. All of this extravagant, giddy madness is brought to you by Tullamore Dew whiskey, which everyone around me is drinking with merry abandon. It would have seemed rude not to participate…
Flashback to earlier that day. I'd been asked if I fancied heading over to Dublin on a short trip to sample some of the amber nectar that is Tullamore's most famous export, and finding out a bit more about it. Being the sort of chap for whom such fleeting visits are my meat and drink, I readily agreed, and found myself settling in for an agreeable lunch at the excellent Winding Stair restaurant with John Quinn, Tullamore Dew's ebullient 'global brand ambassador', whatever such an appellation means. Quinn is a charismatic and charming fellow whose wit and erudition belie what must surely be some exceptionally heavy evenings on the whiskey as part of his professional duty. He jovially offers a variety of fascinating titbits about the product. The 'dew' part, for instance, doesn't refer to some piece of blarney about the deliciousness of the product, but is instead more accurately spelt 'D.E.W', or the initials of an early manager of the company, Daniel E Williams.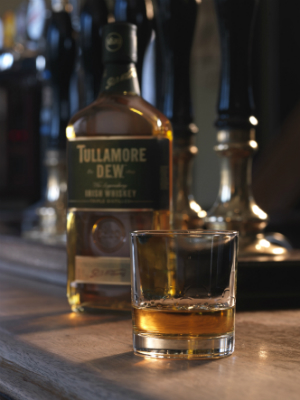 The day passes more than pleasantly. Quinn hosts a tasting of the various varieties of the Tullamore, of which the smokily captivating 12-year old variety is probably the most obviously attention-grabbing, but they're all superb. I begin to feel an enormous sense of well-being, and go for a short lie-down. I'm asleep for an hour, and then I have a confused, vague dream about being in a pub somewhere…and there are a couple of actors doing extracts from Waiting For Godot…and then I'm not dreaming any more, we're off round Dublin on a literary walking tour, where the jokes about Brendan Behan and his obscene limericks are given all the more punch for being delivered in the most knowingly theatrical of brogues. I answer some questions about Seamus Heaney correctly and am given a T-shirt. I swank, disreputably. I'd even put it on were it not so shamrock-witheringly cold in February.
I have a medicinal Guinness. This sobers me, and puts me on the path to rectitude, long enough at least for me to enjoy a sensational dinner at the excellent WJ Kavanagh, a new gastropub which offers fine Scotch eggs, smoked trout and black pudding to start (separately), and where I have a particularly fine steak, doused in a wicked but tempting dollop of Tullamore Dew butter. I eschew wine, preferring a very decent bottle of ruby porter. All is right with the world. All of a sudden, John Quinn has materialised by my side, smiling devilishly. 'Shall we voyage over to a little place I know, The Stag's Head? We're having a little get-together…we're calling it 'Waking The Spirit'. Just a bit of Irish tradition, that's all, but the craic will be grand.'
Reader, the whiskey flowed. I would like to be able to say more about the goings-on, but the witching hour came at midnight, and the dim, scattered recollections that I have of holding a glass of Tullamore in one hand, a Guinness in the other and…yes, I remember it all now…and how I wish I didn't – dancing, yes, dancing in a rhythmic fashion, somewhat along the lines of Michael Flatley. And what fine lines they are.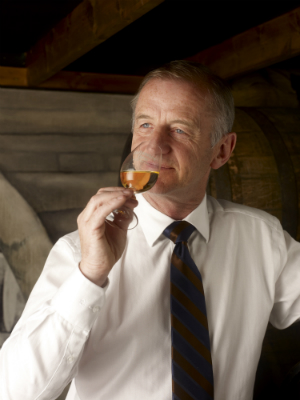 Friday. A brisk, early start. The head is not all it could be. Some bacon and eggs fortify me. We head to Tullamore to look at the visitor centre. It's fascinating. John Quinn leads me through a tasting of the component parts of a glass of whiskey. He knows everything. We have some lunch. It's excellent. No more Tullamore Dew, though. We then go to a nearby sports centre where we're told of the rudiments of Irish football and hurling, which isn't a reference to spectacular projectile vomiting but a sort of macho version of lacrosse. There is some talk of participating in these activities, to which I am reminded of one of my favourite Wilde quotes, in which, asked which his favourite sport was, he replied 'I am afraid I play no outdoor games except dominoes, which I have been known to partake in outside French cafes.'
Eventually, the time came, as it had to, for me to head back to London. A strange maelstrom of emotions seemed to jostle for space inside me; happiness at what I'd found out about a delectable whiskey, some mild confusion at the odder goings-on of the previous evening, and a certain, unquantifiable sense of satisfaction at stepping into a strange, rather wonderful world for a few hours.
So, on St Patrick's Day, will I be marking the occasion by raising a glass of Tullamore Dew to John Quinn, the Begbie-esque man in the pub, the good saint himself and many more fine people besides? A seven nation army wouldn't hold me back.
For more information, visit the website.