He told me I would feel like this, he told me it would change me.
I am sitting, drinking sloe gin with a seasoned traveller, a wit, a sage of sorts. Let us for sake of discretion call him The Minister.The Minister is speaking of his travels – of arrivals and departures. Of all of those transitional moments, when one finds oneself in a state of profound suspension. Arriving in a different city, continent or landscape can be a heaven, or a hell, depending on perspective. For The Minister there's a sense of drama in each descent, but as we know, some dramas are more engaging, more urgent than others.
Hong Kong – breathe it in, soak it up, he says, you'll never forget your first time in this city. Still, years on, he says, it gets to him, gets under his skin, in a way that Paris or New York can't quite hope to. He thinks it might be the vistas, the superlative hotels, the madcap taxi drivers or the hot, sticky, humid air; something ephemeral that traverses all these and more; that's what makes this city.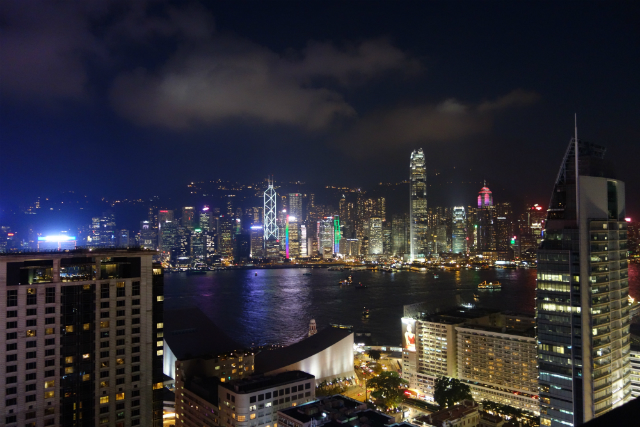 I start to get it, I begin to understand his meaning when the coach crosses over from Lantau Island. The buildings arch up in rare vertiginous splendour, which is entirely novel to a European –buildings reaching toward clouds, looking ever-ready to topple. We've made our descent from the heavens, and now we're infiltrating the city itself. We are on a gastronomic adventure, a gourmand's whistle-stop tour of a city that boasts over 11,000 restaurants – where to begin and where, indeed, might this possibly end?!
It is when we arrive into the throng of Kowloon and approach our hotel that the scale and fervency of Hong Kong's energies really become clear. The climate hits you as soon as you're out of the cocoon of your air conditioned coach. Humidity stands at almost 70% in Hong Kong and here, at street-level, the air is hot and fragrant – alien, redolent of spice and smoke and faraway cooking.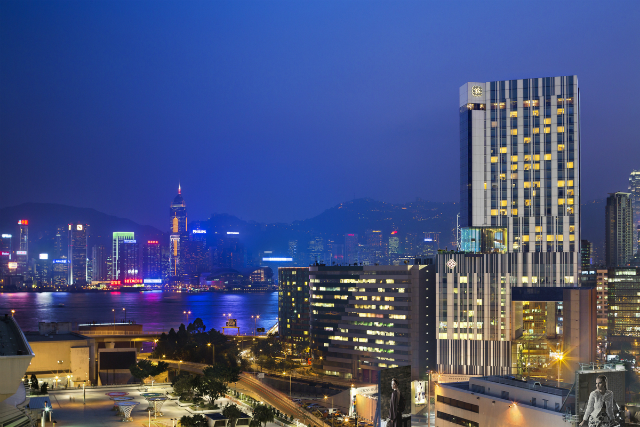 Hotel Icon, our base for the trip, stands on Science Museum Road in the Tsim Sha Tsui area of Kowloon. The hotel is as sleek and modern as you might expect from a new addition to Hong Kong's vibrant, bursting-at-the-seams hospitality scene, but there is a freshness and sense of innovative endeavour which is entirely unique. There is a living, growing wall in the main atrium that improves levels of oxygen as well as providing a verdant focal point. I get a sense that nothing exists on one level here – every detail, every consideration has been made for specific reasons, and refreshingly not always commercial ones.
The hotel was designed by world-renowned architects Rocco Yim, Sir Terence Conran, Patrick Blanc and William Lim, and each of these unique talents has left their own indelible mark on the hotel. There are 262 rooms and suites, set over twenty-eight floors. My room is on the twenty-fifth floor and has a view to savour at length. The rooms in the hotel are very large – 36sq metres (in a standard room) and most have views out over Victoria Harbour. After settling in to the room and unpacking, we move up to the top floor, the Club Lounge, which adjoins Above & Beyond – Hotel Icon's Conran-designed fine dining restaurant. Above & Beyond may be the finest setting for high-end Cantonese cuisine in the whole of Kowloon; the restaurant has the clean lines and elegant detail that any observer of Conran's deft hand would recognise.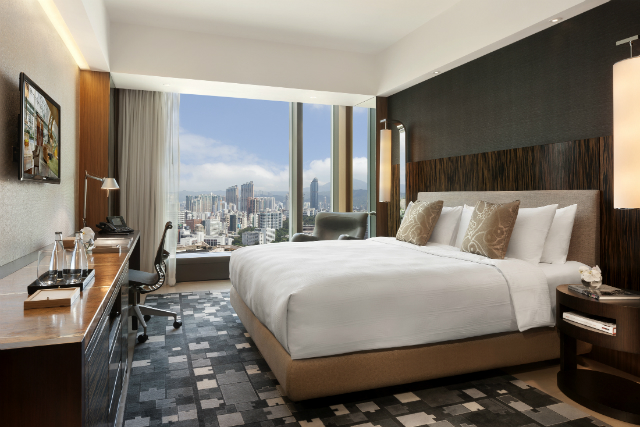 We tour the restaurant at dusk, as the sky begins to darken and the cityscape opens up in full glory across the bay. The food at Above & Beyond is classic in tone, with focus resting on quality of ingredient and flawless execution. Intricate, filigree dim sum, roast duck and barbecued pork are the specialities of the house, but the menu covers most areas of haute Cantonese cuisine, from the staunchly traditional, all-but-forgotten dishes of old Canton, to innovative, modern constructions that speak of the waves of experimentation that characterise Hong Kong's new dining culture.
Later, we head out into Kowloon under the cover of darkness, to find dinner and a night-time view. Nanhai No 1 is on the thirtieth floor of the iSquare building in Tsim Sha Tsui. The approach is rather odd; you access the restaurant via a packed shopping centre, but once out of the lift and into the restaurant, your senses relax and the rowdy shoppers seem far away. The dining room is smart, with an 'old Hong Kong', vaguely colonial feel; ancient trade route maps and ceramics line the walls. For a slightly more modern experience, you can slip outside onto the terrace for a cocktail. The Eyebar is one of the best spots for taking in the famous 'Symphony of Lights' show – the nocturnal light show that forms part of the evening ritual here.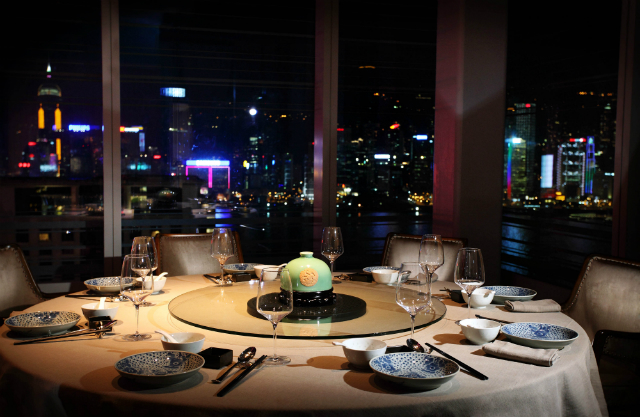 Nanhai No 1 is a Chinese fine dining restaurant with a strong focus on the treasures to be found in the South China Sea. The quality of products is superb; highlights include huge, fleshy deep sea scallops and langoustines in a surprisingly delicate satay sauce. The dining room is packed, noisy and extremely convivial, a night time spot for large families and groups of gastronomically inclined friends. The backdrop of the harbour view and outside terraces make Nanhai one of Kowloon's best fine dining options.
Morning comes with fresh promise and blue skies spreading out endlessly above Victoria harbour. We're informed that Hong Kong has been shrouded in mist and rain for much of the last two weeks, so the sunny morning seems serendipitous. Breakfast is in The Market, Hotel Icon's second, more informal restaurant. There are many options, but I decide to start as I mean to go on with a selection of fresh dim sum, cooked to order, and a bowl of congee – a Chinese delight akin to porridge and fashioned from rice that's been boiled down for hours and flavoured with meat or shellfish.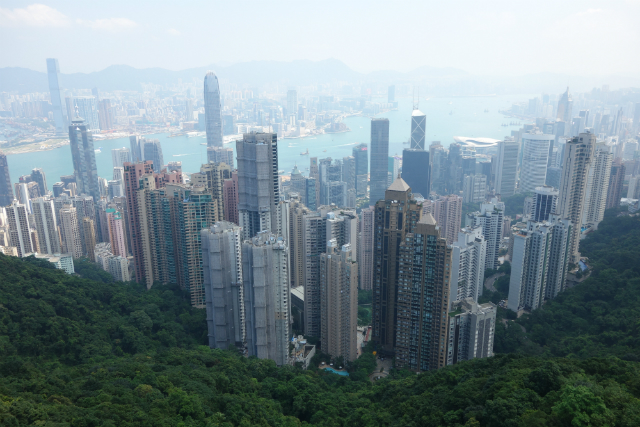 We leave early to travel to The Peak – one of this surreal city's most memorable destinations. The journey sees us crammed into an ancient, ornate tram car, the same trams that have been running up and down the almost sheer slope for over a century and since the early days of British Colonial rule. The ascent is a bizarre experience; the skyscrapers and boats in the harbour fall away as you mount the slope at speed on this improbable gradient.
From the top, you see the city of Hong Kong from a hitherto unimaginable angle. The view is something you will never forget. I am taken back to the wise words of The Minister, a view like this gets to you. This is a triumph of man's industry and the free market forces that made it a fearsome world centre for business, leisure and culture. The skyline is ever-developing and has moved in waves since the 1950s, but it was in the late 1970s and 1980s that it really sprung to life and became one of the most visually arresting on the planet. It seems so compact, so compressed. I stand there, staring out across the harbour looking out across a million little rooms and wonder what dreams, fears, agonies and ecstasies exist in those private worlds. There is so much out there, more than you could ever hope to grasp.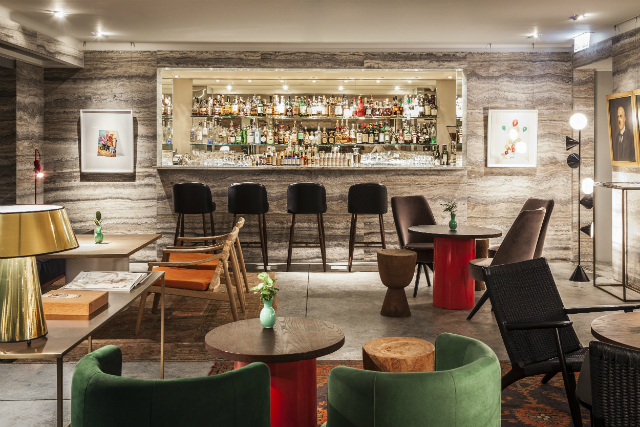 Duddell's is a testament to the heights that Hong Kong's new wave of restaurateurs are achieving. Duddell's is on the third floor of the Shanghai Tang Mansion on Duddell Street in Central, Hong Kong's main area for commerce. The restaurant, which also incorporates an art gallery, was founded by Yenn Wong, Alan Lo and Paulo Pong, three well-known Hong Kong entrepreneurs, who have a number of successful, innovative restaurants under their management. The restaurant is designed by Ilse Crawford, a London-based designer, best known for her work with Soho House Group. That fresh, understated aesthetic that characterises the world's hippest members club can be seen in abundance here. We sit in the informal upstairs dining room and bar. The room opens out onto an outdoor cigar terrace that's filled with abundant greenery to contrast the towers of concrete that rear up all around. The food we eat at Duddell's is exquisite – the dim sum being the finest I taste in Hong Kong. This comes from a light, lunch time menu, but there is a commendable attention to detail and precise understanding of the importance of texture. Cocktails are also to be applauded. Mine is a curious construction served in a delicate, antique teapot. At its heart is the lethally strong Chinese spirit Maotai, but the drink's fiery core has been softened here with skill to create a delicious, aromatic aperitif.
Next, we take to the frenetic, crazed streets to tour the markets that fill the alleyways and hidden courtyards around Central. Hong Kong was once known for its culture of street hawkers, food vendors who would fill these roads, peddling their wares. Unfortunately, these businesses were banned in the 1980s, so the street food culture is a little more sedate these days, but there are still treasures to be found if you know where to look. We are full from the feast at Duddell's, but there are more gustatory delights to come.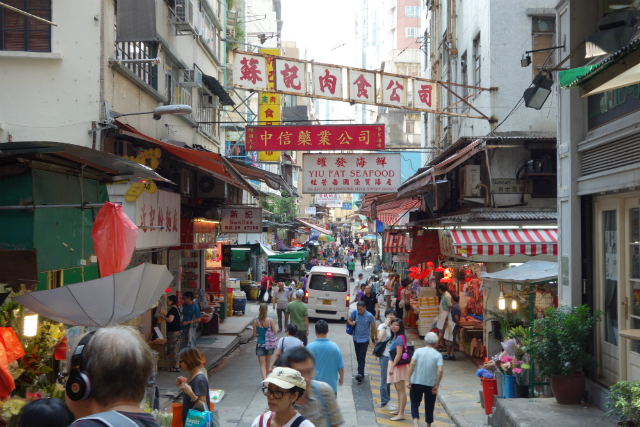 Wonton Soup is perhaps Hong Kong's best-loved dish. We find solace and warmth in a gentle rendition of this classic dish in a basement restaurant deep below the skyscrapers. There is little time to rest, on we go, on through busy, messy, steamy streets lined with butchers, fishmongers, cobblers and more. If there's one thing Hong Kongers love almost as much as Wonton Soup, it is roasted meat in all its myriad forms. There are the classics, the meats you're used to seeing smoked and roasted in all your favourite Chinatown spots, but then there are the more esoteric examples. We see a huge stack of roast wood pigeons, jaundiced from the fragrant smoke and heat of the roasters. The restaurants are small and messy, wild at heart, real. I venture toward the kitchens in one restaurant, and witness pigs, pale and calm in death, being hurriedly prepared for the roaster. As these fine beasts go in, others come out, a deep, burnished, golden. The barbecue pork is said to be the marker of a restaurant's quality and standing – get this classic dish right and you'll be loved. The chefs are true specialists, they work a production line, hacking away at different cuts at with a speed and precision that's been learnt over a lifetime. Suffice to say the pork is memorable: fatty, dark and sweet, the emblem of a nation's porcine passion.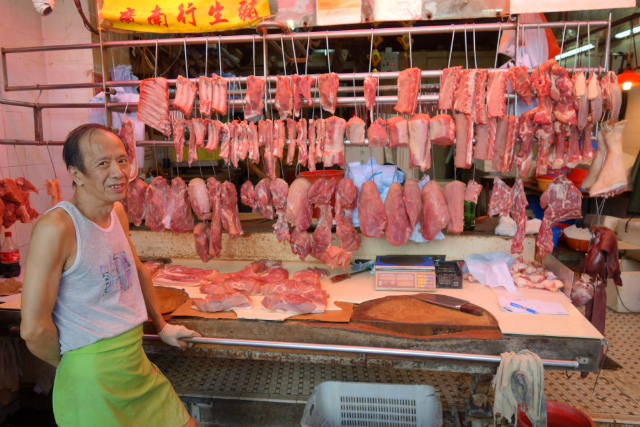 We take early evening drinks on top of the world. The Ritz Carlton Hotel is to be found between floors 102 and 118 of the International Commerce Centre (ICC) in West Kowloon. The bar – Ozone – is on the top floor and is the most vertiginous bar in the world. Inside, the room has the feel of a provincial nightclub, but outside, on the terrace, you feel as if you've taken to the skies, boarded an air balloon and set sail for flightier climes. The bar wraps itself around the outside of the building, with tables set around the edge looking out toward the just-dusky skies and the first lights of evening below in the metropolis. To our east lies the humbling reach of the South China Sea. Out there, deep in the briny vastness, hulking, ocean-cleaving container ships the size of football pitches look like matchsticks from this rarefied angle.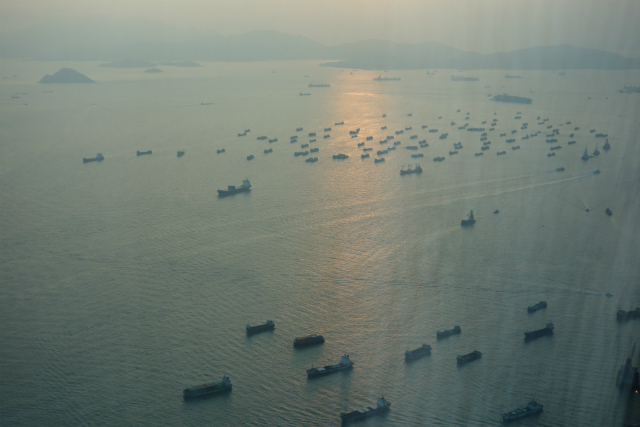 Ahead of us, the harbour and all its myriad characters are gearing up for another evening of frenetic action; the light shows are starting, billboards whir and glow. Beyond that, who knows – China, Asia – a brave new world. Up here, a strong Tanqueray down, it all seems close, thrilling – possible.
This place will change you, he said.
Noah travelled as a guest of the Hong Kong Tourist Board on a Cathay Pacific flight, flights from London to Hong Kong start from £579.

Hotel Icon, 17 Science Museum Road, Tsim Sha Sui East.

Duddell's – Levels 3 & 4, Shanghai Tang Mansion, 1 Duddell Street Central District, Hong Kong.

Nanhai No 1 – ISquare Mall, 30th Fl. 63 Nathan Rd, Hong Kong.

Ritz Carlton Hotel – International Commerce Centre (ICC)/the Ritz-carlton Hong Kong 1 Austin Rd W, Hong Kong.