At 11:47pm in dark sequined attire I lean against the smooth oak finish of the roulette table. I'm in a vast drawing room. There are long, luxuriant sofas, elegant mirrors and chandeliers that bedeck the lofty, gothic ceilings like the snowdrops whose heads bob throughout the extensive grounds outside. Half finished flutes of Champagne line the mantelpieces whilst cubes of ice in high-ball glasses of Gin and Tonic next to them melt in quick succession with the speed of the other revellers present. From outside, the lights blaze through windows that are laced in a wild red paint.
"Place your bets," says the croupier. Fortune's fool, I pile my chips high. The tension is palpable, the adrenalin flagrant. Everyone around the table watches with intent – hawk eyes to the ball as it bounces from red to black, odd to even, and back again. Number 29. Eyes flick to the board. A wave of silent concentration precludes rounds of raucous cheer – a crescendo that reverberates room-wide. Yeeeeeessssss! My colour. My chips. Pound signs filter into dilated pupils, elation into my bloodstream. At £70,000 up, the night still is smarting with youth and I'm thirsty for more.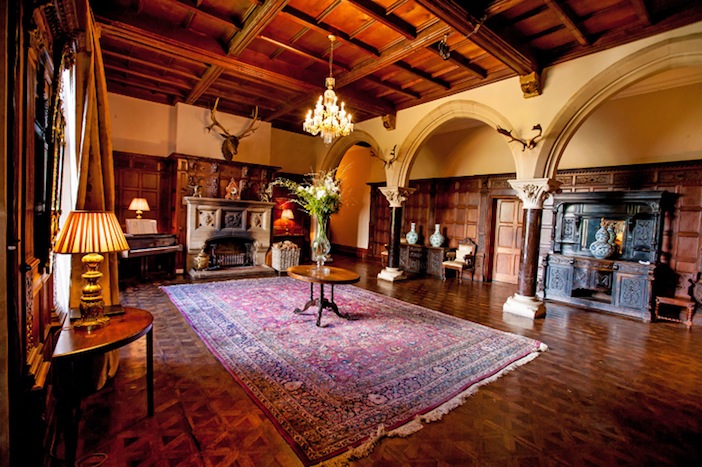 This particular evening's adventure began for me the day before. In the dead of the night just off a first class carriage from London we stole away through narrow lanes, winding deeper into Devon's wild countryside, lined by bright green fields and a chilly rural air. Black skies drew shining stars and a breathlessness of intrigue as our motor turned up the half-mile driveway towards our residence for the weekend: privately-owned Huntsham Court. With the Estate's chapel just beneath us to our left, there she stood in delightful grandiosity – the thick, protruding turret highlighted against the magnitude of Victorian eaves that grazed the cloak of ink above us. A year ago to date the same view was snow-clad; a grey stoic edifice on a blanket of white where only the house's fat stone cherubs and graceful stags watch visitors arrive from atop their heavy pedestals.
We partake in a quick kitchen supper in the Butler's Pantry provided by quirky caterers roasting vegetables and serving locally cured meats in the houses' eggshell-blue domed kitchen. This provides the scene for the main post-prandial banter and hubbub before we retire to bed. The house has many so we are gifted with a labyrinth of choice; a majestic array of 72 of them – each with a unique style, and some better hidden than others.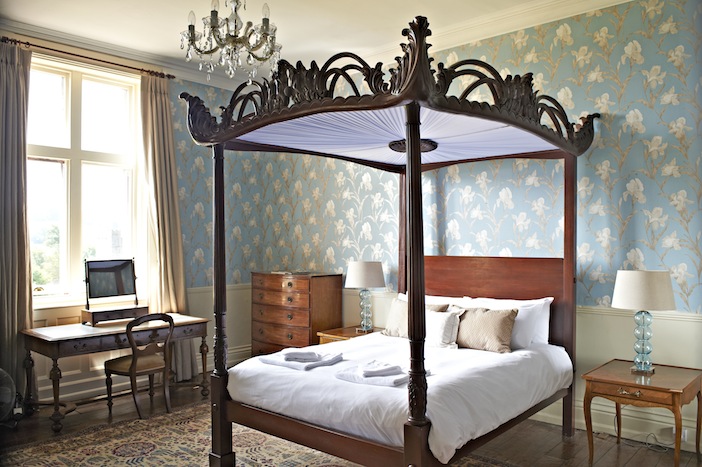 In the light of morning, the sound of ping-pong from the library provides the soundtrack to our breakfast taken in the garden-facing Diamond Room. Over steaming coffee it is a chance to put names to hazy faces from our arrival the night before all over again. Eggs and bacon are a happy remedy to stories left behind in the house's very own bar, stocked with poisons of our own choosing, and complete with a secret back staircase for those who want to make it last to bed surreptitiously. Contents of house parties and past gatherings here can only begun to be imagined, helped by titles of books in the house's extensive collection such as "An expensive place to die", "La Donna" and "The Silver Falcon". All point towards the burgeoning potential for luxuriously, or indeed mischievously spent stays.
During archery demonstrations outside and country strolls in the early afternoon further stories from our group of fellow guests unfold. Politeness could be paired with ladies in parasols, or perhaps scandal in equal measure from those who come dressed in festival-eque daisy chains and brightly coloured Hunter wellies. Whatever and whoever arrives here, goes. We return with muddied feet, make a quick change upstairs and arrive refreshed once again in The Great Hall to find afternoon tea being served in the company of a pianist by the fire.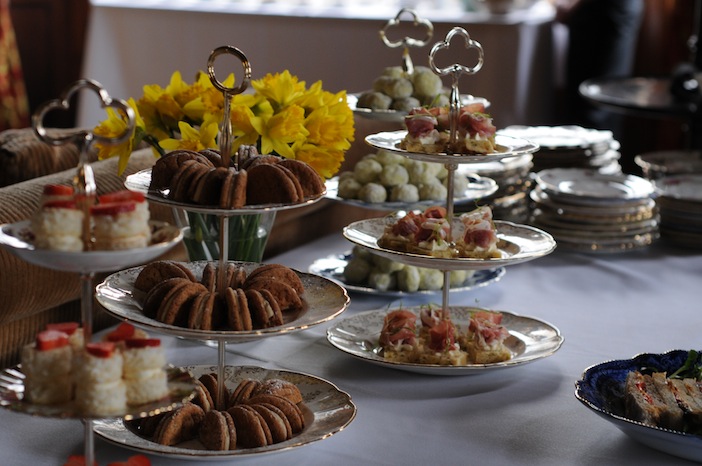 At tea I sip Earl Grey from a line of decorative floral cups and saucers, and get to know 18-year-old Katherine Walrond of Bradfield Near Cullompton. She is married to Charles Arthur William Troyte, aged 21 who, under the guidance of Benjamin Ferrey one of the founder members of the British Institute of Architects, built this magnificent house for his wife when her parents deemed the previous derelict Tudor mansion unfit for their daughter. She has clearly thrown countless tea-parties in her time.
Our evening is studded by a formal dinner in the library at a table for 25, bedecked with tall silver candelabras and garlands of Spring daffodils. It is graced with wasabi pea soup and hunks of prime rump beef. Wine waiters follow our quick-draining glasses with carefully poured white Burgundy and feisty, red Cabernet Sauvignon from Argentina. Here I am introduced to Lieutenant Colonel Hugh Leonard Acland Troyte – Katherine's son, and a man who completed his formal education at Eton. In 1914 he proceeded to India with his Battalion and after much strenuous service was invalided home from Mesopotamia. Next is his brother Gilbert – a man who subsequently became local MP for Tiverton and the rest of this pretty area. Melt-in-the-mouth petit fours are accompanied by tales of secret missions from another guest – a Russian spy called Oleg. We laugh at jokes from Douglas Adams, an author who is penning the fourth part in a triology called the 'Hitchhikers Guide to the Galaxy'. Cheese and port follow. Our collective dreams this evening will be heavy-laden with imagination.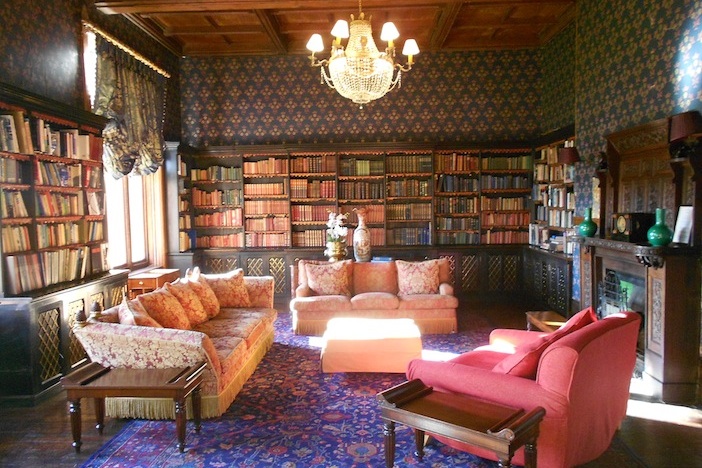 The next morning I am penniless, I flick through the Sunday papers over breakfast bemoaning my great highs and then even greater lows during my inaugural, faux casino-foray only hours earlier. We sip coffee in the Great Hall. Nothing of the era this morning – instead we are served flat whites, this time from a VW coffee van that has pulled up outside. The pianist from yesterday is now gone but today, Ivan, long-time roadie for Mumford and Sons is at the coffee helm. He is dressed in mustard-coloured breeches that match his stories and long flowing hair, and he provides gentle distraction from the wet Devonshire mist that today won't shift from our peripheral vision. Glistening gravel crunches underfoot as we return to the warmth of inside – a feat for the magnitude of the building.
Whilst the characters from my stay may not have been physically in situ, the venue, the activities, the set up and the caterers here are all very real. Huntsham Court can cater for parties and corporate hire, with no corkage and fully flexible attitudes on all event arrangements.
Round up, roll up, and live on.