Before we'd even left the runway I knew I was off to somewhere exotic. TAP's on-board TV screens had half naked male torsos that danced before my eyes and those that belonged to the lady sitting next to me – her cheeks were not the only ones on the plane to slowly flush from English rose to a deeper shade of rouge. We couldn't help but stare, it was almost embarrassing, yet the exotica it conveyed transfixed us on so many levels. Soon, however, the captain came on over the intercom to remind us of our real purpose for being there and to announce our final destination: Madeira – not quite the tropics of Brazilian Rio de Janeiro, home to where our on-screen heroes hailed from, but an outer piece of Portugal; lush and green nevertheless.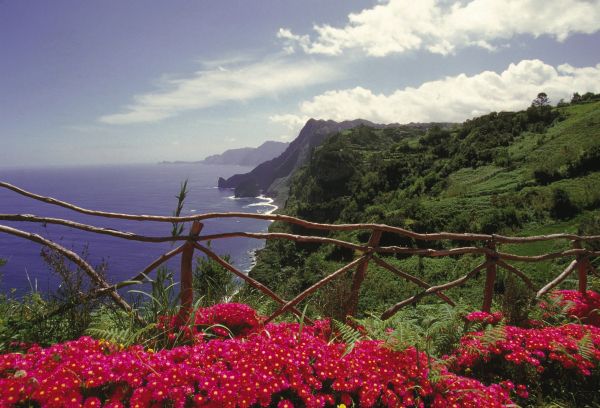 We swooped in to land over the ocean, and were then swiftly shuffled into our waiting taxi, driven by a similarly dashing male who almost resembled that of the type that our pupils had grown larger for from the TV screens earlier. "There are 167 new tunnels on this island since 1999," he told us. An unexpected fact. But, for an island that's only 36 miles long by 14 miles wide, this probably is quite something. And if anything, the construction of these tunnels means shorter hops from airport to hotel for all who visit – Cristiano Ronaldo included, when he comes back home to the place where he was born.
Moments later, two shiny lift doors opened and we stepped outwards from the dark cobbled lift floor into the richly carpeted, sleek foyer of The Vine. This centrally located hotel boasts a design savvy interior that offers a modern twist on the underlying ethereal elements of the island, yet combines these with a contemporary and very much up to date feel. Part of the attraction of this place is its huge floodlit rooftop infinity pool, a view so inspiring that it features on the cover of a much-coveted book on the world's best design hotels. It is this rooftop terrace that also plays host to Funchal's world-renowned jazz festival each July.
Another draw of The Vine is the spa – relatively extensive for quite a modestly-sized hotel. Downstairs under low-lit lighting, and in keeping with the hotel's vinous theme, our tired out plane-haggard bodies (well, a three hour flight from the UK is almost a viable excuse) were treated to some serious 'vinetherapy'. The bedroom suites are equally as luxurious, with clever underbed lighting and magnificent roll top baths, all encapsulated within a comfortable cocoon of modern design.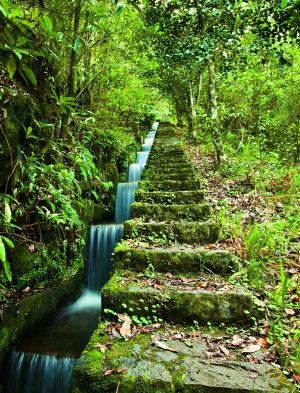 For what should have ordinarily been a cold night, afterwards we found ourselves sitting al fresco for dinner under the stars at one of the city waterfront's more creatively focused restaurants. Modern chic styled furniture combined with a hearty combination of rice (the place's name was Riso – a 'risotteria') meant that along with some of Portugal's more interesting regionally produced wines, all thoughts of the city we'd originally come from were soon fading faster than the sunshine on the distant horizon. Letting go was most definitely the night's 'soupe du jour'.
Once the Monaco of the Atlantic, still evident from the huge cruise liners that park in its sun-drenched bays, today Madeira has an undeniable propensity to embalm wellness on its visiting residents; such is the power of the exotica in its lush surroundings. Consequently the next morning under the warmth of the sun rays that extol themselves over this island, that is in fact closer to the coast of Africa than that of Portugal, we inhaled, exhaled, and meditated our way through a morning session of yoga, overlooking the coast and against a backdrop of terracotta coloured bottle brush plants. From here we hopped into a jeep up into the 2150km of leafy levadas – the Madeiran hills, characterised by the terraced-style irrigation systems that trace their way into the green landscape. It is up here in this fertile area that the island grows guavas, sweetcorn, avocados, beautifully bright flowers laced with every tropical colour possible, and of course its bananas; 40,000 tonnes of them, of which only a mere half are exported to the rest of Europe. As a result you'll find them well placed on restaurant menus island-wide, as we discovered the next day when dining at The Mozart in the old town.
For me this lunchtime area really came alive mostly thanks to the street art that lines the doors and walls of the otherwise white buildings that flank the 15th century cobblestone streets. And it was here the night before that, before diving into one of the capital's coolest new venues Venda Velha,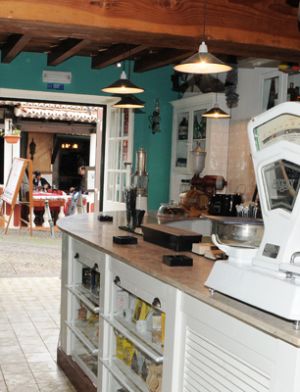 a retro-themed bar styled with black and white TVs playing tennis matches, a vintage till and telephone, shelves of magical 50s memorabilia and huge old school sweet jars, that we bumped into the designer and architect of The Vine, Nini Andrade Silva; such is the clientele of the area.
The spas of the city are making waves in terms of catching up with the rest of Europe. The Sea Spa at CS's Atlantic Club Resort provides exceptional views out over the blue horizon from its indoor infinity pool, blurring the boundaries between the outer ocean and the relaxation of that moment's reality. The same is true of 'grande dame' Reid's Palace, where spa etiquette is without fault, and the views that the area evokes are first rate. This is where one of my most memorable and professional spa experiences has been to date. The hotel is without a doubt the most quintessential accommodation that Madeira can boast, likened perhaps to our own beloved Savoy Hotel in London, and somewhere where you could easily slip into character as a background artiste to a classic programme such as Poirot. There's an overall palpable sense of history and mystique here, something that doesn't come as too much of a surprise when you realise that Madeira was a preferred holiday spot to characters such as Winston Churchill.
Other wellness-inducing activities that you can get involved with in these nearby tropics include dolphin or whale spotting, depending on the season. And there's nothing more exciting than watching one leap out of the water in front of you, elegant splash and white foam frothing as it disappears back into the crystal clear waves beneath you and your speedy catamaran. A sea breeze here doesn't have to just refer to the cocktail.
But Madeira's culinary fare is of course another worthy addition to this island's merits. Il Gallo d'Oro, at The Cliff Bay Hotel, retains its Michelin star this year for its signature fish dishes and those that combine other vegetables, fruit, aromatic herbs and flowers from the region. And there's no denying the temptations of Madeira's eponymous drink. Blandy's is perhaps the most well known of all the producers, maintaining its indelible family stamp on the industry from the top of a Rio de Janeiro reminiscent hilltop from where you can also make out the city's own version of Christ the Redeemer.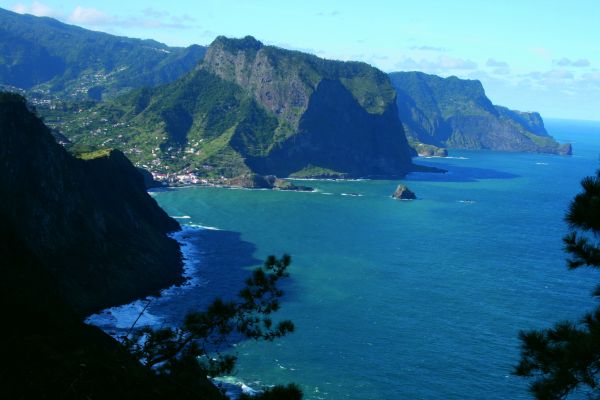 Madeira, in all, is a haven of warmth for creative types looking for a little more than just a tan and blurry nights of revelry. It promotes genuine relaxation with just the right amount of night time buzz. And with Europe's biggest firework display at New Year, combined with year-round sunshine, it's the perfect escape from our continuously rainy London, where you can't help but leave with a bout of freshly re-awakened healthy, happy hormones.