Chekov would have been in his element. The sky was grey, the air chilled, a bracing morning and one with a wisp of adventure on that Siberian fuelled breeze. Being a cunning sort and one with a leaning towards romance, albeit very well hidden behind a gruff, non-flower-buying who-needs-chocolates type exterior, I had up my sleeve something that should put a smile on Lady Stirling's face for a week or so to come.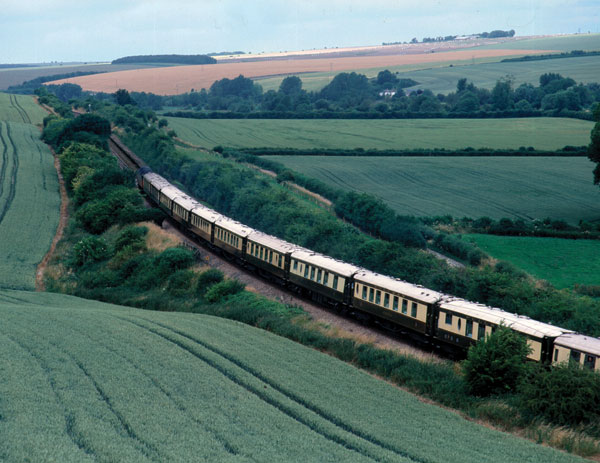 "Dearest," I fawned, "would you be able to pop into the Arb HQ later this week and sort out Jonesy's Hockney collection, it's getting out of hand and I fear another fire."
"Of course dear, but my curator day rate is extortionate." My eyebrow rose very slightly.
"Oh that's fine, the Ed will be paying, maybe add another 10% for your troubles." And with that Moriarty-like master stroke the trap was laid. Insert evil laugh.
There was no Hockney collection to curate; for one, Jonesy is not that cultured. But there was a trip on the famous, illustrious and on occasion downright murderous Orient Express. I kept up the 'curator' façade until the last possible moment and by the night before the trip and in preparation of the impending 'getting dressed panic', I judged exactly how much time a lady would require to get dressed for such an occasion (about two weeks in the case of Lady S). Alas, we did not have two weeks. So I cut a few corners, made some additional rough calculations in my head and came up with the more appropriate number of two hours. I can hear the cries of ladies around the globe now, "You cad, sir!" Yes, only two hours to prepare oneself for the Express; in my defence, I have likened myself to Moriarty earlier in this missive. With this completely unreasonable number decided upon, I set the alarm and dropped off to sleep.
Waking early, I prepared breakfast, placing the tickets for travel next to the bucks fizz and croissant, this being the first hint of what was to come – the tickets are housed in a fine leather wallet, the smell of which conjures images of wingback chairs and brandy. I entered the bedroom and presented the tray replete with wallet. An interesting combination of emotions followed: intrigue, surprise, astonishment, delight, concern, realisation, and eventually panic. "You cad, sir!" shouted my dearest lady. Did I mention I only allowed two hours to dress for the Express? After a frenetic time involving every possible combination of clothes, pearls, shoes, clutches and rings, we (I say we) finally came upon a combination that was befitting the situation.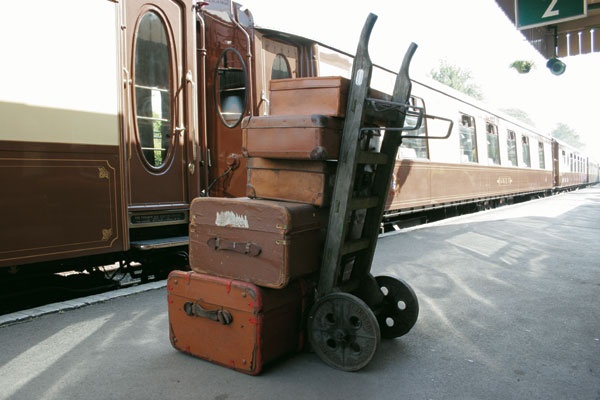 To the station! No number 4 bus this time, we travelled in style to Victoria via the oldest tube line, Bakerloo, and its slightly trendier counterpart, Victoria. When you arrive at Victoria there is a check-in lounge staffed by beaming, professional personnel. Coffee or tea is sipped while the four-piece jazz band gets you in the mood with tunes from the 1930s while you await the arrival of the train. I had a vision in my head, before we arrived, of porters with peaked hats, old wooden carts with luggage, horses pulling carriages and Brunelian architecture looming grand overhead. But of course this is where reality sets in, and there is a massive disparity in history and technology and what my imagination has created. Victoria is a modern, busy station with all the delights that an instant gratification society demands, a far cry from my misty nostalgia. The Express and its ethos by stark contrast is the very epitome of relaxation, lingering in the moment and slow enjoyment, perhaps a bottle of red that has been breathing for a good hour before drinking to a shot of tequila.
I was prepared to ride my mild disappointment. But then a whistle! The train was approaching the station, a buzz of excitement built throughout the assembled passengers and also to my delight the observing staff and travellers who were about to partake in a regular, non-luxury train sojourn. The imposing and grand sight of a steam train can still hold an audience; add to that the near fanatical attention the VSOE Pullman's receive from their curators (I use that word intentionally) and you are in for a treat. The train stopped, the ticket gates opened, we flooded through. Surprisingly the first stop for most people was to the front of the train to gaze at and have a photograph taken with the engine. Gleaming, powerful, glorious – dare I say a little like myself?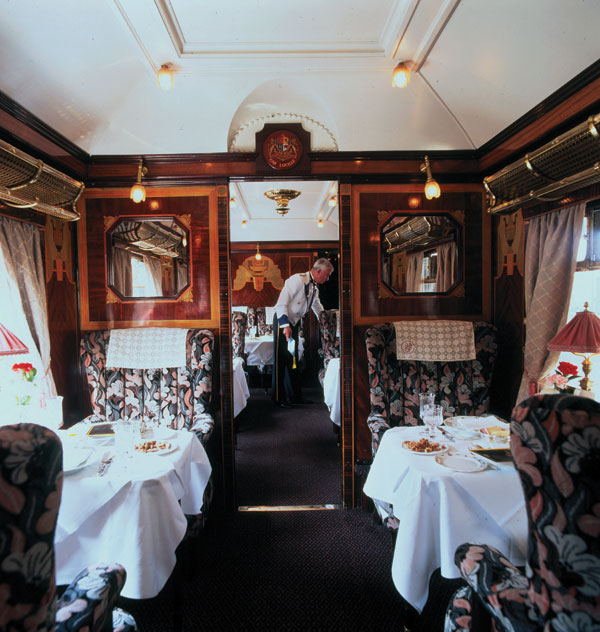 As we stepped onto the train, the images I'd conjured earlier in the day started to become reality; the plush luxury, the neatly turned out staff, the amazing attention to detail within the oval frames of marquetry flowers on American cherry wood and an air of pride from both passengers and crew. We were seated in the Phoenix carriage, a beautifully restored dining car that suffered a ravaging fire in 1936, eventually restored and renovated to its full glory by the Preston Park Works in 1952. This first class parlour car was a favourite of the Queen Mother's and used by General de Gaulle – I'd like to think as a special retreat for fine wine and high-end food. There might have been 26 seats in the Phoenix but we felt in a world of our own.
The steam whistle blew, the train rolled smoothly from the station and we were off, rocking gently with the train. When you think back to the heyday of steam travel and the departure from London, it must have been quick getting away from the dense, built-up city; now it takes 20 minutes before we really start to see the back of the smoke, and although the scenery might have changed in that time, the reaction from people along the way has not. Children were waving from tower blocks, a man walking his dog stopped and raised his walking stick in salute, a couple on a bridge grinned and gesticulated enthusiastically while trying to take a picture. Along with being a lifetime member of the CPC (Clean Plate Club), among other things I am also a keen member of the HTWFTTS (Have to Wave from the Train Society), which I shall never grow tired of and it was truly lovely to see so many people taking enjoyment from the passing of the Express.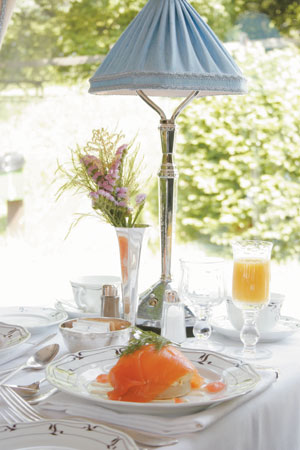 I suspect that we were enjoying ourselves just a little bit more than the people on the outside; the champagne was going down a treat and the canapés were nearly gone. Lady Stirling was desperately trying to tell me something about the cream cheese and date combination but couldn't quite get it out between pleasurable moans. The menu was good, we sat back and looked forward to lunch. The city slowly faded, the hills became more frequent, our mood mellowed and we started to embody the calming effect that the Pullman had on us; I took a little stroll through the carriage. The attention to detail is wonderful, and none so more than in the WC. A mosaic floor, dark wooden panelling, porcelain flush and all the accoutrements that first class travel should afford – probably the most pleasurable visit to a toilet since I got stuck in the 'mirrored maze' at the Crazy Bear, but that's another story.
It turns out that Lady Stirling is a natural opportunist, for which I am very grateful. If I am offered another glass of champagne, I bumble around my reply, being slightly too British and polite, whereas she on the other hand would thank you humbly while taking the bottle and asking you to get another and perhaps something to eat as well – all of which you will no doubt do without objection or a second thought. On my return, not only did we have glasses replete with champagne, but we've somehow been upgraded to the private coupe; Lady Stirling is enjoying a second helping of canapés and smiling in that "Yes, I have just arranged this" way. I do love that woman.
The food keeps coming, service is excellent – I have to note the soup service, not easy to do from a rolling train. Please remember the distance between lap and bowl is mere inches! The quality of the food is very high; we're not talking Michelin star, but when you consider that you are on the move, on a train, with service required over a long distance and between carriages, my hat is off. Time passed, we found ourselves blissfully relaxed, and the chance to enjoy the journey in such wonderful surroundings is delicious.
Then, alas, the scenery changed back to concrete and steel and the train slowly rolled into the station. We were loathe to get off, so loathe we were the last to leave our seats. It had been a delightful afternoon. We forced ourselves up and sauntered through the car and onto the platform. There is Victoria station waiting for us, and although it hasn't changed, we probably have. We're now part of a long and growing family of Venice Simplon Orient Express explorers; we know what it is like to travel in luxury and that the journey was as important as the destination. And as much as I've tried desperately not to mention it, the only thing that might be missing for the perfect day was Poirot and a murder. The latter I can live without, the former would have tickled me pink.
For more information about the Orient Express and the packages and routes available, please visit the website.