Our ranger at Shamwari Game Reserve, Westley, loaded his rifle with large, golden bullets. "For emergency use only," he said. "But if I do need to fire, it's to kill, not maim." He went on to explain that this is not a zoo, we may or may not see any wild animals and it was imperative to respect them if we did. "We don't feed them, so they don't associate people with food," he added, "but stand up or lean out of the jeep and all that changes. And don't make any sudden movements or noises they're not used to – mobile phones off."
Gosh, all this and it's only 5.30am – and as South Africa is two hours ahead of GMT, that's 3.30am to me. After an overnight flight, too. Has he ever used the gun, we ask? No, as it turns out – and he's very much a lover of animals.
Within a minute of setting off in our open-topped, open-sided vehicle, Westley spotted giraffes in the distance. His eyes are used to seeing well-camouflaged animals from a few hundred metres, while mine are more accustomed to a computer screen. I started to think I wouldn't see a thing, even if everyone else did. So imagine my delight when, on our first safari, we came across a herd of about 50 elephants, who walked within feet of the jeep. There was a huge bull elephant, a matriarch, two teenage lads having a tussle – "too much testosterone," said Westley – and scores more, including a three-week-old calf, as cute as a button. Of course, we'd all seen elephants before on natural history programmes, but nothing prepares you for the sheer joy of witnessing these enormous and majestic creatures in their natural habitat, without fear of humans. After a while, the bull flared his big African ears, Westley announced that it was time to go and off we sped. He reads these animals like a book, indeed he reads books about animals when he's not working, and understands every twitch of their body language. "You've got the best job in the world," I told him. "I know," he replied with a grin.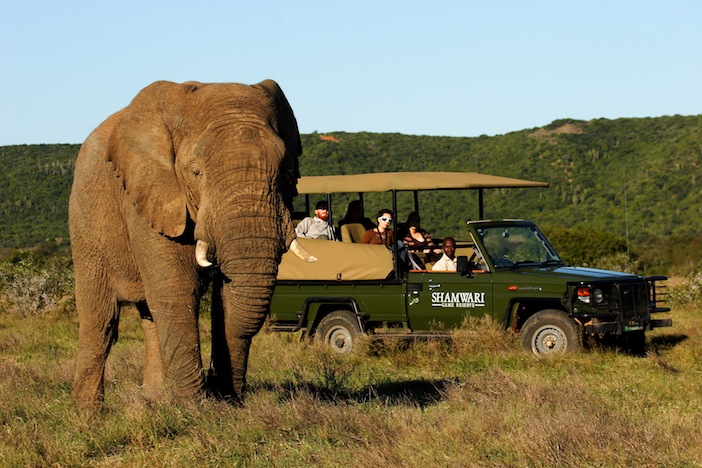 Each safari takes three or four hours but feels more like one, so absorbed were we by everything we saw and learned. Did you know, for instance, that rhinos' horns grow in a stump, and are pointed only because they sharpen them on the huge red termite mounds you see everywhere? Or that these horns are made of keratin, like hair and nails (and have been scientifically proven to have no aphrodisiac properties; listen up, poachers)? We also learnt a lot of collective nouns: an appropriate dazzle of zebras, a journey of giraffes, a parade or herd of elephants, a crash of rhinos, a sounder of warthogs and, my favourite, a bloat of hippos, which we watched in the water, bubbles and strange noises coming from their huge, half-submerged faces every so often.
Safaris take place at sunrise and sunset, when you are more likely to see animals; they sleep in the heat of the midday sun, when only mad dogs and Englishmen go out. Another awe-inspiring sighting was of a male lion as he walked past us and everyone stayed stock still and held their breath. He roared, which Westley assured us was to see whether a lioness would respond. "Lions stalk quietly so you won't hear him roar when he's about to attack," he added. Oh, good. Also, this handsome fellow had a full belly (they kill and eat roughly every three days, so we were safe – in theory at least).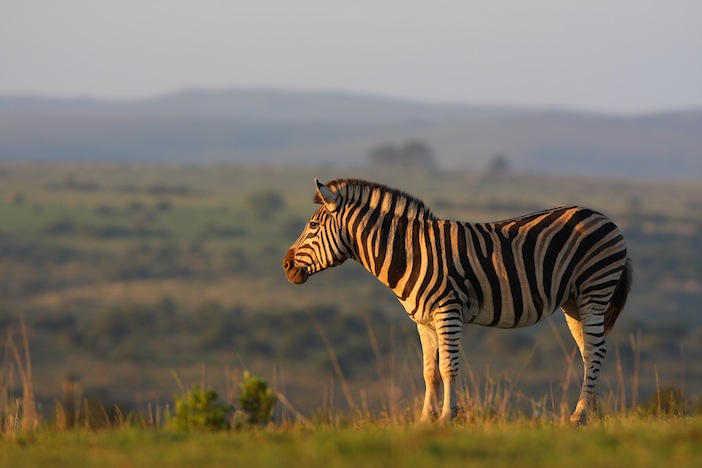 We also saw a caracal (like a lynx), as rare a sighting as a bobcat in Scotland. You won't find any deer in this part of South Africa, but you will see many antelope, gambolling or 'pronking' springbok, impala, waterbok, kudu, eland, blesbok and red hartebeest. On more than one occasion, we saw dazzles, journeys and herds combined: zebras, giraffes, impala and elephants all in the same area. Like a Disney film, but real.
Another memorable moment came during the daily sundowner – my new favourite thing – sipping red wine produced in the area and nibbling homemade crisps and biltong as an orange sun set over this spectacular landscape that stretches as far as the eye can see, not a single building in sight but two black rhino within a stone's throw.
Rhinos (we saw both black and white ones) and elephants are, of course, threatened with extinction. All the rangers at Shamwari strongly oppose canned hunting, where tourists for some reason take pleasure in shooting a chained animal. No, me neither. If you do visit Shamwari, be sure to go to its non-profit-making Born Free Foundation, where lions like Sinbad, who was rescued from an Eastern European circus and is now half the size he should be thanks to a bad diet, are cared for in their natural habitat but can't be returned to the wild. Other lionesses we met are nerve-damaged friends Achee, again from Eastern Europe but this time a snow-covered car park, and Ma Juah, who was kept in a concrete pit and not fed or watered for 23 days after her owner, disgraced Liberian politician Charles Taylor, fled the country. For £2.50 a month you can adopt one of these lions or other big cats.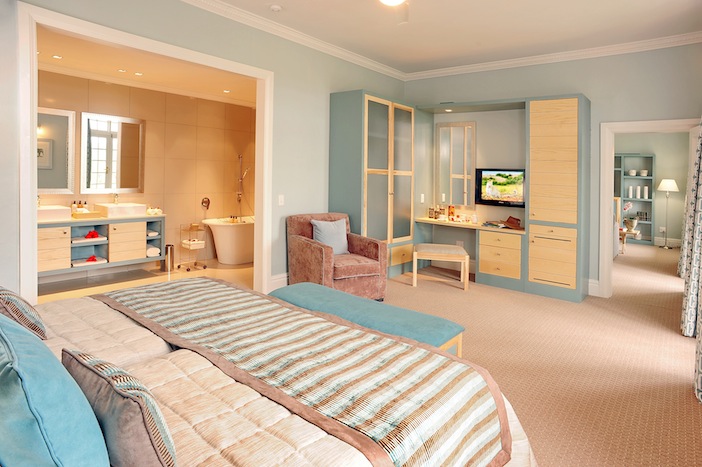 Back at colonial-style Long Lee Manor, the film Born Free was on one of two flat-screen TVs in my palatial suite. What had seemed so exotic when I saw it as a child was now just like the fauna and flora all around me. Everything in the suite was elephant-sized: the bed and bedroom, the bathroom with a roll-top bath, shower area, and a huge sitting room. During the day, a charming and comical warthog family, complete with five piglets, wandered around the lawn outside, and at night the only sound was the peaceful hum of the African bush, a mix of crickets, frogs, toads, hyenas, hippos and lions.
The food at Shamwari is a delight. After the morning safari, breakfast was a full African (similar to a quality full English), eggs Florentine or Benedict and plenty of other choices, as well as plenty of cereals and fresh fruit, which grow here. Every second night Shamwari has a braai (barbecue) and if you are so inclined you can taste venison (not from the reserve) including springbok and kudu steaks, or go for Karoo lamb with its distinctive flavour from the wild rosemary that grows here, chicken, stuffed peppers, and pap (Africa's answer to polenta) served with tomatoes and onions.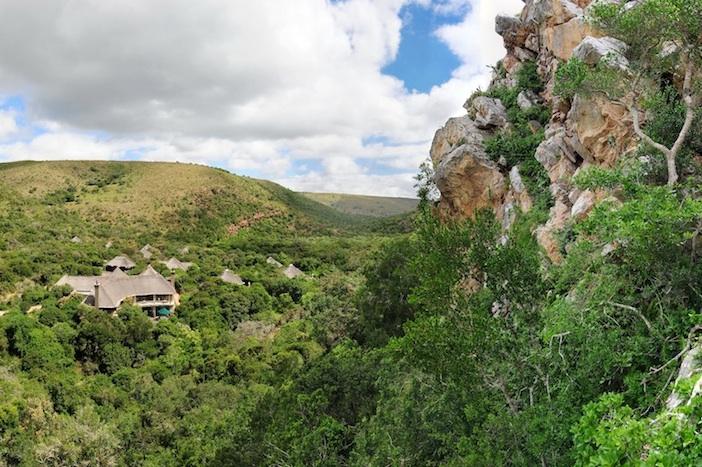 Other parts of the reserve include the flagship Eagles Crag Lodge, where the celeb guest list includes Brad Pitt, Nicolas Cage and John Travolta. Needless to say, all Shamwari's lodges have five stars. Feeling sad to leave this very special place, but with the spirit of adventure now coursing through our veins, we ventured a few hours drive into the Karoo, where the natural and open landscape is framed by flat-topped mountains while antelope, zebra, sheep and cattle dot the scrubby grass. Our next sundowner was enjoyed at the top of the spectacular Valley of Desolation in the Camdeboo National Park, where we watched the sun set over a dramatically rocky landscape with an orange glow, not unlike the Grand Canyon, with eagles flying around and signalling a kill – here they have replaced vultures.
The next morning, a five-hour drive took us to the Tsitsikamma National Park on the edge of the celebrated Garden Route. Here the flora is lush and green, so it seemed appropriate to join a canopy tour. If I'd realised this meant hanging from wires hundreds of feet above the ground I probably wouldn't have agreed, but by the end, our guide Nigel, who remained with me, was surprised when I said I'd attempt the last part of the tour on my own. It's a non-profit-making scheme that creates jobs for the local kids like Nigel, so as well as getting an exhilarating bird's-eye view of the indigenous rainforest and flying through the air, also like a bird (on a wire), you're putting something back into the local economy.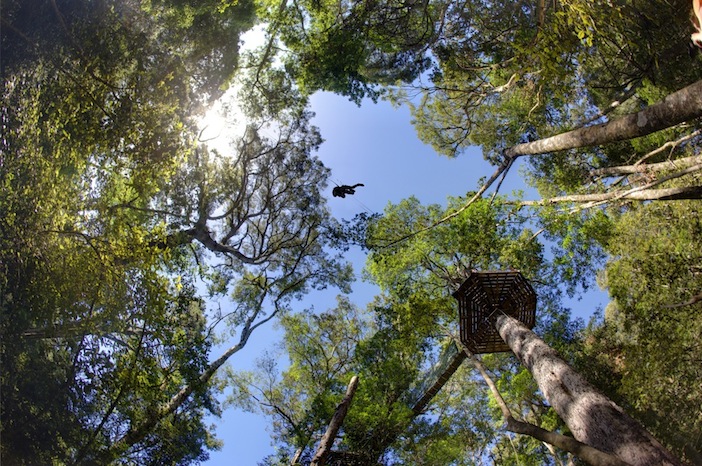 If being within a few feet of lions and rhino and hanging above tree canopies wasn't scary enough, out last stop was for Bloukrans Bungee Jump, the highest commercial jump in the world – 216 metres with a seven-second free fall. After much soul-searching, controlled breathing and more than one outbreak of hysteria, two of our party went for it. You could probably hear the screams back at Shamwari, if not in the UK. Afterwards, one of the jumpers said every time she closed her eyes she could see rocks coming towards her at terrific speed. When I close mine, I see elephants, rhinos and lions living in their natural habitat and as protected from poachers as they can be. It doesn't get much better than that.
View Shamwari Info, Rates & Availability
For more information about the Eastern Cape, visit the Tourist Board website.
Travelbag organises bespoke trips to the Eastern Cape, including five nights at Long Lee Manor at Shamwari Game Reserve staying on a full-board basis, car hire, canopy tour in Tsitsikamma, bungee jump in Bloukrans and accommodation in the Karoo from £1,899 per person including flights with South African Airways. Visit www.travelbag.co.uk for more information.
South African Airways operates double daily flights from Heathrow to Johannesburg connecting to more than 30 destinations in Southern Africa. Return flights to Port Elizabeth from London Heathrow via Johannesburg are from £862 per person. Price includes tax, surcharges and APD. For details, visit the website or call 0844 375 9680.
For more information about the Born Free Foundation, including details of how to adopt an animal, visit the website.