I met a traveller from an antique land who said, somewhat to my surprise, 'Have you been to Shrewsbury?' To be honest, I'd never really thought about it, having little knowledge of Shrewsbury other than having known a few pale-faced, knee-knocking types who have survived a five-year stint at the school there (annual fees at time of writing: £29,385). I'd also heard a few vague things about some of Britain's finest Tudor and Georgian architecture, glorious Roman remains close by, a pleasing cornucopia of pubs and restaurants and a couple of splendidly eccentric places to visit. Finally, one of my favourite films from my childhood, the George C Scott-starring A Christmas Carol had been filmed there. As I said, I hadn't thought about it much.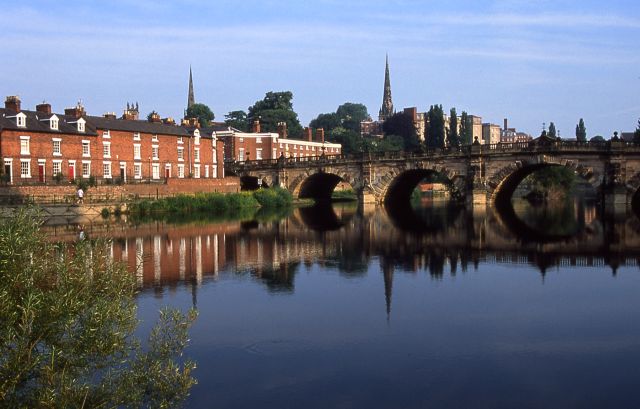 However, the Tamed Shrew (I know, I know) responded with great glee to the idea of a jaunt there on the first sunny weekend of the year and so, Fortnum & Mason picnic clutched merrily in my hands, we headed up to the town, via an unfortunate pit stop in Birmingham New Street station, where a strange assortment of Dickensian urchins looked at our attire (tea dress for the TS; tweed and cords for yours truly) as if we had stepped down from Mars. But a quick shake of an umbrella (packed in case of emergency) and all was well.
We were not to be disappointed when we arrived at Shrewsbury, via a short stop at the Roman remains of Wroxeter, where there's a charming Roman vineyard that offers a decent selection of English wine. When ensconced in the town proper, we noted that we were in the midst of a cartoon festival, with eccentrically attired artists of all sorts busily engaged in all kinds of merry-making and satirical fun – as you might expect from a town that produced the original Private Eye team of Richard Ingrams, Willie Rushton and Christopher Brooker. Good-hearted mirth lay on every street corner, but my favourite was a large-scale illustration of a caricatured bygone Grim Oop North, where every man (and quite literally) his dog were emitting the time-honoured phrase 'Ey Oop!' as two hapless scientists in their midst were moaning 'What good is a time machine that only goes back to 1930s Wigan?' Well might one ask.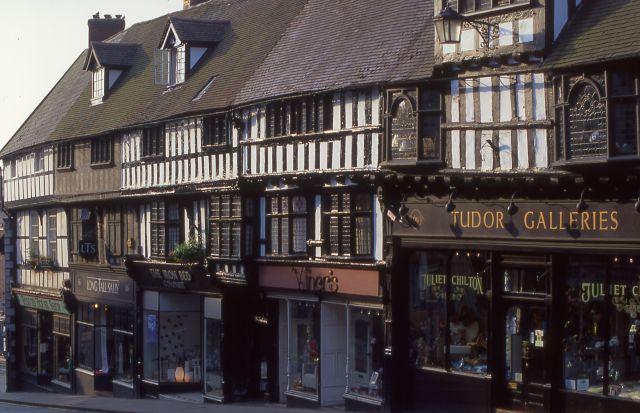 We wandered round Shrewsbury all weekend, finding a range of enjoyment and sustenance everywhere from the excellent pubs (the best we found, The Armoury, is a truly mighty place that's better than 99.9% of the places in London, but booking is pretty much a must) to the more peaceful areas, such as the stunningly beautiful Quarry Park, featuring the flower-soaked Dingle. Reader, it was all I could do not to construct a daisy chain (or something grander), take off all of my clothes, and dance to the Rite of Spring, although I am sure that the TS would have had something to say about that.
The only slight blot on the landscape roundabouts is that top-notch hotels are hard to find, although some good notices have been posted about the new boutique establishment The Silverton. We stayed at the Albright Hussey (what a wonderful name!) a few miles out of town, which boasts a Tudor manor house, 2 AA Rosette-winning cuisine with a decent wine list, some gorgeous original rooms in the main house – and slightly more identikit modern rooms in an annexe, where we were quartered for the night. Nonetheless, it afforded the TS the opportunity to walk around a moat and pretend that she was a lady of the manor, something that she seldom gets a chance to do in Putney.
Eventually, we had to head home, reluctant to say goodbye to the wonderful town. Before doing so, however, there was one final treat in store in the shape of a visit to Tanners, the wine merchants to end all wine merchants. Founded in the 19th century and still based in its original premises, the shop offers the old-fashioned idea that people visiting might actually enjoy the chance to look around at a wide and eclectic selection of wines, all reasonably priced. There was even a range of bottles open and ready for free tasting, and it would have been churlish not to have sampled at least a couple.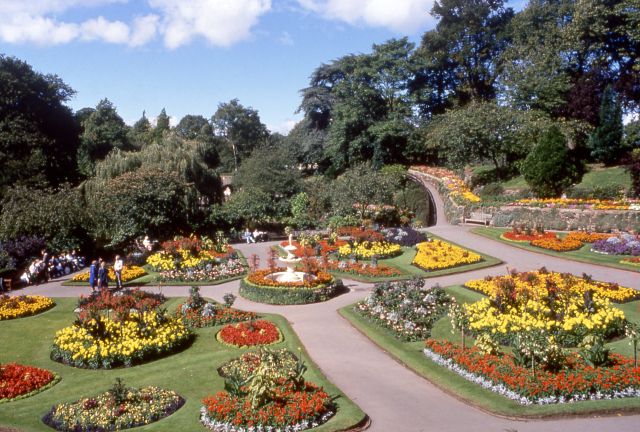 En route back, the TS looked at me in askance: 'That traveller from an antique land that you were banging on about the other day?'
I adopted my most charming smile. 'Yes m'dear?'
'Was he an old Salopian?'
She knows me too well. He was indeed one of the pale, knock-kneed variety. 'Yes, my beloved.'
'So you dragged me here for a weekend because of your old school tie connections, and to check out the competition?'
I couldn't deny it. 'I can't deny it.'
A smile came over the TS's face. 'Well he did very well to spend five years in such a beautiful place. What a lucky chap he was.'
High praise indeed. But impossible to argue with.