I'm excited to introduce our brand new collaborative collection entitled 'Hemisphere' produced for and in conjunction with The Woolmark Company… I'll be heading out to the US men's contemporary trade show, Liberty Fair Las Vegas, next week to unveil it in person.
I've always liked working with wool, it's an integral part of tailoring. You can manipulate it to get shape and form. It's also incredibly timeless and yet a very modern fabric to work with. When I heard about The Woolmark Company's aim of introducing designers to Merino Wool I started thinking about creating a collection that would surprise people and show them what you can really do with wool. We wanted to create an internationally casual collection for people who are living an urban life; they might be jumping on a bike, on the train or could be on a plane.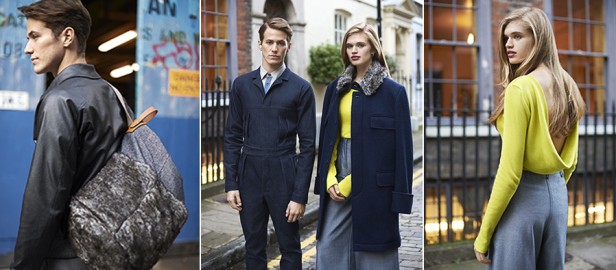 One of my initial steps in creating this collection was to visit the source of the wool in Australia. Here I worked with a technologist who bought out six boxes of 'mistakes', which was quite funny because a lot of them were really interesting. One of the fabrics was woven and it had properties of being impervious to water because it had actually shrunk in the weaving process.
One of the highlight fabrics for me within this new collaborative collection, is the wool denim that we've used in the one-piece suit. When I was up at the sheep station in Ferndale it was really interesting because that was what the sheep shearers were actually wearing. It was stretch denim in a very, very cool cut, so we took that as inspiration. It's very practical. As the shearers pointed out, in cotton you would have damp trousers all day long if you were handling the sheep when it was raining, whereas wool wicks away the water.
The aim of the collection was to demystify the preconceptions of wool and take it to a younger, more contemporary audience. Working with some innovative wool designs and weaves, we wanted an urban consumer and a tailored, internationally casual look. It's that juxtaposition between tradition and contemporary, getting people to be a little bit surprised about what you do with wool and how you can actually wear it.
Inspired by the energy of life in Spitalfields, this collections takes wool away from it's traditional values. It allowed me to view in an urban light and to find new ways of working with this timeless yet modern fibre.
Everything in this collection is wool-based, even the shirts. The clothes seem very simple at a glance but there's a lot of detail in the cut and fit. We've used tailoring details in some of the finishing, they are cut ergonomically for performance and also have little details, you know, if you've got your mp3 player there are iPod loops. The fibre even ages advantageously.
 Two key looks, shown above, include the men's one-piece suit uses an indigo blue wool denim fabric. For this I have drawn inspiration from the boiler suits worn by the Bauhaus movement. The second is a key women's look from wool denim; this ¾ length culotte is teamed with a bright sulphur yellow cowl-back neck top hand-knitted from Merino wool.
Hemisphere will be on show for the first time at US men's contemporary trade show, Liberty Fair Las Vegas, February 17-19.