Known for his atmospheric, immersive installations, renowned contemporary British artist Mike Nelson has transformed the space within the Whitechapel gallery with a collection of sculptures drawn from the first of four V-A-C collections from Moscow – and it's mesmerising stuff.
As we entered the whitewashed room for a private view during Frieze week, it felt as though we were inside an airy artist's studio. During the day the space uses natural light exclusively from the gallery's skylight, and the modelled figures are strewn across a rough wooden platform without labels, giving you the sensation that this installation is a work in progress. Yet this is very much a completed work; it is a collection of sculptures of the body by some of the 20th century's greatest artists from around the world.
Displayed alongside each other on this common ground, rather than on elevated plinths or pedestals, Nelson places historic and contemporary works alongside each other by artists including Constantin Brancusi, Alberto Giacometti, Pawel Althamer and Sherrie Levine. Each of the works is levelled to the same plane, making us study the works more closely, both individually and as a collective whole.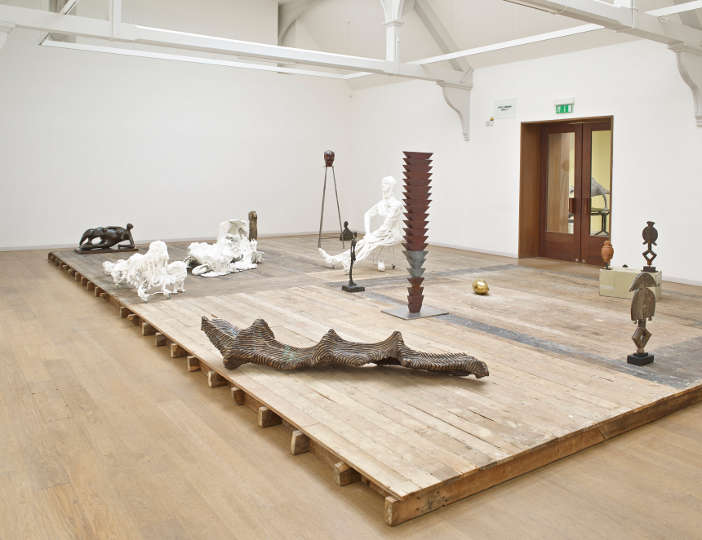 Constantin Brancusi's bronze head, The First Cry (1917) dissolves the human form into elliptical shapes, and Alberto Giacometti's Femme Debout (1957) elongates a woman's body into abstraction. Meanwhile, contemporary Polish artist Pawel Althamer's depiction of three white figures wrapped in bandages around a campfire becomes a focal point around which the other sculptures seem to be gathered. Louise Bourgeois' abstract untitled sculpture from 2003 stands tall amidst the works; an angular spear-like prong which encapsulates the late artist's anxieties and the pervasive sense of trauma within her work.
In another corner, Sherrie Levine's Khmer Torso, sculpted in bronze, is both an homage to Cambodian art which simultaneously expresses a fear for its future and the loss of its meaning by appropriation.
It's a clever use of space from Nelson, and one which allows you to contemplate each work and its significance when placed alongside its neighbour.
Richard Tuttle: I Don't Know or The Weave of Textile Language
Presented in conjunction with a major, much-hyped installation currently on display in the Tate Modern's Turbine Hall, American artist Richard Tuttle's retrospective at the Whitechapel Gallery fuses sculpture, painting and poetry across fifty years. The focus here is the artist's use of textile; in his works often the canvas itself mutates and becomes the art work. Canvas is used alongside other materials – paint, wood, wire – and the results are undoubtedly abstract, but often underwhelming. Tiny works featuring selotape, bluetac and cloth are playful, but understated to say the least; they reminded me of pretty fuse boxes.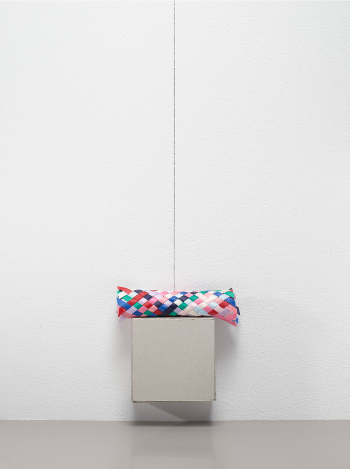 The most thought-provoking piece is not Systems, VI , the dominant work in the middle of the room on the ground floor (a strange mish-mash of wood, rubber, and cloth in different colours that I struggled to draw any meaning from), but Fiction Fish a thin graphite line that soars straight up to the gallery's ceiling, shifting the viewer's gaze. You follow the line-up, then back down again to fix your look upon a small unassuming wooden box, decorated with coloured cloth. This sense of expectation, which culminates in something tiny in scale and humble in shape resonated with a melancholic message – call me pretentious (or perhaps unbalanced) but it seemed to be a perfect metaphor for the very human sense of expectation, compared with the reality of day-to-day existence.
What renders the works more significant are the small accompanying poetic texts written by the artist, which consider the relationship between textile and language in such a way that the artworks are rendered performance pieces.
A cult figure in the minimalist art circuit, Tuttle's art might not be for everyone – yet something about its modesty is endearing, and strangely intriguing.
The view was arranged by Berkeley Homes, whose new Aldgate development Goodman Fields is located a stone's throw away from the Whitechapel gallery.