For the first time since its world premier in Covent Garden in 2011, Mark-Anthony Turnage's Anna Nicole returned to open the new season at the Royal Opera House this September. On this particular opening night, the auditorium was filled with students and young people; there was popcorn, a specially designed Anna Nicole cocktail, and at times an atmosphere worthy of a One Direction concert.
Traditional opera is often hit with the stigma of being too expensive, difficult to understand and riddled with frumpy middle-aged people who like to discuss the minutiae of the lead soprano's vocal range. But with Turnage's contemporary opera about the dramatic life and death of Anna Nicole Smith, it doesn't matter if you don't know your falsetto from your vibrato. You'll probably enjoy it anyway. And if you're a student, you might be lucky enough to get a seat for under £25.
Over the last couple of decades, Turnage has earned himself a reputation to draw in a younger audience. With works like Greek, an in-your-face re-telling of the Greek tragedy of Oedipus, and The Silver Tassie, an opera about a footballer from WWI. His flair for catchy titles, contemporary themes and absorption of jazz elements into a contemporary musical style has helped him build up a young fan base. Anna Nicole, his third Opera, hasn't disappointed.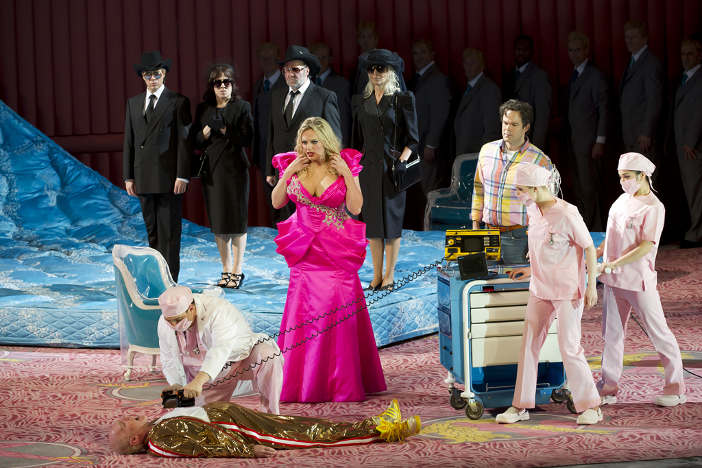 This dynamic new opera is hard to define. It's a mixture of comedy and tragedy, combining elements of jazz, music theatre and blues with traditional operatic language. The different music styles work well with Richard Thomas' libretto, to mirror the extremes portrayed in Anna Nicole's life. From the mournful and bluesy 'Low wage' chorus when Anna starts working at Walmart, to strutting about in her favourite Jimmy Choos in a cheerful musical style duet with her billionaire husband.
Conductor Antonio Pappano has embraced this diverse musical style, commenting on the orchestra that 'It brings out something new for them. They have to find something different inside of them to put this stuff across, maybe their younger selves, which is what I have to do to conduct it.'
The costumes, designed by Nicky Gillibrand, are suitably trashy, with the voluptuous soprano, Eva-Marie Westbroek, rocking a selection of skimpy pink outfits in the role of Anna. The main chorus is akin to warped Marilyn Monroe style flight attendants, and the strippers are fabulously outlandish with giant plastic breasts on display. The media are also cleverly portrayed by a group of young ballet dancers dressed as cameras, ever growing in numbers, slowly creeping around Anna Nicole, driving her dependence on the public eye.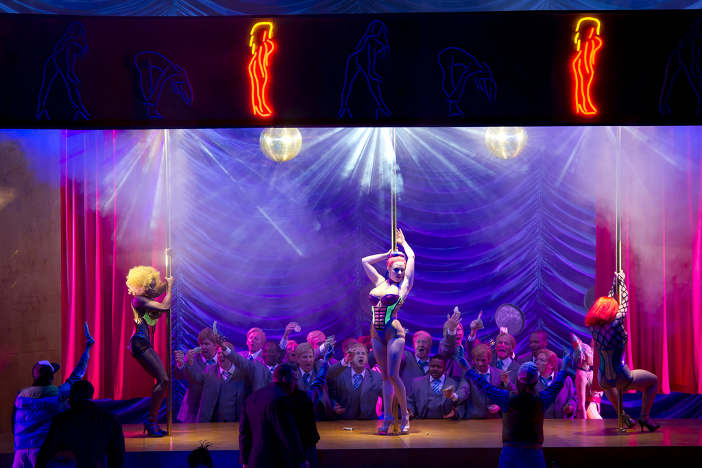 Anna's story is not unfamiliar to younger audiences, which could be another reason this opera resonates so well. She begins her career as a waitress in the small, unpronounceable town of Mexia, Texas. Unsatisfied with her standard of living she leaves town and becomes a stripper. After an aesthetically successful boob job, she weds an octogenarian billionaire. He dies shortly after, leaving Anna and her lawyer friend, Stern, in a lengthy, expensive legal battle for his estate. In the drive to keep herself and her son lavishly supported, Anna slowly loses control of her life, and her dignity. At some points you don't know whether to feel sorry for her, or outraged at her ridiculous behavior.
Anna Nicole isn't stuffy or elitist. It's a modern day tragedy with contemporary themes that resonate with a younger audience. With a libretto bursting with unashamed profanities, this is much more likely to be giggled at by younger audiences than one's granny. The electric atmosphere on the opening night was enough to prove the appreciation. No one was afraid to boo Rod Gilfry's fantastically evil portrayal of Anna's lawyer, Stern. Or show their appreciation with a standing ovation for Eva-Marie Westbroek's passionate performance after she zips herself into a body bag, blowing the world one last kiss.
Anna Nicole at the Royal Opera House runs until 24th September 2014. For more information and tickets, visit the website.