La fanciulla del West is not one of Puccini's most popular or well-known operas, although the composer did claim it was one of his greatest works.
The opera is based on David Belasco's play; a love story set in a mining camp in the Californian mountains at the height of the Gold Rush. Minnie, the saloon bar owner, and her baritone chorus of miners battle together against the harsh austerity of their surroundings. It is a cold and lonely existence, made bearable only by the community that they have crafted together under Minnie's maternal, pedagogic and religious supervision.
But this stoic community's phlegmatic harmony is quickly blown apart. Scheming to steal the miners' gold, the bandit Ramirez enters the saloon disguised as a traveller. Minnie and Ramirez fall in love. Their romance destabilizes the community, and on a grander level, questions whether criminals can ever be reformed.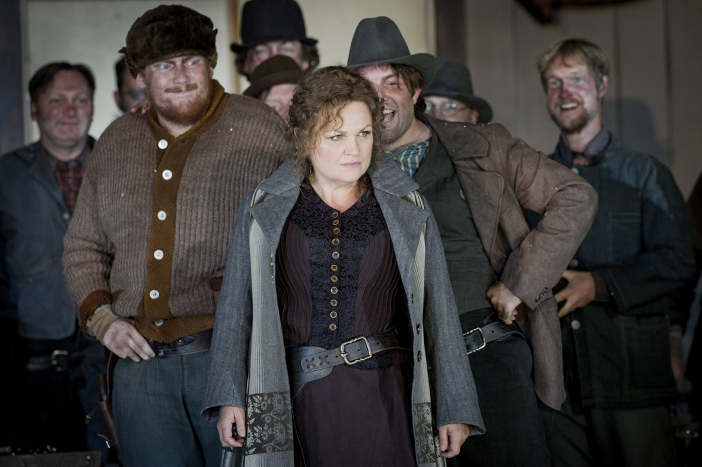 The story itself is not as punchy, grabbing, or subtle as some of Puccini's other operas, and its lethargic unfolding is perhaps why many have been so ambivalent to the opera in the past. What's more, the narrative's sluggishness is exacerbated by our familiarity with its precinct. The Wild West has become so strongly associated with more exciting, lively cinematic offerings that the narrative cannot help but feel torpid.
Yet in spite of this meandering narrative, the opera is uplifted by Puccini's elegant and ingenious score – and Keri-Lynn Wilson and the ENO's orchestra bring that score to life. As the curtain swiftly rises, with spotlights cinematically circling, the introduction's brash horns, and dramatic strings bring to life the wonder and fancy of the Wild West. It is an arresting beginning, and musically is fully representative of things to come.
Soprano Susan Bullock is excellent as Minnie; powerful, passionate, and intelligent, she is eminently persuasive as the saloon bar owner, and her transformation from independent spinster to besotted lover is effortless. Peter Auty and Craig Colclough as Dick Johnson and Jack Rance respectively, are also perfectly naturalistic whilst simultaneously demonstrating a show-stopping skill for spectacle.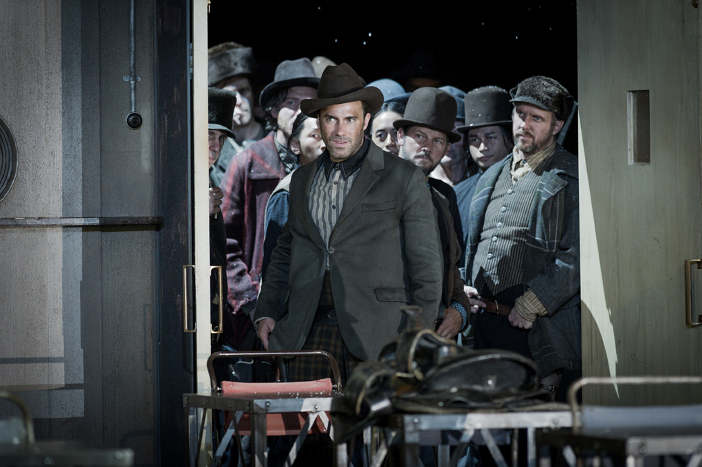 Although one cannot fault the ENO's musical direction, the production's austere, naturalist staging leaves one feeling rather flat. With the opera's basic narrative anything but compelling; director, Richard Jones, could have done more to bring a sense of spectacle to this unfamiliar opera. The set is simplistic. The lighting is unimaginative. Indeed apart from the excellent execution of Puccini's score; and the impressive chorus of baritones – there is very little that captivates the audience on stage.
In many ways, this ENO production of La Fanciulla reinforces the criticisms of its previous detractors: an exquisite score, stunningly played, brought down by its slow-moving plot and unimaginative direction.
The Golden Girl of the West runs at the London Coliseum until 1st November 2014. For more information and tickets, visit the website.