It may have once been called Puccini's "shabby little shocker" but Tosca is still pulling in the punters at the Royal Opera House. And deservedly so. From the first chilling opening chords, the orchestra of the ROH plays sublimely under the direction of Alexander Joel. Jonathan Kent's staging (with Paul Brown's monumental designs and Mark Henderson's atmospheric lighting) is dark in every sense. Out of that darkness come flickering candles, glittering gold altar monstrances, Tosca's shimmering dresses, stars twinkling just before the dawn breaks.
So, why shabby little shocker? The original Sardou play was billed as a melodrama though it follows to the letter the three unities of Greek tragedy: it is a single story in one place that happens within the course of one day. The place is Rome, the time is 1800 and Napoleon and republicanism are knocking on the door of the city and its ruler, the King of Naples. The story is that of the diva, Tosca, her lover, the artist Cavaradossi, and the Chief of Police, Scarpia. What follows is a story of lust, betrayal, jealousy, duplicity, brutality – you can see what might have offended early 20thcentury sensibilities. But how did those early critics manage to miss that divine music?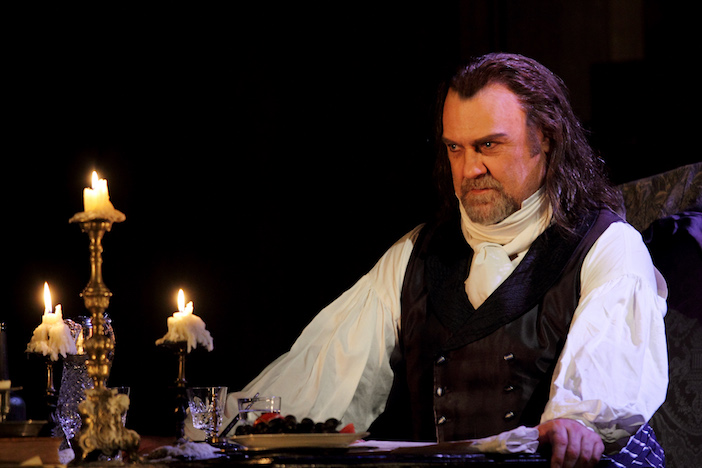 It is music with a relentless drive, perhaps at its most inexorable during Scarpia's dark Iago-like plotting at the end of Act I, his plan to first deceive his victim and then seduce her. It could have been written for these Me-Too times, the story of a bully who uses his power and position to weaponise his gratification.
Played by Bryn Terfel, this is a Scarpia whose elemental violence is barely disguised by his sneer. Terfel commands the stage. He is the Weinstein of 1800, so utterly convinced by his own power, entitlement and invincibility that it is beyond his imagination that he will not overpower Tosca – let alone that she could overpower him.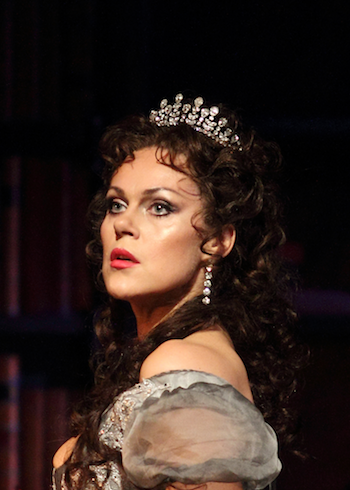 The Latvian soprano, Kristine Opolais as Tosca, is radiant, constantly teetering on the brink between love and jealousy, anger and joy, hatred and piety.  Her Cavaradossi, Vittorio Grigolo, is making his debut in the role this season – though he did first appear in Tosca as a child in Rome – as the shepherd boy in Act III (sung here by Joshua Abrams with a piercing sweetness). Grigolo's impassioned revolutionary painter scrambles over his mural scaffolding with ease and his honeyed tenor becomes ever warmer as the evening goes on.
Kent's production was first staged in 2006 but it's as fresh and as compelling as ever. This season has a particularly good cast (Angela Gheorghiu shares the role of Tosca and Marco Vragogna takes over from Bryn Terfel at the end of June). This is a classic of a Tosca, all soaring music and unbridled passion. And shocking? You bet.
Tosca is playing at the Royal Opera House on 30 May, 4, 7, 10, 15, 17 and 20 June. For more information, and box office, visit www.roh.org.uk.