In this 20th anniversary year of Glyndebourne, acclaimed director Tom Cairns returns to the festival, not only to put his own inimitable mark on one of the best loved operas in the repertoire, but to introduce audiences to the first new production Glyndebourne has seen in over 25 years.
With the critics ready to pounce, Cairns hasn't attempted a controversial update, as he explained in a recent interview: "I just engage with the drama emotionally, as I think Verdi did, and I'm approaching it in what I hope is a simple, human way that will tug at the heart–strings." He has created a timeless space and one which invites the audience to draw from their own imagination.
Russian soprano Venera Gimadieva makes an astonishing Glyndebourne début (ahead of starring at the Royal Opera House) as Parisian courtesan Violetta Valéry, one of the most important and tragic opera heroines, and based on the Alexander Dumas novel about a fallen woman, La dame aux camélias. Glyndebourne is a very special place, and the magic of enjoying opera on a glorious summer's day was made all the more unique by seeing the birth of a true opera star; from the Brindisi to the final aria, this Violetta was utterly riveting.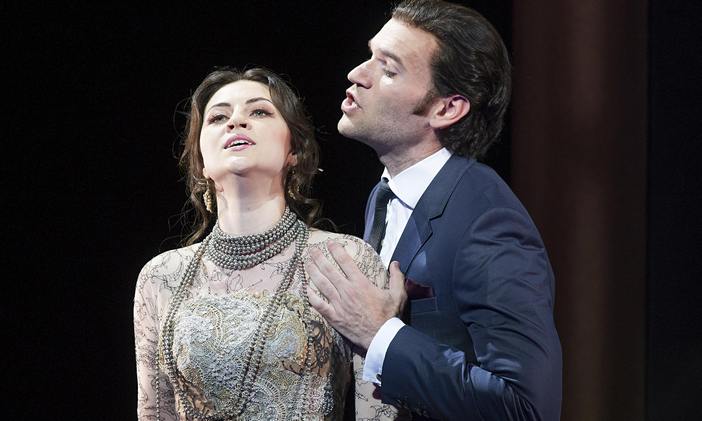 When one considers that American tenor Michael Fabiano, cast as Alfredo, is also making his first appearance at Glyndebourne, you begin to realise how brave, and yet how flawless this production is. Perhaps it is all the more electrifying as a result of these two relatively unknown leads. Fabiano certainly doesn't disappoint vocally, yet he plays the love-struck Alfredo Germont coolly rather than hot-headedly as you might expect.
As the plot unravels with Alfredo declaring his love for Violetta, a relationship doomed from the start, both leads are robustly supported by the rest of the cast and chorus, with Tassis Christoyannis as Alfredo's father Giorgio particularly memorable in later persuading Violetta to give up her relationship with his son for the sake of the family's reputation.
My only bugbear is that the Glyndebourne Chorus stand too rigidly to be convincing as men and women at a party, and better choreography would greatly improve the naturalness of some of the larger scenes. It is the only element of this modern reworking which makes one miss a Belle Époque setting and the swagger of nineteenth century society.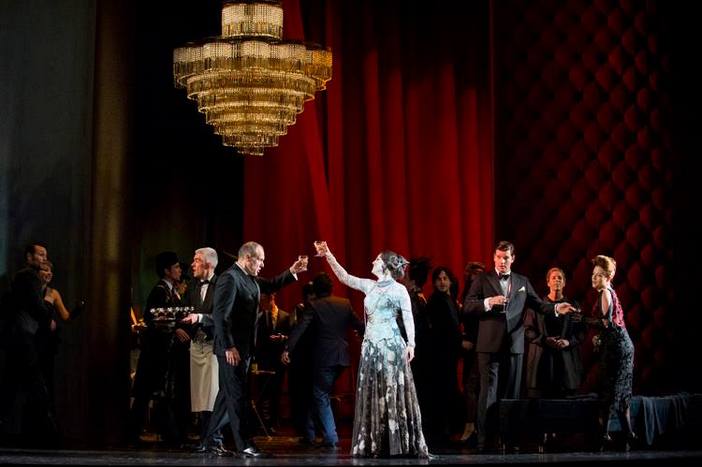 Whilst the libretto refers to horses and carriages, Hildegard Bechtlerand's set looks partly modern and partly 19th century; it's an intriguing and unexpected combination that allows us to focus more on the unfolding love story than the typically fussy Victorian setting in which the opera was originally staged. Surely even the most traditionalist opera-buff would find it hard to criticize something so successful and sympathetic?
Not only is Alfredo's father violently opposed to the match, soon it's revealed Violetta is suffering from a unspecified terminal illness. Without meaning to sound callous, for the purposes of staging, this is an improvement on the usual tuberculosis, as our heroine is never reduced to holding a hanky to her mouth. A spluttering soprano is never a good look, especially when the soprano happens to be in such fine voice on her deathbed. Venera plays Violetta perfectly; as a woman resigned to part from her lover, who breaks down in the final act, and on facing death alone.
It was a huge privilege to see Sir Mark Elder conducting the London Philharmonic Orchestra, who added his own individual style and heightened the contrast between the big bold numbers of the score and those bursting with tenderness and melancholy. If Verdi himself had been leading the musicians it could hardly have been more exquisite. Put simply, it would be a crying shame to miss this glorious production, and you don't have to – Glyndebourne is partnering with Picturehouse Cinemas for the fifth consecutive year and will screen La traviata on Sunday 10 August at 5.30pm live from the festival.
La traviata at Glyndebourne, Sussex until 23 August 2014. Live streaming to UK cinemas on 10th August 2014. For more information visit the website.