German Conductor Michael Hofstetter makes his return to English National Opera this autumn in Nicholas Hytner's much-loved classic production of Handel's Xerxes. Hofstetter first came to The Arbuturian's attention when he conducted Verdi's La Traviata in 2013, and now London audiences can catch him once again from 15 September, with world-renowned British mezzo-soprano Alice Coote in the title role.
Xerxes is one of Handel's most celebrated operas and was first performed in 1738 in London. The plot centres around the Persian King Xerxes I (485 BC-465 BC) and rolls along in a style not too dissimilar to that of a comic soap opera, with gossip and gags the order of the day. The music, though, is divine, and the opening aria, Ombra mai fu, is one of the composer's most recognisable melodies (the role of Xerxes incidentally can be performed by a female mezzo-soprano or – as it was originally done – by a male countertenor).
Hofstetter is increasingly making a name for himself as leading the new generation of those dedicated to authentic period performance, otherwise known as the 'Early Music Movement'. Godfather of the historically-informed performance – which prides itself on productions that would have been very similar to those heard at the time a piece was first performed – is Austrian conductor Nikolaus Harnoncourt. Passionate about finding a "true and convincing" expression for a piece of music, Hofstetter is working alongside Harnoncourt at the Styriarte Festival in Graz, Austria, where from 2014 he is gracing the podium as Chief Conductor of the festival's new orchestra on period instruments.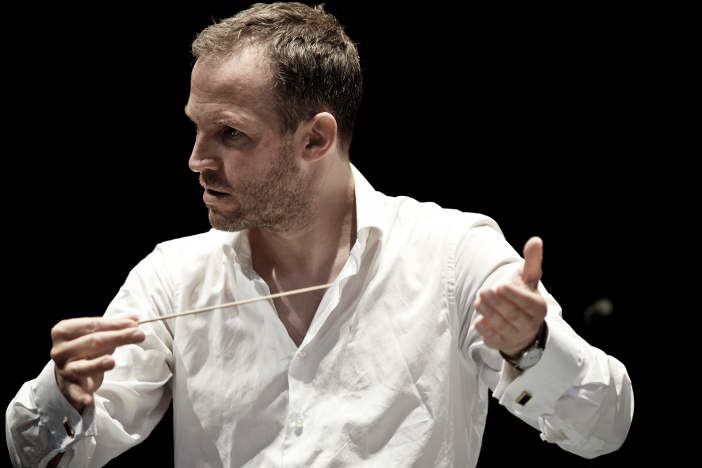 Audiences can catch Michael Hofstetter at English National Opera from 15th September. Those who can't make it to London's Coliseum will be able to listen to Hofstetter on recording, as he releases two new Handel albums this autumn: Handel's Concerti Grossi, with the Stuttgart Chamber Orchestra on German label Orfeo, and a live recording of Riccardo Primo from the International Handel Festspiele Karlsruhe.
The Arbuturian caught up with Michael as he begins intense rehearsals in London:
Q: You say that your aim is to find a true and convincing expression for the music in performance. Do you think there is one 'right' approach to performing a piece of music?
A: I don't think that there's 'one' right approach, but my ideal approach to music is the duty to search for the highest possible truthfulness. In this sense even an 'ugly' tone could be right and beautiful because of its authenticity to the affect and the dramatic moment. It might be the same situation to that of an actor who tries to find the right timbre, colour and true attitude for his text, so you get the feeling that his sentences come right out of the moment because he learned it by heart. So there isn't only one possible way but this is my personal aim.
Q: What is it like performing at London's iconic Coliseum and with our very own Alice Coote?
A: Alice and I already have performed together in the Netherlands in a Handel opera and so I am really delighted to be back with her. She is a brilliant singer and performer, appearing here in an already outstanding cast which includes for example Andrew Watts, Sarah Tynan and others. Performing with these great singers in the spectacular Coliseum is a wonderful musical and personal experience which I regard as an absolute highlight in any musician's agenda.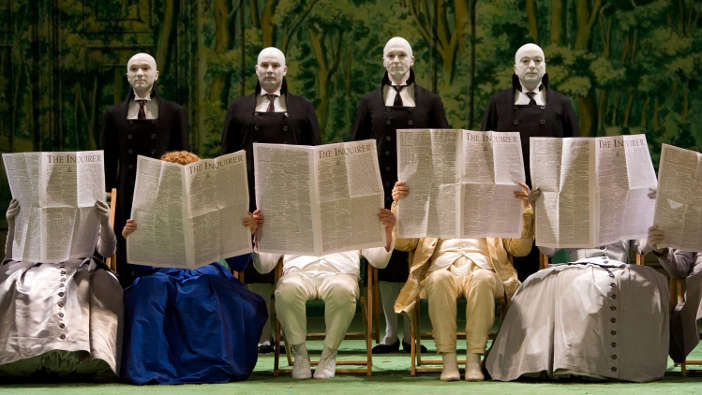 Q: You are based predominantly in Germany. Do you notice a difference between how German audiences react, compared to those in England?
A: I think that English audiences are very enthusiastic. When it comes to sport, particularly football, Great Britain is such a passionate nation. I think that in the arts both the actors and the audience take a lot from this 'sporting' team spirit and awareness of being completely in-the-moment. They apply a similar concentration to what is happening on-stage.
Q: You say that you think Handel made music for the theatre. Tell us more.
A: Opera is the most complex of all arts and one of the main tasks for an opera composer is to elicit the strongest energy and atmosphere he can get from the text, and make it even stronger through the music. With the music as a medium the essence of a statement goes directly into our hearts. That means music does not simply have to be infinitely beautiful but also has to strengthen the power of the original words. Handel is for me one of the greatest composers ever, especially for his ability to give the text wings through his music. He creates the strongest and deepest dramatic moments and makes the earth stand still within a few bars.
Q: Do you think that singing an opera in English (i.e. if that's not its original language) impacts on the dramatic effect?
A: It is a century old tradition to translate opera librettos when they are performed in other countries. To name only two famous examples out of countless others: There exist two different language versions of Gluck's Orfeo ed Euridice, and Verdi's opera Il Trovatore, which has been performed as Le Trouvère in Paris. The advantage of performing an opera in the mother tongue of the country of performance is that with the first syllable you can attract the attention of the spectator, and from the very first word they can be drawn into the story and follow it from the beginning to the end.
Q. You are also about to release two new albums of Handel's music. Do you have a preference for the live performance or the recording studio?
A: If I had to choose I would say the studio, but ideally after having had the experience of some live performances on stage first, as I did for the first ever published recording of Gluck's 'Ezio' (Vienna 1763) in 2008. One of my two new Handel CDs which will be released soon, will be a live performance recorded during the International Handel Festspiele Karlsruhe with the marvellous Franco Fagioli in the title role of Riccardo Primo. The other CD is a studio recording of Handel's Concerti Grossi with the Stuttgart Chamber Orchestra.
Handel's Xerxes runs at the ENO from 15 September -3 October 2014. For more information and tickets, visit the website. For more information about Michael Hofstetter, click here.