I first saw My Night With Reg by Kevin Elyot twenty years ago at the Royal Court and then again during its successful West End transfer. I loved it then but wondered if the play would have dated as I sat down to watch Robert Hastie's revival at The Donmar Warehouse.
Yes and no. Elyot's wonderful and humane play is very time specific. It is set in London in 1985 just as the AIDS epidemic was taking its hold here. AIDS is never actually mentioned by name but it is ever present. Guy we are told (played with touching awkwardness by Jonathan Broadbent), is so neurotic about catching it that he has taken up knitting as a "lust-depressant".
During the 1980s, AIDS meant an almost certain death sentence and in that sense the play has indeed dated. All the men in the play have slept with the promiscuous Reg who subsequently dies of the illness and the lonely fear that they might have it too adds tension and reflects the then omnipresent fear of infection to the gay scene at that time.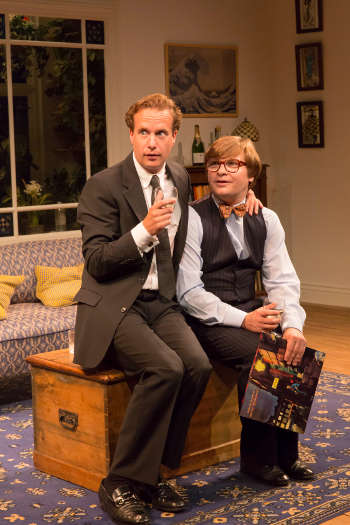 Fortunately, due to developments in modern medicine, awareness, and attitudes to AIDS, the possibility of contracting it are now mercifully very different. But the play deals with such timeless themes of friendship, love, unrequited love, loyalty, and loneliness, and in that respect this play stands the test of time very well indeed.
The six characters are a wonderfully diverse lot and all are beautifully observed and drawn by Kevin Elyot's sharp eye. There's a very well endowed (so we are told) butch bus driver called Benny (played with great intensity by Matt Bardock), and a flamboyant trustafarian named John, played with enormous skill by Julian Ovenden to name but two.
We never actually meet Reg but we hear lots about him and the play is heartbreakingly moving with all the men, apart from Benny, achingly in love with someone who doesn't love them back. Even Geoffrey Streatfeild's hilarious Daniel is uneasy about Reg's fidelity as a lover. But it is John's tortured love for Reg that moves the audience most.
As John, Ovenden appears on the surface to have it all; the looks, the money and the social background, but he doesn't even notice poor Guy's feelings for him or indeed the effect he has on the besotted Eric (Lewis Reeves). John is obviously a lousy and inconsistent friend but somehow this makes his agony over his affair with Reg and his subsequent death all the more poignant. He is clearly not a man used to displaying his feelings and his deep love for Reg seems to come as a surprise to him. We see him suffering but desperately trying to hide his pain from the others, as no one apart from Guy knows about the affair. The loneliness of his grief when Reg dies is agony to observe.
Aside from being utterly moving, My Night With Reg is hysterically funny and hilarious descriptions of cruising on Hampstead Heath are followed by witty one-liners which left the audience helpless with laughter at times. This is a wonderful evening of theatre so it's not surprising that the entire run is already sold out. Let's hope for the West End transfer this production so richly deserves.
My Night With Reg at the Donmar Warehouse, London, until 27th September 2014. For more information visit the website.