As I sat in the stalls of the Playhouse Theatre, waiting for the curtain to come up, three teenage girls came rushing breathlessly into the theatre and hurriedly took to their front row seats. There was no doubt who they were here to see. Actress, model and wild child extraordinaire Lindsay Lohan was about to take the stage – and the draw of her name had ensured that there were plenty of young, well-dressed bums on seats.
The sense of expectation in the audience was palpable. We'd all read about LiLo's shaky theatrical debut the week before, which saw her fluffing up her lines and needing an off-stage prompt. But sceptics hoping to see Lohan mess up will have left feeling disappointed that evening. Lohan may not be theatre's next darling, but as young secretary Karen in David Mamet's Speed the Plow she is sultry, charming, and rather captivating.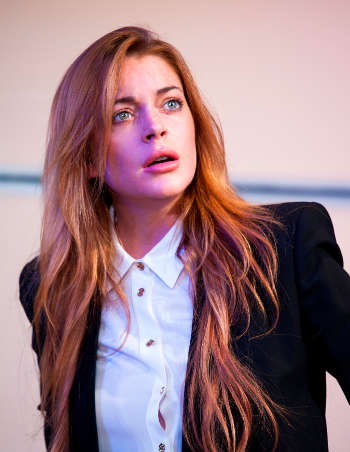 Lohan does not appear on stage until 15 minutes into Lindsay Posner's revival of the 80's Hollywood satire, but it's not a moment too soon. Although the initial exchange between movie exec Bobbie (Richard Schiff) and co-producer Charlie (Nigel Lindsay) is entertaining, Mamet's quick-paced, witty script seems to overwhelm them. Schiff in particular struggles with a dialogue which requires the pair to constantly talk over each other – some of his timing is off, which makes his lines feel unnatural and under-practised and leaves him looking somewhat flustered. Oddly enough at this point it is Lohan who saves the day, breezing onto the stage as Bobbie's naïve, pretty new secretary, lifting the atmosphere and eliciting excited whispers from the audience.
She looks wonderful – sexy and vibrant, and it's hard to take your eyes off her. True, she's visibly nervous and uncomfortable on stage (I even detected shaking hands as she poured the tea), but luckily enough for LiLo her character is meant to appear ill at ease amongst her superiors, so she gets away with it.
As the minutes roll on Lohan loosens up, although not even her husky tones can save her flat vocal delivery, which renders her character more one-dimensional than she should be. Even her impassioned hand gestures are too contrived, and at times it feels a bit like watching a younger sibling in a school play – yet it's somehow endearing. Some of Karen's lines also feel embarrassingly appropriate for Lohan; the audience collectively sniggers when she tells Bobbie, "I know what it is to be bad". This is clever casting from director Lindsay Posner, especially since this is a play with a message to relay about the entertainment world and its cynical, money-making use of celebrity.
The play captivates most in the second half, as all three cast members relax into their roles. Karen has paid an overnight visit to Bobbie to discuss a book he has asked her to "courtesy read"; it's his ploy to sleep with her. The book is a story about radiation and the apocalypse which is farcical in its nonsense, yet Karen somehow persuades Bobbie to turn the book into a film, over a predictable script starring a big-name actor that is sure to be a Hollywood hit. After Charlie finds out his dreams of getting rich are in jeopardy, fireworks ensue between the trio, and it's gripping stuff. Mamet's play reaches its dark conclusion; the balance of power is redressed and the woman is pushed aggressively back into her rightful place in the world.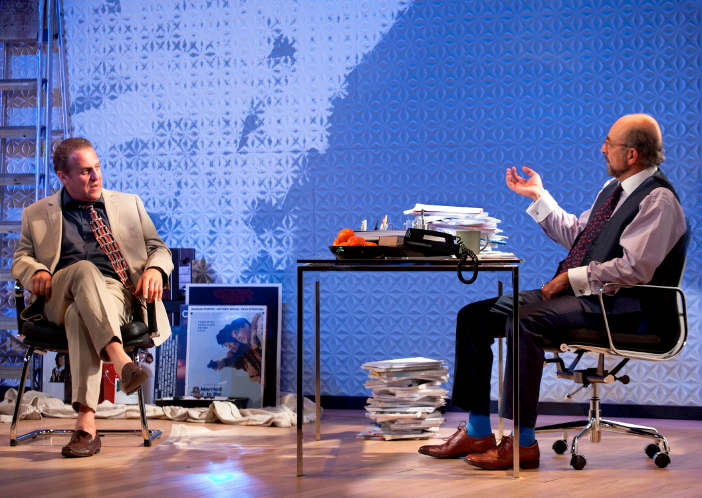 As the trio appear for the curtain call, the men look genuinely relieved to hear the sound of applause – clearly they have been shaken by bad reviews, and were nervous about their leading lady underachieving. But they needn't have worried. Lohan even gets a standing ovation from the theatre's enthusiastic teens, and she's all girlish giggles and grins as she takes her bow. On October 3rd – aka National Mean Girls Day, for anyone that didn't know – LiLo may not have dazzled the West End, but she certainly did her fans proud. And something tells me that once the media furore has quietened, Lohan can only get better.
Speed the Plow at the Playhouse Theatre, London, booking until 29th November 2014. For information and tickets visit the website.