It's fair to say this modern update of Anton Chekhov's Uncle Vanya by writer Anya Reiss is almost unrecognisable, perhaps intentionally. As always, the amphitheatre-like seating of the St James Theatre assists in making the production incredibly intimate and as 'fly-on-the-wall' as Chekhov intended, as does Janet Bird's ingenious corrugated iron set design.
The main theme of the grass always being greener runs throughout not only this play but much of the playwright's work and, having already tackled Chekhov's Three Sisters and The Seagull, Reiss faithfully interprets Uncle Vanya as a portrait of the human condition, which proves timeless and ever-relatable, whether it be set in Imperial Russia or, as in this case, a family farm in England 'Up North'.
Whilst this production has received some poor notices, director Russell Bolam succeeds in delivering Chekhov's droll black comedy, even if some elements, such as Alan Francis as Telygin singing Billy Idol's classic 'White Wedding', does verge on the ridiculous. On the plus-side it mirrors Chekhov's love of the comedy fool and adds a welcome light-heartedness to an otherwise grim backdrop.
Each character, with perhaps the exception of the housekeeper, Marina (Amanda Boxer), is dissatisfied with their lot due to either career disappointments, unrequited love, bad marriage or lack of money. Most of the characters consciously hanker after a new life or lover, or simply resign themselves to the onset of depression and, as in the case of the family doctor, Astrov, alcoholism and the temporary anaesthetic qualities brought on by strong liquor. "Trapped and bored and tired", Chekhov laughs at our human desires and failures, and in turn we laugh at ourselves.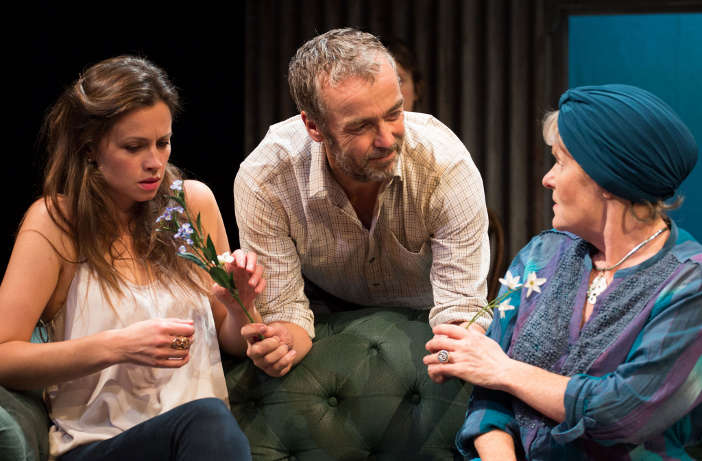 John Hannah is a convincing if underwhelming Vanya, and for whom it's difficult to conjure up much sympathy. Hannah starts out with a thick Yorkshire accent but soon drifts into his standard Scottish drawl, and the housekeeper seems to be based in Somerset. It's a little confusing, especially as this update retains the original Russian character names – making us question what should essentially be a highly realistic 'drawing room' drama.
The play opens with the family's doctor, Astrov (Joe Dixon), an unfulfilled scholar who has gone to seed, in conversation with Marina, who is brilliantly reminiscent of Mrs Doyle in Father Ted, and happily plies the doctor with tea or 'something stronger'. The charismatic Dixon, whilst not considered as headline worthy as Jack Shepherd as the invalid Serebryakov or John Hannah, continues from thereon-in to be the main anchor and the production's only real hope of success.
Other notable performances include Amanda Hale as the plain and tomboyish Sonya who has suffered for years with a burning and unrequited passion for Dr Astrov, and Rebecca Night as Serebryakov's young wife, Yelena, with whom Vanya is obsessively in love. Armed with a shotgun, it is only in the final act that Hannah seems to spring to life and redeem the fact that Vanya, the title character, has not been the main focus or hold over our attention.
Uncle Vanya at the St James Theatre, London, until 8th November 2014. For more information and tickets visit the website.