Imagine you'd spent the last six months knowing nothing better than playing Gauntlet on your Amstrad. Then imagine, on a day that wasn't even your birthday, someone gave you a Playstation 4 or an X-Box 360 and the latest version of GTA which looks more like a movie than a game. Now allow me to transfer this gaming metaphor into the domain of my beloved gin. Bear in mind that the past six weeks have been school summer holidays and I've felt like a performing monkey working at a 24 hour diner. So you should forgive me when I tell you that I carried those handy little cans of Gordon's G&T to a variety of London playgrounds and attractions to make everything a little more fuzzy and tolerable. Then, up popped the opportunity to visit The Bar at The Dorchester to sample the recently re-launched and exclusive Old Tom gin.
As its name imparts, Old Tom isn't a new kid on the block. A recipe born in 18th century England, Harry Johnson's Bartender's Manual of 1882 later referenced it as one of his essential "liquors required in the bar room". After a 30 year hiatus, it was first re-introduced back in 2006 by Dorchester bar manager extraordinaire Giuliano Morandin.
This time around, the new blend is distilled fashionably nearby and exclusively by The City of London Distillery. If you want to know what makes it taste so good, look to the list of botanicals which includes juniper (of course), coriander, angelica root, orris root, cassia bark, cardamom and fresh lemon and orange peel. I'm not going to pretend I know what angelica or orris root are, but I do know this is a fresh tasting gin, a touch sweeter than London Dry, reviving and smooth.  Apparently it's oft referred to as the missing link between London Dry and the Dutch spirit genever. I feel compelled to sample the latter now, to see if I can confirm the rumour.  Well, it won't be long till half term, will it?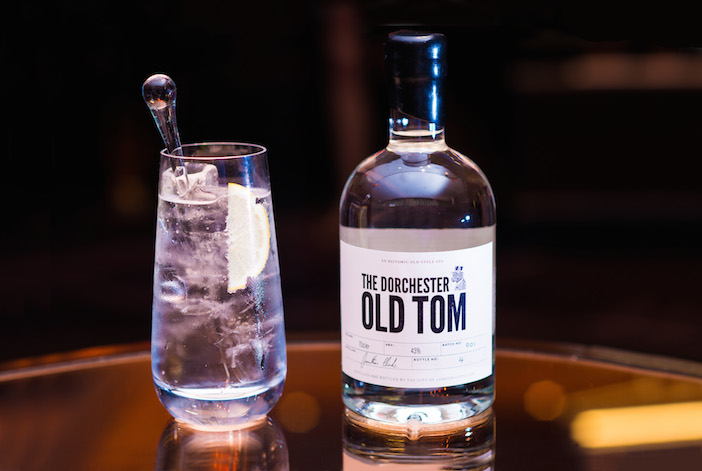 Stylishly packaged with a black wax seal and a hand-signed label including bespoke batch number, you can purchase Old Tom in 700ml, 500ml or 25ml bottles from The Bar at The Dorchester. Far superior than a sly slug on a tin can or, as legend has it, from a lead pipe in a wall. Yes, imagine again for me, this time of a primitive gin vending machine. Post the 1751 Gin Act, in what I'm certain was the horrendous ordeal of Gin Prohibition, one cunning inn keeper set up an ingenious system of a lead pipe leading from his house out onto the street with a small slot, covered with an image of a black cat (an old tom) into which patrons could insert their coin. Upon doing so they would call "Puss!" The inn keeper would retort with a meow, which was the drinker's cue to put the pipe to their mouth and receive a reviving shot of gin. I'm sure no one cares if this is strictly true. What a superb tale, and a notion that may find favour with parents far and wide in holiday times. Anyway, thankfully we have no need of that kind of last resort with Old Tom being legitimately available once more. My Gauntlet days are over.