Chef interviews are nothing new at The Arb, but it's not often we have a chance to go further afield and see what gives some of the world's finest destinations their culinary appeal. Unsurprisingly, it's often just that; that it's further afield that has the draw, as Welsh-born Craig Jones has made St Lucia his home…
When Executive Chef Craig Jones opened The Cliff at Cap at Cap Maison, on St Lucia in 2008, he brought a lifetime of experience in some of the best kitchens in the world. His French West Indian-inspired menu is offered in The Cliff at Cap's dramatic setting, a bluff overlooking the crashing Caribbean Sea with spectacular views out to Martinique and Pigeon Island. Along with his rigorous training at Michelin-starred kitchens in Europe, the Welsh-born Rastafarian Chef also brought a locavore's passion to St Lucia, well before local sourcing became a fashionable buzz word.
Chef Jones still prefers to wear a blue apprentice apron in the kitchen as a reminder that his work is always evolving, his dynamic menu reflecting this commitment to continual innovation and reinvention.  Last year, Jones went on to open The Naked Fisherman, which  offers a more casual and quintessentially relaxed Caribbean beach bar experience, but with the same detail and quality that the Cliff at Cap is famous for.
When did you first know that you wanted to be a chef?
I started work at the young age of 13, waking up early and heading off to the local market in Manchester to stack up the barrows with fruit and vegetables. This became my passion, dealing with different fruit and veggies, coming up with new displays for the market stall – it was here that I started my love affair with food.
What is your favourite ingredient to cook with?
My favourite ingredient has to be chocolate – the smell and taste and overwhelming feeling you get once you start to eat it. Plus you have to get very physical with chocolate when you cook with it, you have to treat it as you would a woman – very gently to get the best from it, but you have to be careful as it can also change very quickly!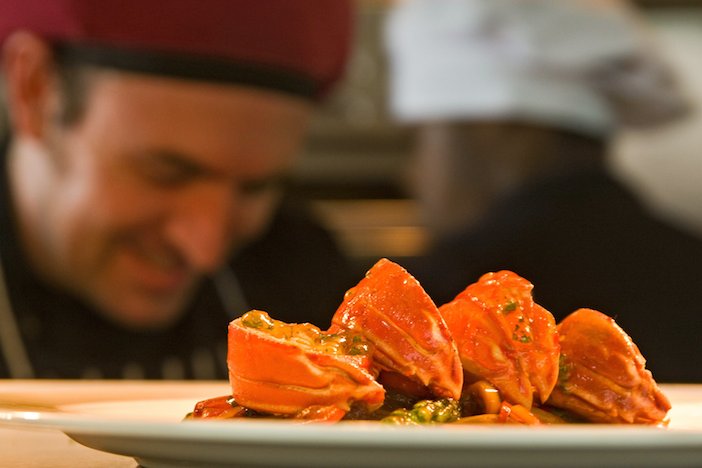 How do you come up with ideas for your dishes?
I keep creative notebooks filled with ideas, concepts and sketches for new dishes and I even write down ideas from dreams. Creativity is what keeps my food evolving, it is central to the passion and commitment of everyday life in a kitchen, but also the creativity of the food is what makes people want to come back to the restaurant.
What is your favourite St Lucian dish?
One of my favorite dishes has to be a fish "One Pot" which Kissey, my wife, cooks. A Creole dish with fish head, dasheen, okras, coconut milk, ginger, local seasoning, peppers, spring onions, garlic plenty of fresh herbs, including my number one herb, shadow bennie. All the ingredients are cooked in a clay pot and the flavours and smells always make you want to go back for more.
What can guests expect?
I love to take guests to the roadside markets and the Saturday market in Castries. The variety always surprises them, even the most sophisticated travelers who have grown accustomed to seeing exotic products in their upscale city markets. I'll introduce them to a farmer who's got his own land and maybe has two grapefruit trees and some vanilla pods.  Or a grandmother with sugar apples she's picked herself and a cocoa stick she's handmade herself. Then I always take guests for breakfast at a local place where they can try saltfish, sweet pimentos, and cocoa tea with cinnamon and nutmeg in it. It's a real authentic St Lucian experience and you just can't beat it.
Cracked Conch Ceviche with Yellow Fin Tuna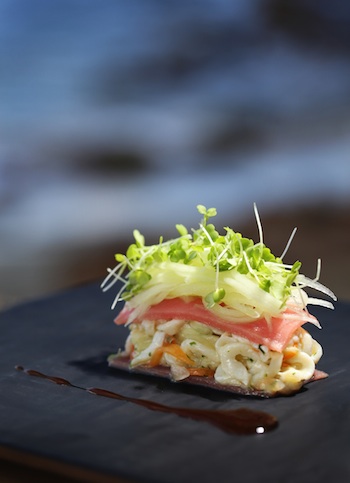 1oz yellow fin tuna sliced very thinly
8oz thinly sliced cleaned conch
2 limes juiced
1 tablespoon minced garlic
1 table spoon minced Ginger
½ red peppers, julienne strips
½ yellow pepper, julienne strips
¼ habanera, seeded and minced
1 tablespoon chopped shadow bennie (use cilantro if not available)
1 tablespoon chopped spring onions
Salt & pepper to taste
Mix all ingredients together and let stand in the fridge for 30 minutes.
Serve between two very thinly sliced yellow fin tuna and top with a cucumber spaghetti and micro arugula.
For more information about Cap Maison, St Lucia, including information on The Cliff at Cap and details of facilities and room rates, visit the website.