There are some things in life – like gin, steak and holidays – which deserve to be done well if you're going to do them at all. They are worth investing in. I'm officially adding ice cream to that list based on my recent sampling of a superb range of luxury ice cream.
Who doesn't want to indulge in Maple Walnut flavour, with the creamy gelato and chunks of nutty goodness? The maple syrup used is Canadian, naturally, and the walnuts have been caramelised.  Similarly, the Vanilla Dream flavour uses only the seeds of Madagascan vanilla after extracting the flavour from the Bourbon vanilla pods, and is totally delicious. There are no fancy-titled, rhyming or bizarre fusion flavours here; these are simple, classic, and the emphasis is on the quality of the ingredients. And you'll find no artificial additives or colours either, so feel free to tell yourself this is practically virtuous fare.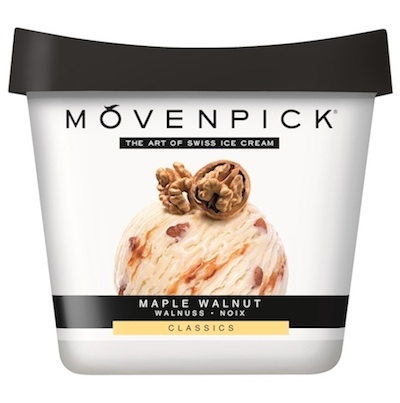 For the fruit lovers out there, there are three tantalising sorbet combinations; lemon and lime, passion fruit and mango or raspberry and strawberry. I had to fight my five year old daughter for the latter, both of us batting the others spoon out of the pot as we dug for the bright red, fruity prize.
Ice cream is obviously synonymous with summer, but I foresee this range making its way onto dessert plates all year round. We're not talking Mr Whippy here, this is five star Swiss luxury. This is Mövenpick.
Mövenpick Ice Cream is available for purchase in Ocado, priced at £8.49 for a 900ml tub. For more information, visit their website.