In the ever-competitive world of fine dining it's not uncommon for restaurants to think of a quirky hook from which to hang a redesign or launch a new menu, and there have been several food-oriented grand gestures across London of late – usually involving, it has to be said, Bompas & Parr and a coloured rowing lake or whacky jelly mould.
The Sofitel St James is taking a slightly more sophisticated approach to delivering its new range of dishes in its signature restaurant, The Balcon. Well, I say sophisticated, but it's also just as outlandish. To mark the British harvest season – and why not – the restaurant has devised a range of new vegetable dishes. A range of vegetable dishes? Nothing extraordinary about that, you scoff. Ah, yes, but when I tell you the centrepiece is, in fact, a new exhibition of contemporary art, you may just raise an eyebrow. Entitled, simply, 'Vegetables', the works are outsized three-dimensional sculptures of brightly coloured legumes by French artist, Patrick Laroche.
Distinguished by the coveted accolade of 'Meilleur ouvrier de France',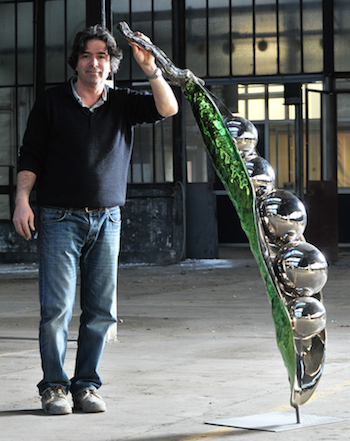 Laroche is well renowned for his extravagant sculptures, which enlarge or reduce the natural form of objects. In these he distorts vegetables from their natural state, choosing to paint peppers blue and artichokes pink, stretching the art – and our imagination – to its limit.
The same might be said of Head Chef, Vincent Ménager, who has created a vibrant range of new dishes combining fresh UK produce with French recipes. Well, this is Sofitel, after all. Highlights of the menu include a delicate savoury madeleine, a delectable red pepper and tomato Octopus Basquaise and a surprisingly light parsnip and maple syrup cake. And, as if that wasn't enough, the bar has got in on the act and created the 'Laroche Cocktail'. Inspired by the juxtaposition of Laroche's work, The Balcon has fashioned a fresh cocktail with rosemary and basil ice cubes, cucumber, flavoursome Heirloom tomatoes and finished with a signature mushroom syrup, adding a very 'umami' dimension to enliven the palate.
Bringing a contemporary and surreal presence to the Grade II listed building, the exhibition and its accoutrements surely make for a stylish celebration of seasonal bounty.
Sofitel London St James is hosting "Vegetables", the latest exhibition by French artist, Patrick Laroche, from 18 September – 31 October 2014.