Invitation in hand, Larry checks his cuffs, straightens his tie and nearly puts his foot in it as he steps into one of the finest private members clubs in the world…
Peter Crome cuts a formidable figure as he greets me over the threshold of Skibo Castle. His six foot plus stature towers over my diminutive frame but it's his characteristic tweed, pink tie and pocket square that makes me slink into my ill-fitting jacket. The journey up the beech-lined drive and that first sight of the castle as we pulled up to it was enough to tell me I'd underdressed. Staff lined up outside like a reception committee. Were they told I was royalty or something? I'm met with a firm handshake and a tray of refreshments. My hand hovers of the orange juice before I opt for the scotch and I'm certain Peter's warm smile belies a bewilderment as he ushers me inside.
As we enter the drawing room, an attempt to disarm him with questions on the castle's history is met with perfunctory answers and, as he leans back into a sofa, it sets a change of pace and the pleasantries give way to what I want to get out of my stay. I'm both relaxed and excited at the prospect. His is a genuine enthusiasm for the pleasures of hospitality. "Come on, let's go and have lunch," he concludes, and I detect a boyish glint behind the formality.
There are many private members' clubs that claim to be exclusive. In fact, they all do in one way or another in an attempt to stand out. Ironically. But only those that truly are don't need to tell you. "It depends how you define 'exclusive'," Peter says as we drive through the grounds of what is, perhaps, the most exclusive private members' club in the world, The Carnegie Club at Skibo Castle. "If you mean are we different from other clubs then, yes, I suppose we are, but if you mean we 'exclude' people, then no, we don't. We have a very inclusive entry policy – you're voted in by committee."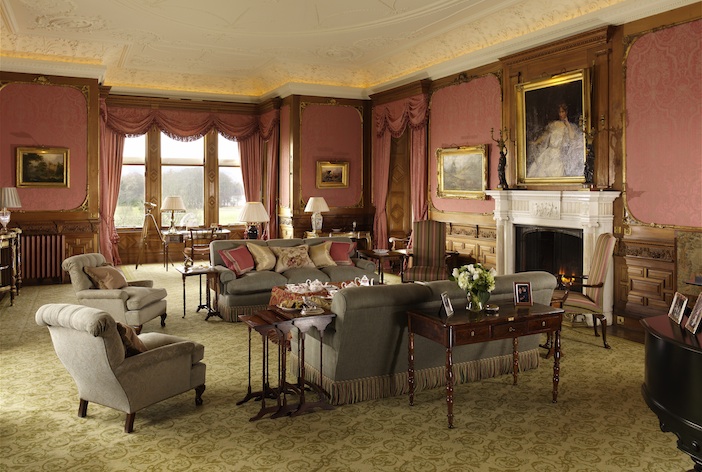 As we make our way through the impossibly picturesque estate, through birch woods fringing the flat calm loch that reaches into the grounds, I begin to get a sense of what makes this special. "I see Skibo as the pinnacle of my career," Peter tells me as we pass Lake Louise, a lily pond that would make Monet hang up his brush, and I can see why. For someone who has honed his hospitality skills through more than four decades in charge of some of the finest hotels in the land, at Skibo he's found his opus.
Over lunch at the club house of the Carnegie Links, I learn more about the club's membership and have the looming realisation that those members I meet might detect a stranger, even pretender, in their midst. "One thing," Peter says dismissively as we finish, "for the members' privacy, I'd rather you didn't say you're a journalist."
"And if they ask what I'm doing here?" I enquired.
"Just say you're a guest of mine." (Really? I can't see anyone buying that without a few raised eyebrows.)
"Can I not be a prospective employee? A contractor, perhaps? Your 'nephew'?"
"Definitely not. Don't worry, simply say you're a guest of mine and think nothing of it."
But all I could do was think about it. Aside from the unfeasibly improbable acquaintance that Peter and I might have, it being my first visit I was bound to be asked who I was and what I was doing there. Tea in the drawing room, club house chatter, the hosted dinner that evening; Skibo's experience is a very inclusive, close-knit affair. It's a second home to many. As one couple would later put it, "we like it because it feels like it's ours". There was absolutely no way I was going to pass muster with "I'm a guest of Peter's" as my MO. Tongues would most definitely wag.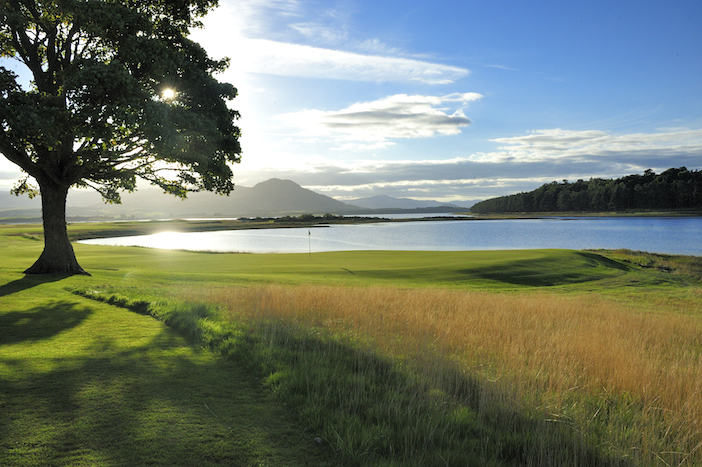 While I pondered on my predicament, I was shepherded to the first of my classic Skibo activities, skeet shooting – well, we were in the Highlands, handling a shotgun is de rigeur. I've shot many a time before, though not very well, and while I find it quite liberating I get equally frustrated at my inability to hit anything. This is where Colin, the gamekeeper, came in. His softly-spoken instruction punctuated with reassurances that I would "achieve success" made me feel as if I could enter the next Olympics. This warmth of encouragement hid a competitive fire, however, as a roar in my ear accompanied every shot that found its target. An hour passed in a flash. By the end, my tally was up as I was clocking clays from every angle, height and in multiple numbers. My smiles of surprise were met by a knowing nod and I returned to the castle for tea with a spring in my step.
As clubs go, the Carnegie is unique. If one dismisses all the young pretenders offering the jetset lifestyle and the fashion for a 'concierge' service there are the clubs in the traditional sense, that is to say those that have a venue that is more than just a glorified bar. It's fair to say a castle – albeit a folly – in remote Scotland stands alone among its peers on Pall Mall; one can't simply 'take lunch at my club' at Skibo. Membership privileges are based around stays; weekends or windows scheduled in around other members with a flat annual fee and set rates covering all one's daily victuals. It's this that makes one feel that sense of ownership, that the service and amenities are not something one pays for at every step.
The location is important, too, particularly for that sense of recuperation, even isolation, often craved. Pall Mall might provide a room in need, for a late night or an early start; Skibo provides a well-earned rest. Where Pall Mall's rooms are functional, and sometimes dated, Skibo's would knock any five star hotel for six. It was enough that I was staying in the castle, like an honoured guest of a laird, ushered from the palatial wood-panelling of the main hall – with its own pipe organ – up its central stair and past the imposing stained glass window painting the picture of the castle's history. My time machine – that is to say my room – took me back to Edwardian Britain.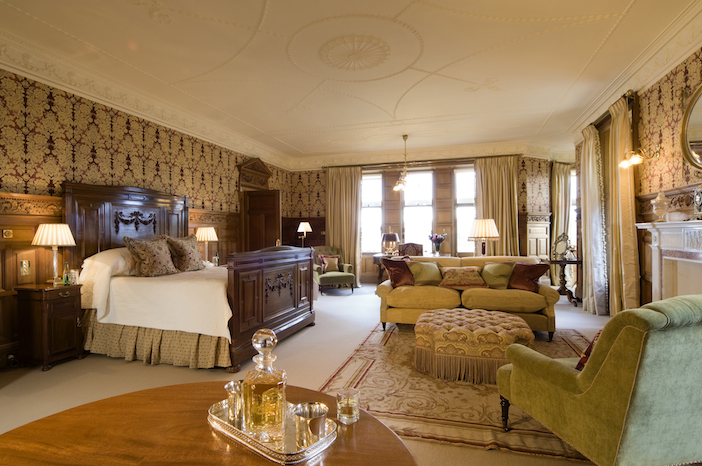 I've stayed in many places made to feel period, but that never quite achieve it. Here I could have been a guest to Carnegie himself. An embroidered chaise at the foot of my iron bedstead, floor-width Persian rug, heavy full-length floral curtains and dresser fringed with matching drapery, crystal chandelier, marble mantle, framed folios on the wall, Queen Anne chairs in the bay window overlooking the grounds; and, adjacent, a bathroom in striped wallpaper, toilet with chain pull and a lion-clawed rolltop bath centre stage. I was in Downton. No, better – Balmoral. The toiletries were bespoke, a commission from Serena Linley specific to the club and inspired from the surroundings but, more importantly, the condiments on the chest-of-drawers included a jar of fudge and a cut crystal decanter with a silver tag round its neck labelled 'whisky'. Peter Crome, you've outdone yourself.
I popped the stopper, pouring myself a nip before braving the pre-dinner reception below and the imminent inquisition as to my being there. Feeling marginally more a part of the proceedings in jacket and tie – the hosted dinners are an integral part of the Skibo culture and, rightly, a dressy affair – once again I felt outdone the minute I spotted the first black tie. If it sounds like this is all a bit stiff, the formality is merely a reaction to the setting; it soon subsides and one is quick to feel relaxed at Skibo. I was met warmly as I descended the stairs and introduced to a young couple that acted considerably more at home than I did. A sip from a glass of champagne provided scant opportunity to think of my answer when thrown a fiendishly probing, "So, what brings you to Skibo?" Good grief, we've only just met. In my head, held aloft, I replied, confidently, 'I'm a guest of Peter's'. What came out was a half-fudged, ham-fisted, guilty-as-charged, "Well, err, I'm writing-…" I couldn't even finish the sentence that I'd started.
"And what are you writing?"
"It's a…it's…it's hard to say."
"Can you give us a clue?"
"It's about Skibo. Sort of." This was going well.
"In what sense?"
"Well, I'm a historian…"
"Of course you are."
I was interrupted by a friendly "hello there" over my shoulder, just as I was getting into my stride. The source was a frightening-looking individual that would make my attempts at dressing for dinner get a compliment from the Queen's tailor. Before me stood a cross between Albert Einstein and Vivien Westwood – he won't thank me for saying that – in a pink linen suit, silver winkle-pickers and what looked like jump leads for a tie. A shock of unkempt wavy grey hair told me I passed muster. This Jacobean apparition was Alan, our host.
Alan has been a part of Skibo's fixtures and fittings since the days it was still owned by Carnegie's daughter.  To avoid further embarrassment, I got in there first and asked him what he did. "I suppose you could say I'm a sort of svengali," he replied. Oh, really? "But I'm probably more like the court jester." Within seconds we were bantering like old friends. I was encouraged already.
But he wasn't wrong; as we ate, in the manner of a dinner party with us all around a magnificent mahogany table, Alan held court, affecting introductions and glueing any disparate company. An effortless raconteur and wit, at one point addressing the assembled company with a sort of tribute to Skibo's charm; describing her as a ship, built by Carnegie, set sail by de Savry (the last owner), and fitted out by Peter Crome. It was a moving tribute to its legacy, summing up what is, ultimately, the essence that runs through the castle's – and the club's – very fabric.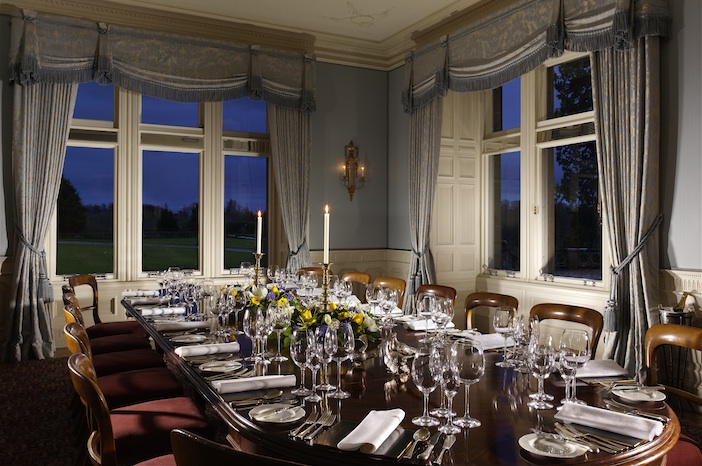 That meal is worth a mention, too. Tea-smoked salmon with pea shoot coulis was graced by a charming Rheingau Riesling; the beef, a fillet cut from Orkney Gold with a haggis croquette and roasted garlic béarnaise was given a warm handshake from a 2006 South African Cab Sauv. Someone in the kitchen knew what they were doing. Suffice to say that by the time we reached the Cranachan souffle I was at flying speed, the table had mixed up and I was vulnerable to attack.
A hand clapped on my shoulder. A stout gentleman in tartan trousers drew up a chair and, with his firmly chin in his sternum, he fixed my gaze, "So you're a guest of Peter's," he said, without a hint of reproach. It was a cue to ask him about the philosophy of the club and its evolution. He and his wife, long-term members, told how they'd never found anywhere else that made them feel as comfortable as they did as Skibo. It was a members' club where the members actually knew each other, where they enjoyed each others' company. There was something else that was telling; twelve years earlier, when they had joined, it was as if they'd discovered their own corner of Scottish heritage, but the amenities, while comfortable, were worn and weathered; the pool house was decrepit, mildew crept up the walls, their room leaked. What Peter had done, following extensive refurbishment, was to create somewhere immaculate. "That's a good thing, surely?" I proposed. "Of course it is," they replied, "it's fantastic. But it means everyone wants to join now."
Dinner concluded, we retired to the drawing room where I couldn't resist a turn on the piano. A poorly executed display of Bartok seemed too solemn for the mood we were in and Martin Treacher, Skibo's resident musician – they have a resident musician – offered to take over the reins. Producing the 'Skibo Songbook' – they have a songbook – and fuelled by further scotch, the die-hards among us sang into the night, gathered around the original Beckstein that Carnegie had commissioned for the castle. This really was quite unlike any other club I'd experienced.
Larry's effortless integration into the Skibo fraternity continues tomorrow…