I think I might become a WAG. For if this is how they spend their free time – lolling in the embrace of suave and elegant hotels such as The Baglioni in Kensington – then I'll take one for the team and put up with as many manicures, hairdos and under-educated footballers you can throw at me.
Except I suspect this place is too good for WAGs. It's opposite Kensington Gardens and is so unobtrusive you hardly know it's there as you wander past. Yet inside, it's an enclave of romanticism; unmistakably Italian, unreservedly luxurious.
Take my bedroom, overlooking Kensington Gardens, for instance. It's furnished in a clean, modern way, crisp and contemporary, and I enjoy being able to throw open the windows and yell 'cooee!' to those poor pedestrian souls schlepping past below.
Even better is the silver, gleaming, shiny beast of an Illy espresso machine that sits proudly in one corner. It's a masterpiece of Italian engineering; sleek, sexy, a little bit flash. It makes great, dark, kick-you-in-the-seat-of-your-pants espresso, too.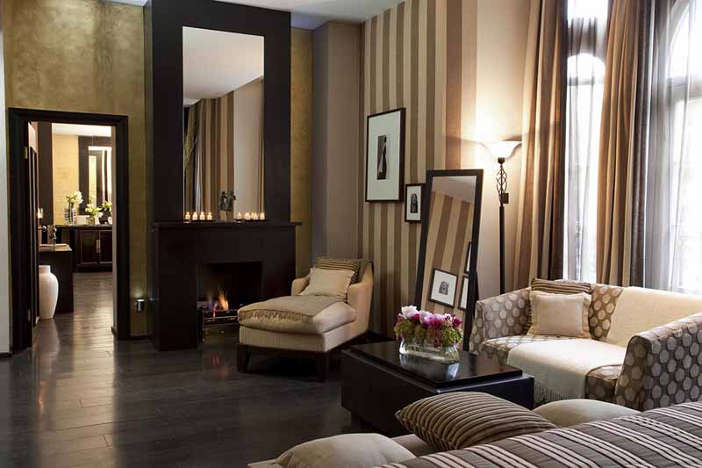 The restaurant and bar area is a cross between a cultured living room and a cool modern club. Water drizzles lazily down an opaque wall on one side; comfortable upholstered chairs and linen-draped tables across the other. A pleasant terrace, surrounded by wrought iron railings and equipped with parasols, is a lovely spot for al fresco anything.
Chef Claudio Milani is obsessed with food. You'd expect nothing less from the average Italian, let alone a man who trained as a pastry chef and came to these shores as a teenager to work with Calabrese legend Francesco Mazzei. Fresh, seasonal ingredients are spritzed with that deftness of touch so beloved of Italian chefs; fritto misto, veal and tuna, crab, linguine, Amalfi lemons, asparagus, beans, mushrooms – everything cooked with the caress of a lover.
There is also attention to detail here from the waiting staff. I spent five minutes eulogising to my wife over Bottarga, the Italian equivalent of caviar made from the sun-dried eggs of the grey mullet. I had tried it once elsewhere and loved it. Next thing you know, the chef gets to hear of this and a plate of the tantalizing creation appears at the table.
As you'd expect, the wine list is pricey, but some fabulous wines are available. Once I'd engineered the sommelier in my half of the league table on offer (think West Ham, if we're continuing the football theme) I was soon sipping on something ruby and delightful.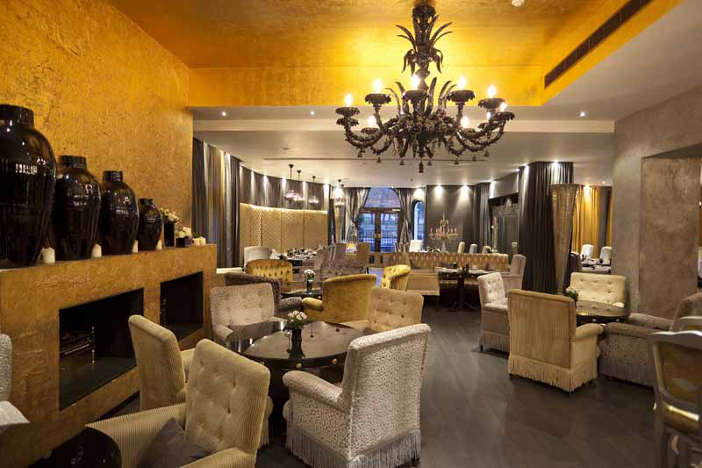 The staff are just lovely. Once checked in, you feel like an honorary Italian, to be honest. I soon found myself talking in that seductive sing-song accent. If I'd stayed for a couple more days I reckon I'd have been waving my hands wildly at every opportunity and falling in love with other people's children.
There's a spa here (currently under refurbishment), a new downstairs club to open soon, discreet entrances to avoid the paps and even a suite with your own fabulous well stocked bar.
The morning after the night before, I wanted to lounge around the foyer and bar wearing something slim-fitted and louche. I half-expected a sultry, long-legged, raven-haired slenderess to come out of the lift with a pout on and demand why her pony-lined valise wasn't already in the boot of the Lamborghini. Unfortunately, no such interaction occurred. I had a Number 9 bus to catch instead.
So I bid my best British gentleman's adieu and, shoulders back and chest out, strode from the place with the soft siren song of reception staff ringing fond farewells in my ears.