Located in the heart of the chocolate box city of Bruges, a short walk from the sights and the Christmas market it's so famous for, Hotel Heritage is modestly proportioned with just 22 bedrooms, a small cosy bar, and a lounge area complete with an open fire in winter. The staff are warm and personable and the fact that this is a family run establishment is immediately obvious. Johan and Isabelle Creyten converted the building, which originates from the 19th century, into a hotel over twenty years ago and have firmly secured its reputation as one of the most charming boutique hotels in the city.
With festive decorations adorning all public rooms, there was an incredible atmosphere from the moment we arrived and the favourable impression continued on entering the Deluxe room, traditionally styled with all the modern luxuries and gadgets today's traveller demands; Nespresso maker, Apple ipad with free WiFi, two flat screen televisions (one in the separate lounge area) and Luxe Nilson handmade bed. Clearly designed with lovers more than business travellers in mind, traditional mahogany furniture, crystal chandeliers and a 1920s style telephone by the bed created a sense of romance which so many larger hotels tend to overlook.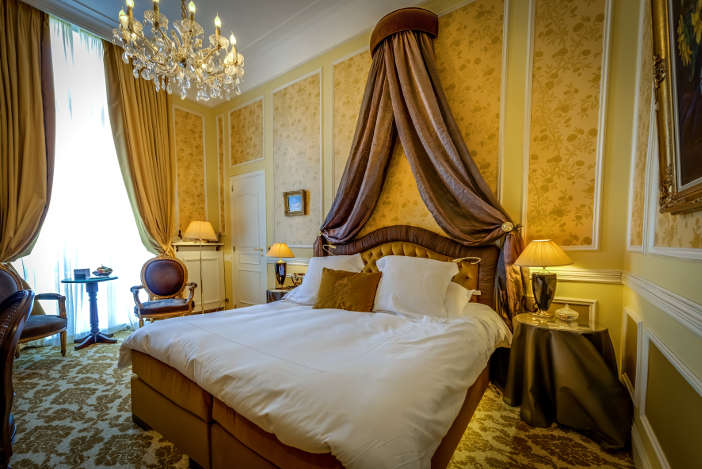 Venturing outside for a spot of Christmas shopping, if you're in search of handmade and artisan gifts, the boutiques provide more charm than the rather disappointing and tacky wares sold at the Christmas market. With speakers blasting out Christmas hits along the main retail streets, shopping was extremely upbeat and, when combined with the sweet aroma of freshly made Belgian waffles (actually invented in the United States), decidedly hunger-inducing. Thankfully the city is inundated with tea rooms in which to pause for a warming mulled wine or Flemish coffee, made with the Belgian forerunner to English Gin – Genever – which certainly makes you feel very merry!
No major museum or attraction is too far to reach on foot and there is something to suit either the avid culturist or those looking for simple amusement; from Michaelangelo's famous Madonna of Bruges at the Church of Our Lady, and the Salvadore Dali Exhibition located below the Belfry, to the Bruges Beer Museum (three beer tastings included in the admission price) and The Frite Museum – the only example in Europe dedicated to the potato chip, an invention claimed by the Belgians and hotly contested by the French.
To say the city is a food lover's paradise might lead you to expect an abundance of gourmet offerings, but, aside from a handful of trendy Michelin-starred restaurants, street food and traditional brasseries serving warming stews and moules cooked in beer are what you crave during the winter months. I advise anyone to do the 5.2 diet before and after travelling due to the highly calorific temptations around every corner including around 50 tantalising chocolate shops. Try to seek out the smaller artisan establishments such as Moder Babelutte who have been hand-crafting their renowned truffles and pralines since 1850.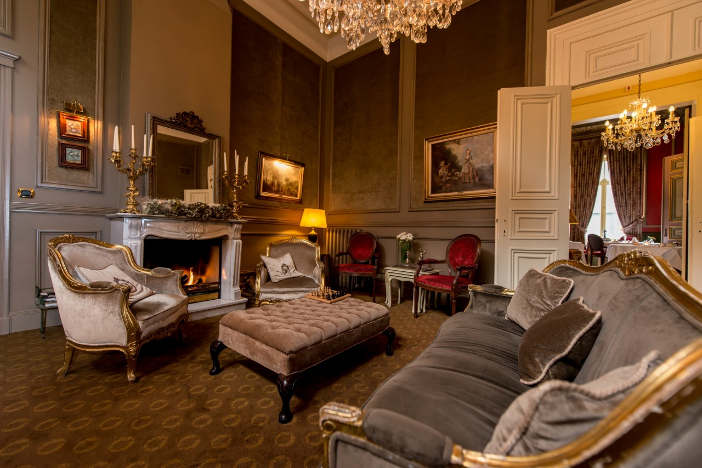 Juliette's is also a must visit – the city's most charming biscuit bakery located on Wollestraat, which specialises in the distinctive Speculoos – a thin, crunchy Belgian variety of biscuit available in flavours like cinnamon and ginger. And of course no festive break would be complete without a bratwurst hot dog from a stand at the Christmas market, complete with lashings of fluorescent yellow mustard and caramelised onions, accompanied by Belgian frites with mayo and followed by chocolate crepes. It was so cold that it wasn't surprising to find most of the street food customers eating their offerings quickly and with their gloves on.
Fortunately we were dining at the hotel that evening. Pre-dinner drinks are complimentary each evening with a Deluxe room or suite, encouraging guests to experience Le Magnum Bar's private library and extensive wine list. Dinner in Le Mystique was a mellow and enchanting affair with high hand-painted ceilings, low lighting and Chef Koenraad Steenkiste's fine dining menu combining French techniques with Flemish influences and concentrating on the finest ingredients sourced from the Flanders region.
The set menu was a decadent affair commencing with a trio of seafood canapés including an invigorating Bloody Mary oyster (a great accompaniment to a chilled glass of champagne), followed by a main of iron-rich rare venison, accompanied with a silky jus and pumpkin risotto. The dessert ended on a tropical note with an exotic fruit medley partnered with a rich chocolate sorbet – chocolate is never far away in this city. After enjoying our coffee and petit fours by the fireside and Christmas tree, we returned to our room to find divine Belgian chocolates on our pillows to ensure sweet dreams. Who needs Santa when you're spending Christmas here?
Hotel Heritage, Niklaas, Desparsstraat 11, 8000 Brugge, Belgium, for more information and to book visit the website.