The notice at the foot of my path says: Hillside Reserve 2. Strictly Private.
And it is. If you're looking for seclusion, luxury and breathtaking views, you're going to feel right at home at the Isle of Eriska Hotel. This is a 5* hotel, a member of Relais & Chateaux, a gourmet restaurant, a spa, a golf course. But, most importantly, it is an island, all 300 acres of it, the innermost of the Inner Hebrides, on Loch Creran.
The Hilltop Reserves are brand new eco-houses (underfloor heating, triple glazing etc) with all the tech you could possibly need. The style is immense windows for the views, contemporary but comfy interiors and a massive deck with your own sunken hot tub. They are for couples only, have a fully equipped state-of-the-art kitchen and promise complete privacy and peace. No one else is going to set foot on that private path unless it's the hotel kitchen sending up delicious meals ready for you to pop in the oven.
The views are of the loch and the hillsides and distant mountains beyond and they change continually. Low wisps of cloud chase each other up the loch then melt in the sunshine. By late morning the water has turned a deep blue. In the spring, it barely gets dark at night but I was there in September under a full moon so bright it cast shadows. Then in the dawn the silvery full moon dissolves behind thin clouds and the sky is touched with pink as morning comes. Early light touches the treetops and the still water and picks out the handful of white houses dotted on the hillside across the loch.
There is a joke in the western isles – don't worry if you don't like the weather it will change within the hour. But all the time I am here there hasn't been a breath of wind and the sense of stillness and tranquility is remarkable. On the other hand, it must get pretty exciting in a storm, too…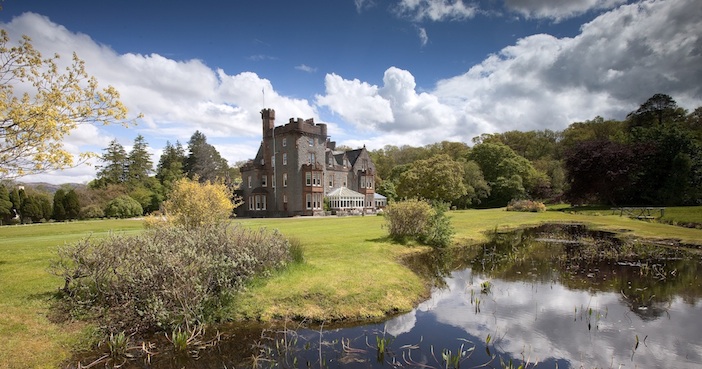 So you get the idea. This is a truly romantic landscape, a place you can get away from it all and immerse yourself in peace, solitude and natural surroundings: sea, mountains, forest and a very big sky. When I open the door on to the deck on my first morning, it is absolutely silent. Gradually my ear picks up the hum of a passing bee, the song of a distant bird. If you want to escape the stress of the city, this place is worth its weight in diamonds.
And you don't have to stay in solitary if you don't want to. You can stay in the Big House, built in 1884 in fine Scottish baronial style. The bedrooms here are huge suites and there are more scattered around the main gardens that are pretty private too (some with two bedrooms, so good for families). But it's not uber-tartan here and nor is it stuffy. The place is family owned and run and it really feels that way, as if you've gone to stay with friends for the weekend. There are open fires roaring away, a series of sitting rooms to read the newspapers or enjoy a glass of malt and a grand piano with music for the guests to play if they wish (and some do).
Dinner is served in the conservatory and features very local food indeed. Much of it comes from the island itself (sea vegetables, berries, mushrooms, herbs) and the surrounding area (from local fishermen and farmers, even down to the organic lemon and white chocolate biscuits from the neighbouring island of Mull). From my table, I gaze out at the croquet lawn and the putting green and the massive oak planted the same year as the house was built and now home to a garden bench hanging from its sturdy boughs as a garden swing. There is a four-course menu that changes every night. I chose a thick, creamy soup of langoustine, roasted cauliflower and morsels of haggis; Cullen skink with a soft boiled egg cooked to perfection; monkfish tail with local smoked mussels; and I had to have Baked Eriska that features whisky ice cream and Perthshire raspberry sorbet.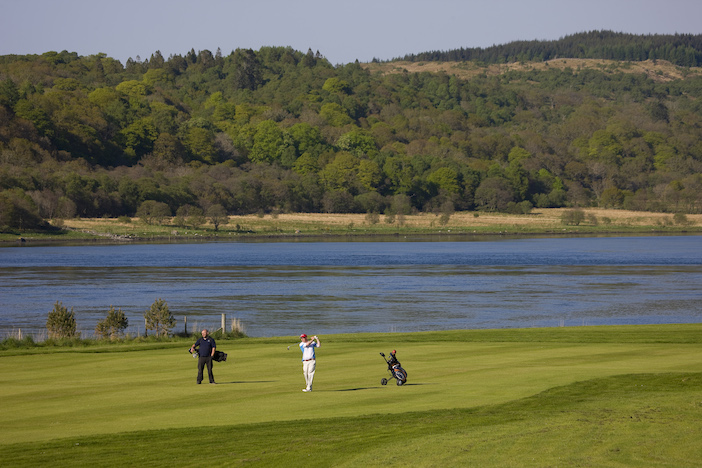 Fortunately, there's lots to do to work off the calories. The hotel has its own 9-hole golf course, nature trails, mountain bikes and clay shooting – it may not sound like a relaxing activity but if you spend your life on a stress treadmill, its required focus clears the mind wonderfully. If it rains (in Scotland? Surely not) there's a big indoor facility with tennis, badminton and bowls as well as a gym, a 17m pool and a spa.
The spa features Espa treatments (one of my favourites) and here I spent an hour and a half with therapist Natalie for a combination of back massage, facial and scalp massage. With Espa products you start by choosing which of the delicious scents appeal to you most. Because of my scrunchy neck muscles it was heating cloves for the back. But on my face it was the giddying sweetness of jasmine. It began with a back brush to get rid of any dead cells and moved on to a chilly spearmint scrub to exfoliate the back before the heating cloves came into their own in a long, slow, deep massage.
Then I turned over and the facial began – again lots of lovely scents filled the air. I particularly loved the mandarin and lemon scented cleanser. This isn't one of those mundane facials with a quick cleanse, exfoliate and mask. Natalie dabs and strokes, massages and circles, gets back down into my neck and the whole time is applying new products on my face, around my eyes, on my lips – and finally my hair. Now I did know about Espa's pink hair and scalp mud before and I personally think it has properties bordering on the miraculous. It turns dried out, sun damaged hair into silk in the blink of an eye. But the results are even better if you leave it on overnight. It does mean, though, that your hair stands on end and you look completely ridiculous. So I decided to leave that magnificent dinner in the restaurant in the Big House till the next night and instead try the home-made meal delivered to the lucky residents of the Hilltop Reserve houses. It came (a creamy fish pie), with tomorrow's breakfast in a hamper – yoghurt, crunchy muesli, fresh orange juice, fresh fruit salad, bread, honey and the chunkiest marmalade I've ever seen.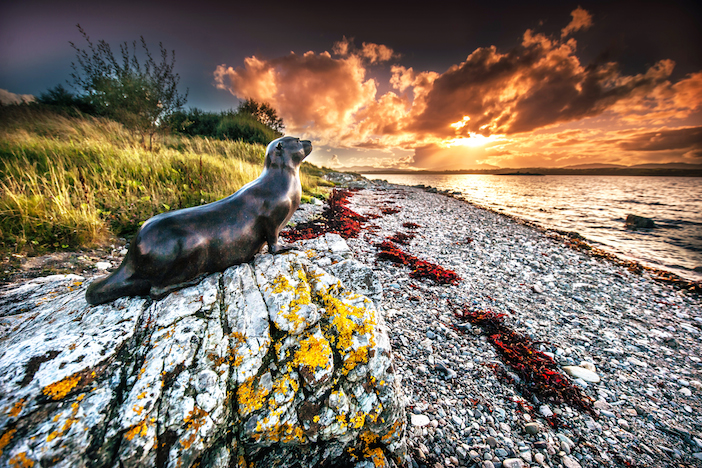 I went my first morning for a walk around the western side of the island: the pier, Otter Point, Shell Point, past the edge of the golf course. It felt like I had the entire island to myself. There are blackberries ripening on the brambles, ferns and bracken and the air is scented with newly mown grass and seemingly hundreds of wild flowers and herbs. Nearer the Big House, it's scented too with the autumnal smell of the smoker – I'm told today they're smoking the apples, the orchard outside the Stables (now the spa), having had another bumper harvest.
There are cormorants and donkeys, otters, crabs and shellfish. If you're lucky you'll see seals, oyster catchers, heron and pheasant and lots of ducks and geese. Most special (and elusive) of all is the golden eagle with its 2m wingspan who sometimes flies over Eriska. So, ok, not completely an island to yourself but with these fellow guests, you really don't mind sharing.
For more information about the hotel on Eriska, including news, offers and activities, visit the website.
easyJet flies to Glasgow from 6 UK airports (Belfast, Bristol, Jersey, Gatwick, Luton and Stansted) with prices starting from £17.99 per person (one-way, including taxes). All flights can be booked from the easyjet website.
Photos courtesy of Dennis Hardley.