Foolishly Montpellier has always escaped my attention. Overshadowed by glitzy Nice and flashy Monaco, this historic town's alluring backstreets; filled with quirky cafes, bohemian boutiques and buzzy restaurants, remain refreshingly free of tourists. Yet this labyrinth-like city is a treasure trove waiting to be discovered by the savvy traveller.  And, whilst 1000 years of history sets the backdrop for a cultured weekend, it is the city's enormous student population that sets the tone. It also boasts a refreshingly culturally diverse population, with each nationality bringing their own ingredient to this unique city. This heady mix of historic grandeur, countless cultures and free spirited youth seamlessly marries the city's picturesque monuments with trendy bars and fills its ancient streets with hip cafes and clouds of incense.
Yet despite its allure, it is a different type of marriage that has beckoned me to discover this special city, the marriage of two good friends; Zahra and Pete. Zahra and I met a decade ago, at university in Brighton – a city which ironically mirrors Montpellier's studious and bohemian flair perfectly. After years of lazing on the pebbles together and absorbing all the Laines had to offer, it was off to London for us, and a decade on she has followed her heart to the other side of the world. So when her and her Australian beau picked Montpellier to say "I do", we were all a tad baffled.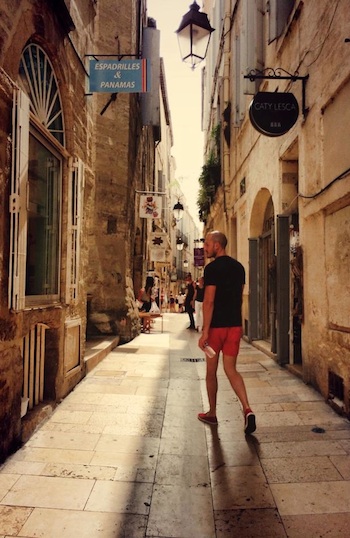 A wild card destination indeed, or so it seemed. But as soon as I began to wander around its scent-filled streets, it clicked. The city was so… Zahra; a divine mix of classic beauty and quirky charm, and all with a beautiful Algerian twist.
So – off to Montpellier it was, and for a gastro gal like me, there was one clear choice of abode; Le Jardin des Sens. Run by twin chefs, Jacques and Laurent Pourcel, this is not so much a hotel, more of a restaurant with rooms. A world-class Michelin-starred restaurant that is. Like the city itself, I wasn't sure what to make of it before stepping in. In fact I was a little apprehensive as I approached the non-descript, almost industrial looking building. In fact, the only hint as to what lay inside was the reassuringly aged Relais & Chateaux plaque which proudly mounted the entrance – a stamp of approval indeed. Having ventured in, it all fell in to place; the reception was awash with the brothers' personal collection of contemporary artworks, each illuminated by atmospheric lighting befitting of a gallery, theatrical red drapes hung from the ceilings and glistening chandeliers twinkled from above– phew, I was definitely in the right hotel.
The modern hotel boasts 13 bedrooms and two suites, one with its own rooftop pool. Our minty green room was on the second floor, overlooking the hotel's pool area and central courtyard. At the head of our bed sat a little welcome gift from the Pourcel brothers; an array of delicate macaroons and homemade chocolates – a taster of what was to follow. Sitting contently between the iconic restaurant and a wall of fragrant flowers the decked chill out area was the perfect spot for a pre-dinner sundowner.
The restaurant dates back to 1988, serving dishes inspired by the south with a Mediterranean accent it gained its first Michelin-star back in 1990. Today, the twins have acclaimed restaurants everywhere from Marrakesh to Tokyo, but Le Jardin des Sens remains their flagship restaurant – and luckily for us, the one they can normally be found in. Fitting with the dramatic hotel design, the contemporary restaurant takes the form of an enormous glass cube overlooking the tranquil gardens. Its tiered design creates an elegant cascade of illuminated tables which descend towards a picturesque pool. Our table's theatrical lighting suitably set the stage for the infamous tasting menu and perfectly showcased each of the twelve dishes that was to follow (yes 12!).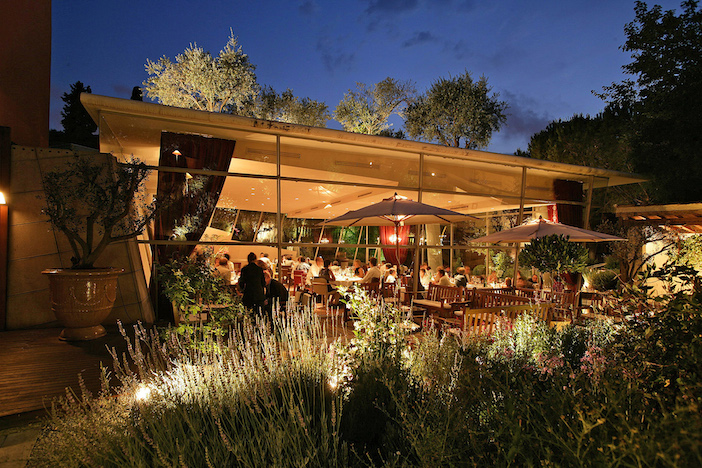 And so the procession of wonderfully presented dishes commenced… Brittany lobster with fresh peach and melon, followed by flash fried red mullet with baby purple artichokes and a frozen tomato mouse and then delicately roasted lamb accompanied by a crispy lamb shoulder samosa and girolles  – to name but a few. For us though, the stand out dish had to be the composition of ceps. Summer is the season of ceps and boy did this dish pay homage to this fungal favourite. Pan-fried, creamed and tempura, the dish played brilliantly with taste and texture – well, all good things come in threes (or 12 it seems). The steamed sole with white summer truffle, onion jam and sautéed potatoes was a close second. And as the clock struck midnight… voila, having spent almost four hours savoring each and every bite we were finally fini.  I can safely say I have never been so full in all of my life, but letting a single morsel of the Pourcel's creations go to waste felt criminal.
That evening we retired to our room only to find another gift from the duo – an artisan chocolate creation with almonds and fresh ginger. Crime or no crime, I was finally defeated.
The next morning we awoke to a smartly dressed bellboy wheeling in our breakfast in bed. Steaming café au lait, a basket overflowing with fresh pastries and a decadent charcuterie awaited. After a long soak in the tub it was time to don our best clobber for the big day. Silky pink top?… Perfect. Matching heels…? Divine. The pristine white midi skirt that I searched every shop in London to find… had mysteriously shrunk? I am sure I tried it on just days ago. Bloody Hobbs, they must've labelled it wrong, don't you think?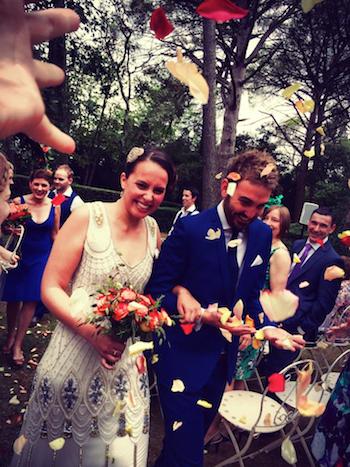 Hey ho, having forced myself in to the unforgiving A-line it was off the nearby chateaux where a cluster of elegant chairs surrounded an ornate iron arch intertwined with delicate ruby and coral roses. Beneath The blossoms stood a handsome Australian chap, and when his eyes began to sparkle, we all knew it was time. The crowd turned to see his dazzling bride float down the aisle in a breathtaking 1920s-style dress, each bead glistening in the sun and her proud father beaming by her side. 'I do' she said as he kissed her and the crowd erupted, showering the newlyweds with fresh rose petals of every hue.
The next day, having spent the morning getting contently lost within the city, I retreated to the haven of the hotel courtyard. As on the side of the empty pool with a cup of fresh coffee in my hand, taking in the scents of the garden and the sounds of the city, a smile crept over my tired face. Montpellier… I do.
View Hotel Info, Rates & Availability
Le Jardin des Sens is a 2-Michelin Star restaurant within the Relais & Chateaux portfolio. Offering rooms of equal excellence it was created by the famous Pourcel twins, both of whom hold the accolade of Grand Chefs Relais & Chateaux. Room only prices start from €175-E285 per night, suites start from €314 – E485 per night. Breakfast is from €18-29 per person. Prices are subject to availability and local taxes and are valid until December 2014. Open all year round, the gourmet restaurant is closed all day on Sunday and Monday and also Tuesday lunchtime.
For more information about the hotel and the Relais & Chateaux portfolio, visit the website.