Reassuringly 'Knightsbridge' in redolent red brick, No. 11 Cadogan Gardens looks the part – but can it play it? Nick Hammond finds out…
It's a great looking bar. Not that I'm obsessed or anything, but it really is. I make a mental note to test drive it later. In fact the whole place feels refreshingly elegant and ebullient; a modern take on traditional Knightsbridge values of luxury and sanctuary. The ornate gilded picture frame in the snug actually conceals a TV instead of a painting; when I pop my head around the door, some young 'uns are doing something energetic with a video game. I retreat with a shudder.
There are complimentary newspapers strewn about, and, as it's a Sunday, the long-suffering other half and I decide to take advantage of Tartufo restaurant's Sunday Brunch with a difference. Now Tartufo isn't owned by the hotel, but it's ensconced deep within and it proves to be a hidden delight.
Airy and inviting and Italian in homage, the restaurant, led by Head Chef Manuel Oliveri, seems to have taken London's pulse and prescribed a palliative. A swift Scotch and soda is before me (Johnny Walker Black, what a blend) and the menu is perused. Imagine my ill-disguised delight when it calmly states at the bottom "Unlimited flow of wine throughout the meal." I hear Archangels chorusing in the ether.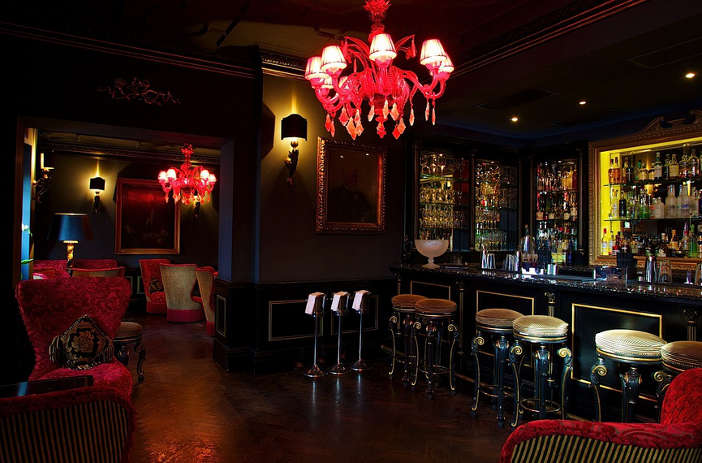 Once recovered from my swoon, I peruse the menu proper. And some menu it is. You won't have had Sunday Lunch like this one. Braised ox cheek, roasted pumpkin, rosemary beef sauce? Oven baked sea bream, beetroot risotto, lamb sweetbreads? A multitude of small, flavor-packed courses and a deftly served bubbling brook of smooth Italian red or crisp, refreshing white. It is a long, leisurely service and there are only a handful of us here, but it is of no consequence. The afternoon deepens as we enjoy a selection of Italian cheeses and petit fours. And I've saved the best for last. It's only £45 per head.
Sated and ready for a decadent afternoon nap, we retire to our superior room. The four poster bed is big enough for at least half a dozen and the wardrobe doors are dazzlingly mirrored. And one of them – though I can't seem to commit to memory which one – leads to the bathroom. I can foresee interesting shenanigans as the night wears on…
I have an event to attend this evening you see, and so donning the black and white regalia of evening dress I brave the tube. I get a few looks, but remarkably, no comments, even though I don't see anyone else in this attire and feel a bit of a plum. But it's late and I'm still worrying about which wardrobe door to open when nature calls in the night when I climb wearily back up the hotel steps and am welcomed by the cheery night porter.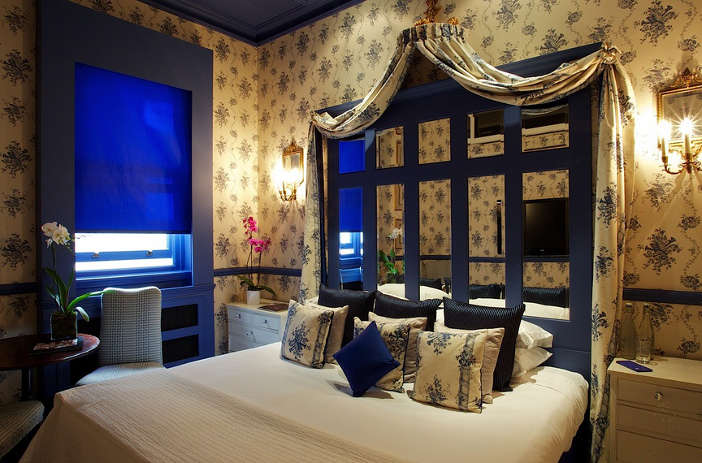 He offers a night cap and chivalrous to a tee, I agree. So I finally get to sit at that cracking bar and watch as he makes me another refreshing Johnny Walker Black and soda with a chunk of ice.
And still No. 11 Cadogan Gardens hasn't finished with me. I take the remainder of my beverage up to bed, but before I can get there, I notice someone has very graciously placed a rooftop terrace opposite the entrance to my room. And, although it is raining, there is a canopy and I have an H Upmann Half Corona burning a hole in my pocket.
Time for one last whiff as I finish my drink and contemplate life in nighttime London. That's the thing about a really good hotel. It knows what you want before you do. I retire. And dream of wardrobes.
Thankfully, there are no malfunctions to report come morning.
11 Cadogan Gardens, Knightsbridge, London, SW3 2RJ, Tel +44 (0)207 730 7000. Double rooms from £300 per night based on double occupancy in a Superior Room. Website.