Cornwall is the traditional preserve of summer in Britain. With schools broken up for the holidays and families migrating to the West Country, Larry looks back on a trip there with a difference, and one taken out of season…
It is a truth universally unknown by husbands that their wife, 'with child' past seven months, is in need of a pampering spa treatment by the Cornish seaside.
I was little prepared for pregnancy. That is to say I was as prepared as any man prior to the pregnancy itself. Yes, yes, I was expecting all the rudimentary ailments; nausea, joint swelling, mood swings, cravings – and for her to experience a few side effects, too – but when the announcement arrived that we were expecting, I didn't expect it. It would be the first of many surprises.
Seven months in and another unexpected feature of child bearing arrived, though this is not one driven by the body's biophysical necessities; no, this one has been conjured up by marketeers. By now well versed in the barrage of adverts, advice and baby literature telling me all the things we apparently needed (pregnancy pillow – who knew?) not to mention now being well over the indignity of queueing with expectant mothers holding a basket of nipple shields, pregnancy pads and stretch mark shea butter in Mothercare, this was one revelation that arrived like a train one morning, over coffee with colleagues. One of whom, also expecting, asked, "And where are you going for your Babymoon?"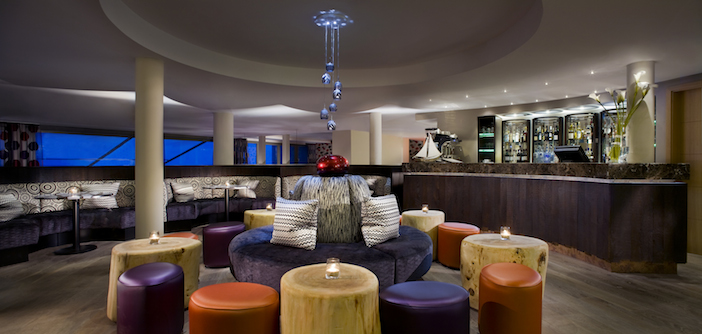 Our what?
There is no end to the plundering of bank accounts that pregnancy brings. And this before the baby has even arrived. A 'babymoon'?! A babymoon, for the uninitiated is a final fling, a last hurrah, a long weekend just for the two of you (expectant mother and father, that is, not mother and baby – my first mistake) timed to alleviate the latter stages of pregnancy, and one preferably involving a spa break. For her, that is. Bear in mind this is all about the mother.
I had to think fast; we had one clear weekend before D-Day. Flying was out of the question given the trimester stage but it had to be somewhere worthwhile, somewhere that felt that we were really getting away. There was only one thing for it, return to Mrs L's favourite hotel: the Scarlet.
We had been some two years before, both falling in love with its eco-warrior effortlessness, the lack of pretension (exemplified by its position; it's in a glorified cul de sac – offset spectacularly, I should add, by its view of Mawgan Porth bay), and its unadulterated relaxed nature, from its staff meeting you in pyjamas to the fact no one would bat an eyelid if I dined in a spa robe. And with its adult-only occupancy policy it was perfect for said babymooning-break-thingy before our wonderfully ordered and blissful lives came crashing down around us on a date set two months hence.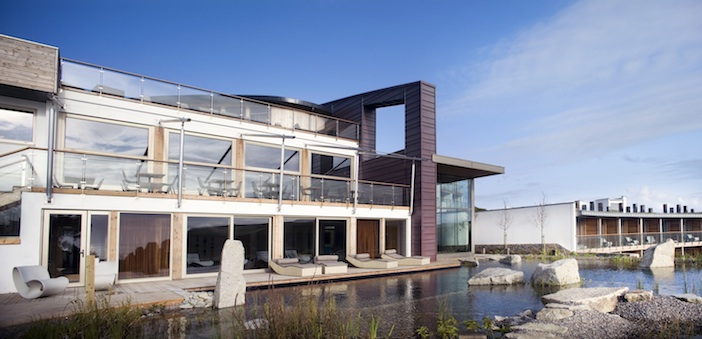 The time of year is immaterial; the weather, really, the last thing on anyone's mind, mother or father. In fact, too hot and it makes a pregnancy all the more uncomfortable. This, the Scarlet's adult only policy and the avoidance of child-crammed cars on the A303 in August, made for a perfect out of season break. Thus the heavy clouds, hanging low over Bodmin Moor as we drive west, are met with indifference, if foretelling an inauspicious start. Below them, the wintry sun like a downlight below the tabletop set the horizon ablaze.
We arrived with that comfortable feeling of familiarity and entered the reception to the characteristically understated welcome and the calming tones of a singer in the bar – these lunchtime sessions, I later learned, say something of the hotel that they attract a calibre of musician for a personal audience of barely a dozen. When he finishes, he merely packs his kit and saunters off, whistling as he goes, while we enjoy a late lunch and an afternoon walking on the deserted sands of the beach. With nary a soul to be seen, it was delightful.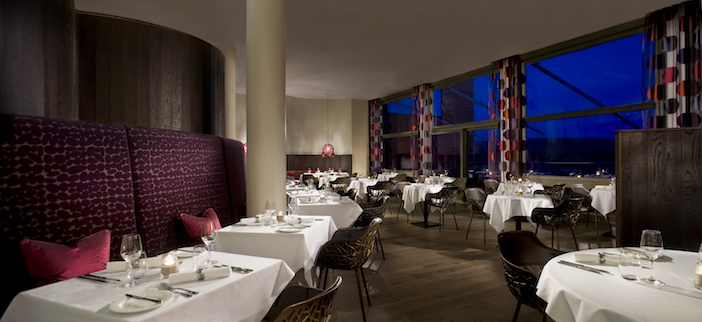 Unlike the rest of the hotel, filled with eclectic and mismatching furniture, the minimalist restaurant lacks any meaningful decor, save the richly upholstered banquettes and elaborate lampshades, giving the view of the bay – offered by floor-to-ceiling, wall-to-wall windows – centre stage. It is missed, however, by the darkness outside, but doesn't bother us for the food is the star of the show, evidenced by the restaurant being at capacity, even in winter. Fleshy red gurnard was announced by a waft of capers and crab ravioli with tempura cod and smoked red peppers showed the chef is both artful and inventive – I don't remember it being this good when we were last there – but the highlight was undoubtedly the white chocolate mousse. Encased in a honeycomb bombe, its rich sweetness balanced by tangy griottine cherries and a yoghurt sorbet, we shared it to minimise the guilt and retired indulged, torn between the twin joys of delicious dining and the imminent spa treatment to come.
There's something about waking up facing the sea that's incomparable. The sense of calm distilled further by hearing the distant wash drift into the bedroom. It was a crisp, bright morning. This was not the Du Maurier experience I was expecting – even, to some extent, hoping for – but the air was so clear I was looking across the countryside in high definition; the sun, low through the sky, casting long shadows across the garden and into the bay below, the sea as inviting as it might be on a summer's day.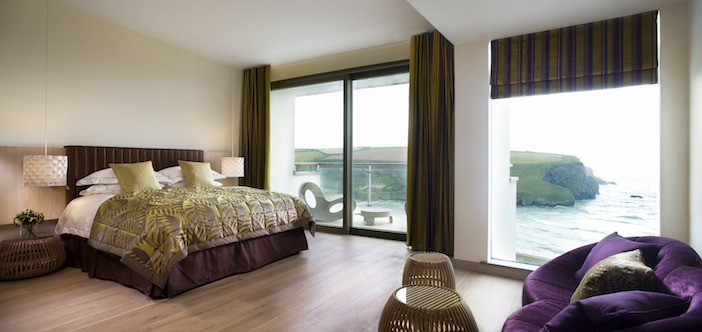 After breakfast, it was time for Mrs L's treatment. Ninety minutes of dedicated pregnancy-relieving pampering. At this point, I should set the scene…she was at 8 months with our first and, as any expectant mother will testify, for the last couple of weeks now she has been about as nimble as a supertanker. And while she was to lie back in soporific sanctity, I went to the other extreme, opting for a run out on the headland.
Upon my return, we compared notes.
"My dosha analysis must have been all over the place" she said, "as the pregnancy sends your body haywire." Following an Ayurvedic consultation, there followed a 60 minute treatment, lying on her side with a pregnancy support pillow, a massage administered with aromatic oils across her back, concentrating on the neck and shoulders, and then with some light pressure on her legs and feet. In a dimly-lit therapy room, soft, soothing music wafting gently through the air, this was blissful respite from the weight of advanced child-bearing. At this point of arrival in Arcadia on her part, I was sliding through mud, catching my feet down Bedruthan Steps, the William Tell overture thundering through my iPod.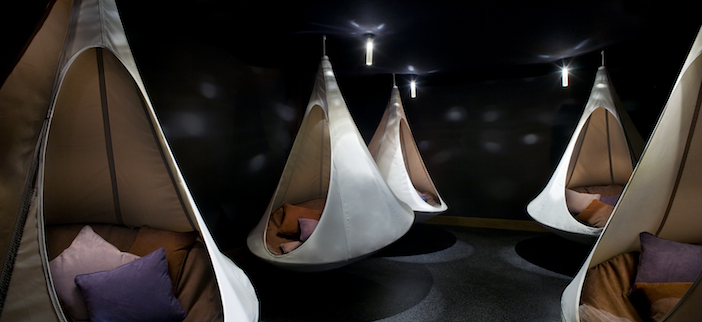 Pods were on the agenda for Mrs L, too, in the Relaxation Room; a further low-lit enclave with tent pods suspended from the ceiling. Given headphones with atmospheric sounds of nature she was delicately helped into a tent and, as she sank into the pillows, a state of near Nirvana must have been imminent. At this point, however, our unborn sprang to life, evidently out of sympathy with her father, kicking her feet out and booting Mrs L in the bladder. The sound of a waterfall echoing in her headphones and the little one discovering a new punching bag, the overwhelming urge arrived to go to the bathroom. But, like an upturned turtle, there was the dawning realisation that she couldn't get up. She considered calling out, but the room was a tranquil haven, she risked disturbing the other guests. She attempted rolling, but this only served to swing and spin the tent, threatening to bump into a neighbour. She persisted and eventually crawled from its womb, tipping onto the floor and waddling for the door.
As Mrs L made her way ex utero, I returned from my coastal steeplechase with another desperation in mind, thirst. There are no mini bars in the hotel but complimentary tea and coffee are available to order on cue. Having rendezvous'd back in our room from our respective exertions, all three of us settled in to the lazy part of the afternoon. The Scarlet can do that to you; time slows, the pace of the outside world recedes. As we took in the bay, sipping tea from the comfort of our bed, the gradual dawning of the impending sea change loomed before us.
"I wonder if I can have the baby in one of the hot tubs?" she said, "with that view of the sea…"
The Scarlet Hotel, Tredragon Road, Mawgan Porth, Cornwall, TR8 4DQ. Rates start from £195.00 per night, inclusive of bed and breakfast, based on two people sharing a Just Right room. The hotel offers a bespoke 'babymoon' spa experience created to suit the individual's stage of pregnancy.  
For more information, including the hotel's ethos, details of spa packages and other offers, visit the website or email stay@scarlethotel.co.uk.