Winter in Paris means the Champs-Elysees is lined with legions of vendors of hot nuts, mulled beverages and frites at all hours of the day. The thinking behind the trip involved some tactical Christmas shopping, but after a few hours I seem to have bought things excessively and only for myself, and there's a definite ambivalence where my guilt about that should be. Oh well. Our base for this particular exercise in self-indulgence is the new Sofitel Arc de Triomphe, which occupies the corner of Rue Beaujon and Avenue Bertie Albrecht, just opposite the Rothschild gardens and a minute or two from France's most handsome roundabout.
Although it's mid-November, I'm delighted on arrival to find that Christmas decorations are in full effect at our hotel, and thick pine garlands have found their way into the fabric of the glass, marble and stone that give the hotel lobby its aesthetic. They spent more than a year renovating the hotel, and while I can't compare it with how it was before, the new setup is pretty engaging. There's a full-size red cardboard reindeer to the left, and a shiny PVC sofa to the right, with various objets d'art littered throughout the lounges and bars. It's all very handsome and characterful and the staff have not a trace of the fabled Parisian resistance to those of us who don't speak French – check-in is fast, uncomplicated and extremely welcoming.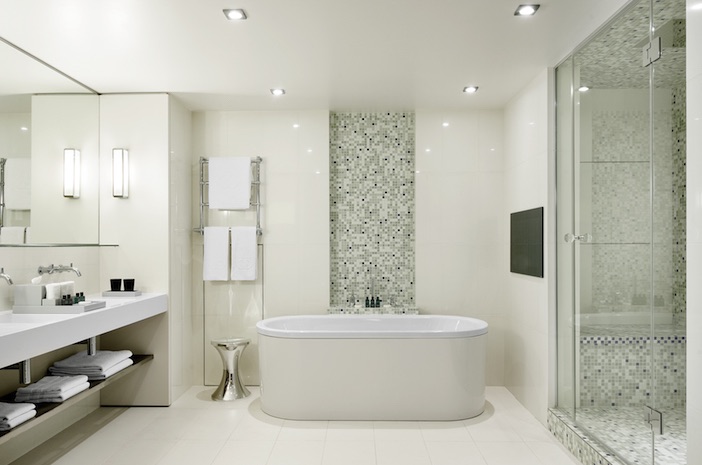 Our room is on the third floor and I love it immediately – it's wearisome when a hotel you know to be new tries to look old; instead this room takes advantage of modern fixtures and fittings, with sleek white modular storage units forming partition walls, a genuinely up-to-date audiovisual setup with its TV and iPod dock, and discreet low-level blue lighting that creates a subtly futuristic mood. When the main lights go off at night, if you leave the blue panels turned on, it feels like the whole room is a phone being charged. All very slick
There's a Nespresso machine, a whopping great tub flanked by luxurious products, and a wet room that produces hot water immediately – a real relief on these chilly Parisian mornings. I slide open a wide drawer under the television to find a yoga mat and various dumbbells – genuinely the first place I've ever encountered this. I prefer to slump idly on the sofa and browse the internet using the free wi-fi, but that's just the way I live my life. Don't worry though, it's not quite the sci-fi sleep pod I might be painting it as: throw open the balcony doors and step outside and you'll be in no doubt where you are, floating above the bustle but very much a part of the gorgeous neoclassicism that gives this part of Paris its character.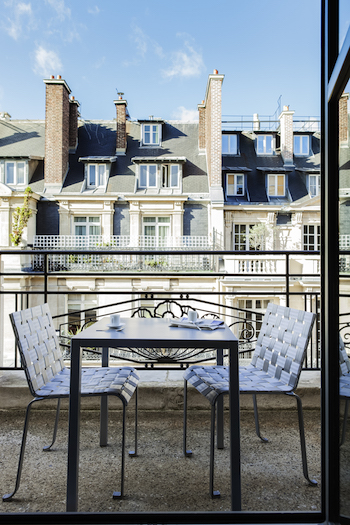 When we head out, the queues for the Musée de l'Orangerie defeat us, and in our despair we leap on a half-remembered recollection to trek to Abri at 92 Rue du Fauborg Poissonière for the pork katsu toasted sandwich, a saucy affair so satisfying that it briefly pulls my partner back across the brink from vegetarianism. Its architect, Katsuaki Okiyama, only offers these dizzying seductions on Mondays and Saturdays – do not miss the opportunity.
The next morning I actually wake up early with excitement at what Sofitel Arc de Triomphe will do for me by way of a buffet continental breakfast, and the only disappointment I found was that of the limitations of my digestive capacity. The coffee was outstanding and the pastries were exceptional – that almost goes without saying (we're in Paris, after all). That there would be smoked salmon on offer was pretty much assumed; that there'd be so many varieties, and that they'd be replenished so efficiently, was a joyful surprise. After it accompanied the eggs to my table and was duly polished off, I discovered the home-made nutella and the fresh crêpes. It was at this point that my breakfast companion started to roll her eyes, perhaps fundamentally misunderstanding the concept of a buffet: I ploughed on regardless, until eventually I could be persuaded to leave.
Paris is hardly short of hotels, and it's hardly short of high-end hotels in particular, but this has been an excellent renovation and it offers great geographical convenience for numerous palaces and museums, along with generously sized rooms that impress with their modern take on comfort.
For more information about Sofitel Arc de Triomphe, visit www.softel.com.