If you're looking for some late sun, in Cyprus it's pretty well guaranteed in September, October and even into November (November average is still 22-23C!). In fact, the island has the warmest climate in the Med – not surprising when you look at the map because Cyprus is more of a Middle Eastern island than a European one.
It's a big island too and, it has to be said, there are parts of it that have been overdeveloped. Paphos, though a sizeable town, is smaller than Limassol or Larnaca, and it's definitely no Ayia Napa. It's less hectic, more tranquil and it has some of the best historical sites in Cyprus – amphitheatres and monasteries, castles, remarkable mosaics and even Aphrodite's Rock, where the goddess was born from the sea. It also has good bars, restaurants and nightlife and, while there's no beach, there's a vast shallow man-made lagoon with breakwaters made from the local rocks to protect it from the waves. The water is clear and clean and people swim here all day long and way after dark, too.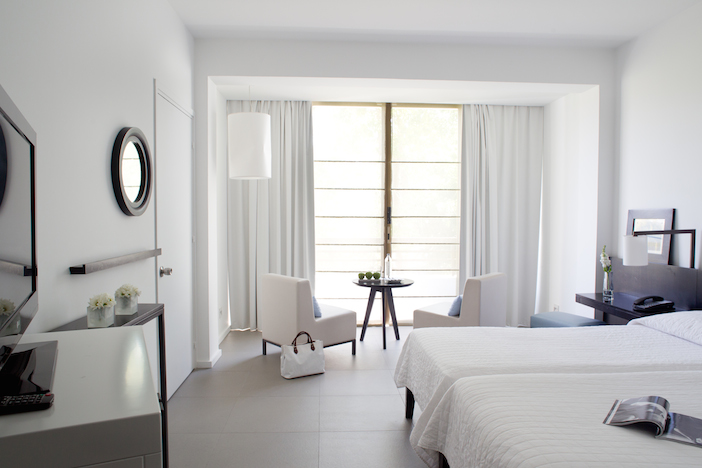 The Almyra was the first hotel built in Paphos but has been entirely redesigned and updated with a contemporary, minimalist feel within a six-acre tropical garden. There are four pools, a family friendly approach (the Baby Go Lightly programme means you don't have to carry all that paraphernalia) and a number of restaurants – Japanese-Mediterranean fusion to themed buffet. The most romantic setting for dinner is Ouzeri (local Cypriot food) perched right next to the sea, lit by candles with the lagoon and Paphos castle as its backdrop. If you stay at one of the Kyma Suites (close enough to hear the waves – "kyma" in Greek) you have a roof garden with spectacular views where you can have your own BBQ cooked by the hotel staff. So, you may be wondering, while Cyprus sounds lovely and the Almyra must be a great hotel, isn't this just a conventional holiday destination? Where exactly is the spa? In fact, it's at the Almyra Hotel and it's no ordinary hotel spa.
I am often dismissive of hotel spas. They can often be run-of-the-mill affairs with pretty basic, off-the-peg treatments. That cannot be said of this one. The spa has a totally separate area from the rest of the hotel and has its own 30m infinity pool outside overlooking the sea (as well as indoor pools). It's also an adult-only area, important in a hotel where small children tend to take over the pool area and scream with delight all day long!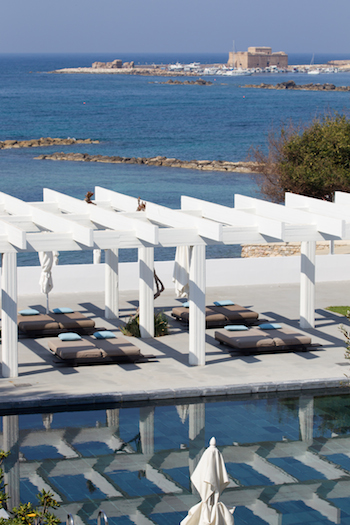 In the spa, by contrast, it is remarkably peaceful. Sitting on the big shaded beds around the pool, the main sound is that of waves breaking on rocks. There are nice touches. To refresh you, cool wet facecloths are delivered in a wooden box with some icy scented face spray set amid shells and pebbles and a single gardenia flower. The spa restaurant, Eauzone has smoothies, fresh delicious salads, teas and a really unusual breakfast.  You choose from one of three and I tried "Asian Twist". It had four little dishes (miso soup, poached egg with sesame, a carrot, tomato and cucumber salad and tiny slices of apple, plum, strawberry and kiwi with creamy local yoghurt) delivered on a circular red enamel tray.
The spa inside is not big – there are saunas and steam rooms, a gym plus an indoor/outdoor room for yoga, meditation and some more energetic classes. There's a running club too. The big USP here, though, is the unusual treatments and "rituals" on offer. The spa uses Ila products (it's actually an English company but the name is Sanskrit for "earth") and these are totally organic and natural as well as being ethically sourced. Key ingredients include Rose Damascena from India, Himalayan salt crystals from Kashmir and Argan oil from Morocco.
My first treatment was Ku Nye massage based on Tibetan techniques, Rania, my therapist explained. "It balances the five elements – earth, air, fire, water and space – and it uses a blend of five essential oils." She turned on the Tibetan music and began a very strong and deep massage. When I say strong, I don't mean the kind that gets into tension knots and makes you wince in pain. This had a deep pressure, combined with slow sweeping movements that paused at acupressure points to release blockages and free the flow of energy. There was cupping – though on top of towels, not directly on to the skin in the conventional way – and occasionally a hot stone or two was used. But the cumulative effect was both to build up in strength and pressure and to be simultaneously profoundly relaxing.
She moved on seamlessly to the Rainforest Facial and eye treatment. Again, this had some unusual techniques. There was a lot of temperature change (hot towels, cold sprays) combined with deep movements. There were a long series of figure-of-eight movements around the corners of the eyes and along the jaw – two areas of deep-seated tension for me. I left feeling utterly relaxed and I think the secret behind it all was the speed. This was one of the slowest massages I've ever had, set against the hypnotic background of the Tibetan music. Nothing was rushed, one movement or treatment flowed seamlessly into the next and there was, of course, time. Two whole hours.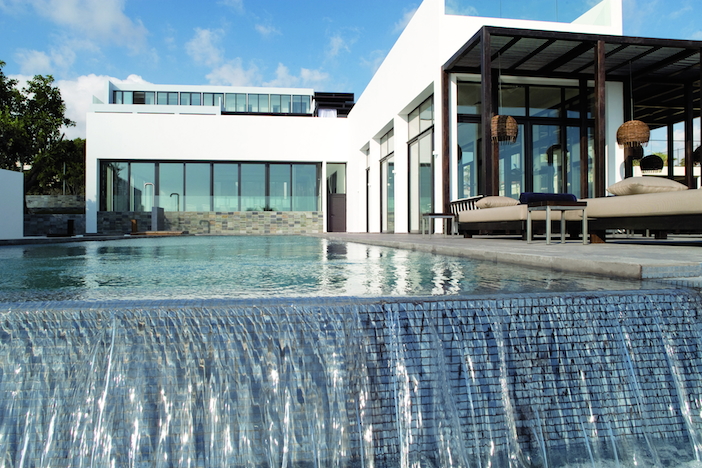 The next day I had a new therapist, Galina, for the Almyra Retreat. Galina told me it worked not just on a physical level but an energetic one, too. So I should be profoundly relaxed but also energised because the treatment worked using chakras, marma and pressure points, and focused on the Kundalini channel. Let me explain a bit here. Within the Ayurvedic tradition of health, the chakras (there are seven principal ones) form a vertical column from the crown chakra on the top of the head to the root chakra at the base of the spine. If you join up these dots, as it were, it is something equivalent to the central nervous system that runs the length of the spinal column. Kundalini is perhaps best understood as a reservoir of energy that lies at the base of the spine (it is sometimes referred to as a sleeping serpent waiting to be awakened) and can be released to run through all of the chakras, one after another, revitalising and regenerating them and simultaneously releasing blockages and balancing the system. So, if you don't buy that, look at it from the point of view of working on the nervous system.
Galina then told me she was putting on some Sanskrit chanting and if I could manage to meditate at any point, that would help too. I'm not sure I did manage it but the music was mesmeric and certainly I drifted into a deep relaxation at various points. Because massage is such an obviously physical therapy, people often focus purely on the sense of touch. However, the other senses are often involved – smell, for instance, in aromatherapy – and sound, too, can form a powerful part of the treatment.
We began, conventionally enough, with a scrub – warm argan oil was poured over my skin then a combination of Himalayan salt and poppy seeds were gently massaged in. The massage was not conventional, though, with lots of work on the chakra points, held for prolonged moments with firm pressure and then released into circular movements. Just as with the previous treatment, the strokes were slow, and nothing was rushed. There was plenty of time – another two hours, in fact. The end of the first stage was rounded off with Shirodhara. This is another Ayurvedic technique and involves a drizzle of oil (in this case argan infused with rose essence) travelling across the forehead in a slow, repetitive flow, back and forth, until you reach a state of deep relaxation. (On a more prosaic note, it did wonders for my sun-dried hair too.)
Then it's bath time. A warm still bath (no hydro jets here) with more oil and salts to increase the detox and time to look out across the vast terrace to the sea beyond. By now, my skin is soft as silk and my muscles are turning to jelly. But it's not over yet. There is still the massage to come.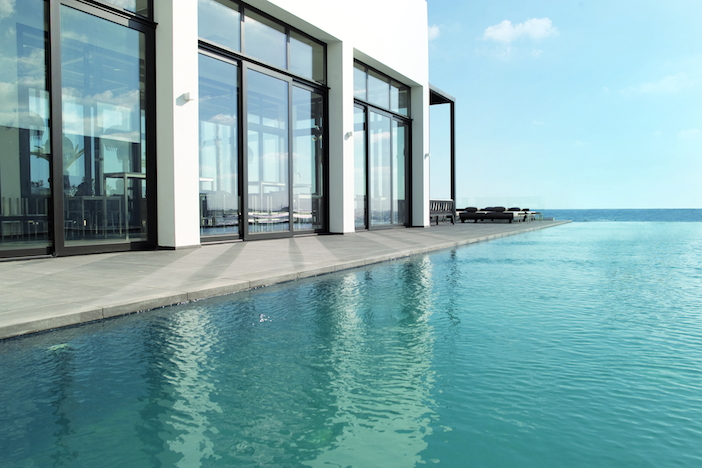 Galina applies more warm oil and uses a variety of techniques – strokes, acupressure, hot stones, poultices. Again the focus is on the chakras as they relate to the spine so hot stones massage the base of the spine, then at the levels of solar plexus, navel, heart, throat and third eye. Two stones are placed beneath my throat. Some time later, Galina works on the pressure points on my face, my ears, my scalp. The chanting continues. Did I meditate? Did I drift off somewhere else? I can't honestly say but when the treatment comes to an end, I feel as weak as a kitten and it takes some time before I can stand up, let alone walk. I feel light headed for some time afterwards. Within an hour, though, my brain has cleared and it's very, very speedy. I can only conclude something quite unusual has happened here.
So, this really is a place where you have a choice: at one end of the spectrum you can eat vegetarian wholefoods and have profound treatments; or you can have a relaxed holiday in the sun with fine food and wine at the water's edge; or you can combine the two. Not a bad range of options really.
Rates at Almyra start from £168 (including taxes) per room per night based on two people sharing. For more information, including details of the range of spa packages, visit the website.