Scrooge has got nothing on our Cigar Editor, Nick Hammond. He meets his match with a stay at The Dorchester…
I had done so well up to now. I had managed to convince myself that Christmas was just a distant memory, vaguely appearing on the horizon, to be briefly acknowledged and then filed under 'back burner'. But setting one foot inside The Dorchester on Park Lane changed all that.
This grand old Dame proclaims Christmas in a rich, joyful, lustrous voice; and I fail dismally to raise a 'Humbug' against this mighty sort of opposition. Instead, I shuffle through the glorious egg-and-dart and pillared atrium, past the shimmering ceiling-high Christmas tree and the diamond-encrusted jewellery store and head straight for the lifts. Which, thankfully, don't play Little Drummer Boy (or indeed anything else) at me while I ascend, crestfallen, to my floor.
The hotel has long been a byword for class and sophistication. It's a London landmark and positively seethes with visitors and residents during my stay. This is a huge operation; more than 200 rooms, two dozen suites, three restaurants, shops, bars and Lord knows what else.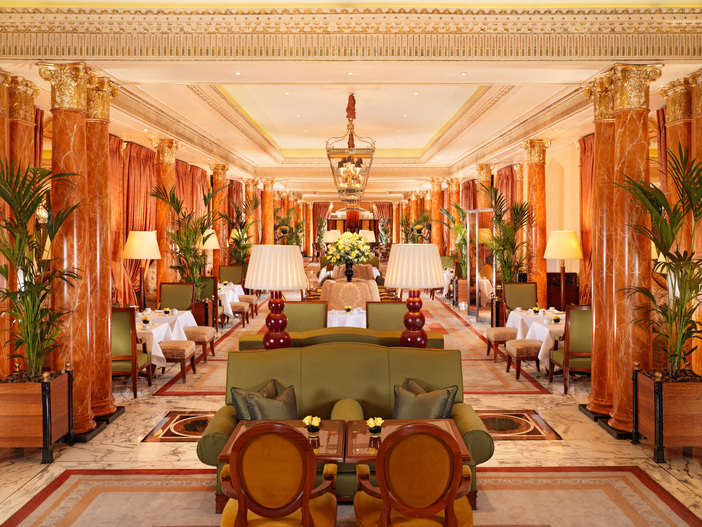 But it manages to retain a studied elegance, despite its size. The newly-refurbished Grill, for example, is a triumphant reconstruction of the heyday of Art Deco, the center piece being a warm glow from the kitchen backdrop ornamented with brass and copper pans. I nearly resorted to taking a bread knife to my right hand to stop myself purloining the exquisite silver coffee pot I was served with in the morning. To stay here is to covet. There is also the three-Michelin-starred Alain Ducasse offering and Cantonese wonder, China Tang, housed under this roof. Plenty to keep one occupied, then.
But none of these were my concern, for I was here for the luxury of residence. Internet is free (hurrah!) and my room is comfortable, the marble bathroom quite splendid. Heavy drapes and thick walls mean that unlike many other hotel rooms, you get a truly quiet night's sleep. You know you've had a good wedge of undisturbed slumber when you awake unsure whether it's the middle of the night or noon.
But the highlight of my stay came rather unexpectedly the next morning. After an exquisite light breakfast of coddled egg, crayfish and nantua sauce, I was due, by prior appointment, to avail myself of the services of a masseuse in the Dorchester Spa. Now I must confess to not being much of a spa kind of chap. I don't have a washbag full of fancy unguents, or spend a fortune getting my haircut. I daresay it shows.
So I approach my Valmont facial massage with something nigh on trepidation. And when my charming masseuse welcomes me into the cocoon-like massage room and asks me to divest myself of my garments, my trepidation levels soar. Crumbs! Clothes off? For a facial?!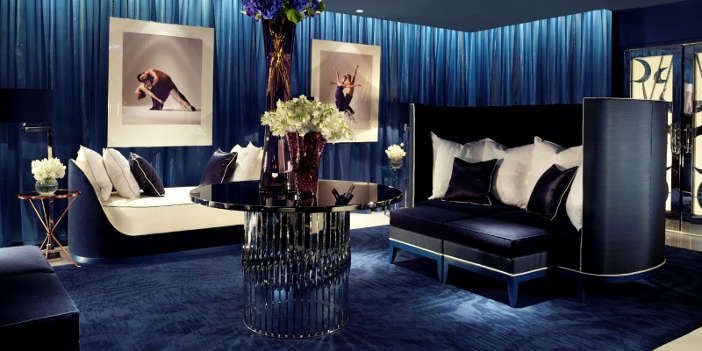 But he who dares, wins, as Del Boy is fond of saying and so, once my fragrant host has departed, I remove the said clothing with a certain élan and dive under the blanket. Which is an electric one. Toasty. My masseuse returns after a discreet pause and soon the obligatory plinky plonky music begins to drift around the room. Hot towels and various lotions are gently poured and massaged into my skin.
The good lady asks pertinent questions about my skincare and provides some gentle advice as I doze on a perfumed cloud. The half-hour treatment finishes with a really great shoulder and neck massage. And with a twinkling smile, my benefactor leaves me to get dressed. From here, I am led to the rather lovely recovery room to compose myself. And amazing things start to happen.
Despite some admittedly lavish helpings of Balvenie the night before, my spirits now start to soar. I can feel it minute by minute. A sip of coconut water here and a nibble on a cashew nut there – and the world starts to take on a whole new rosy hue. By the time I saunter into the chill air of Park Lane, I feel, without exaggeration, like a new man. My previously unattended skin is peachy smooth and gently perfumed, my normally spasming neck muscles relaxed and serene. I find myself whistling – whistling, I tell you – none other than Jingle Bells as I stroll down Curzon Street.
Dash it all.
Valmont's A Journey to the Mont-Fort Facial for men is available exclusively at The Spa at The Dorchester. Facials are priced at £75, £165, and £187 for the express, complete, and intensive versions respectively. For more information or to make an appointment, visit the website.