Weeks of plentiful picnicking through the summer have left me somewhat… enlarged. Young children have pointed out my soft upper arms and double chins. I have inwardly sobbed and started leaving the yummy caramel syrup out of my lattes again. It is clearly time for me to start preparing for (that ridiculous notion of) a summer body. I need to start now for 2015, given the rough road ahead of me. Where better to start than by applying 23 carat gold to my weather and child beaten face?
The Spa at Dolphin Square is my destination. The basement environs are perfect for the cave-like hammam, rhassoul and steam rooms, with beautiful lanterns throwing out light patterns on the walls and flowers decorating the passageways. The venue is an authentic Moroccan spa experience and this is reflected in the decor (rich earthy colours, ornate wooden doors and thick curtains) and the rituals. The first one I am treated to is a hand wash. Placing my hands over a brass bowl, my beauty therapist, Monica, pours warmed rose water over them. It sounds so banal but the aroma is heady and instantly makes me feel vaguely intoxicated.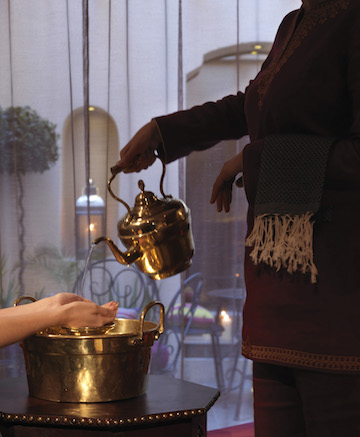 We move onto the treatment room and Monica asks me about my skin, my skincare regime and which products I use. She's clearly well informed about what works for different types of skin and I feel confident putting my face, literally, in her hands for the Gold Facial. This is a 70 minute treatment. Yes, you read that right, one hour and ten minutes of total indulgence. With my eyes closed and relaxing music playing, I drift off in my thoughts whilst Monica applies the cleansing and anti-aging treatments. As well as a gold and honey massage balm, there are two distinct masks used – one which feels slightly cold to begin with, this is a gold mask containing pearl extract intended to lift and brighten the skin with a gentle exfoliating action.
The last treatment is the gold peel off mask which is anti-aging and nourishing. I'm told there are vitamins, amino acids and trace elements. I couldn't pick any of these out of a line up but I do believe the proof is in the pudding. The whole treatment is authentically Moroccan, and as such it includes argan oil and the scents of rose, patchouli and cedarwood throughout. Delivered with these treatments are divine bouts of head, foot, hand and décolletage massage, given with perfect "medium to firm" pressure, as I had requested on my initial consultation form. Whilst lying there, prone and golden-faced, I pondered whether every day could start this way.
Once the treatment is over I am shown to a relaxation lounge with sofas, plentiful cushions and warm throws. Asked if I would like some tea I hungrily say yes, only to be served with something that looks like it doesn't come with sugar and milk. I am normally not fond of such drinks, but was blown away by the absolutely delicious Moroccan tea served beautifully on a tray in an ornate teapot and with a small bowl of dates. Sitting here, pampered, comfy and feeling revived and soft skinned about the face, was the pudding proof moment.
Asked by a child this morning if I was pregnant I retorted "No, I'm just glowing with gold".
The Spa in Dolphin Square: Dolphin Square, Chichester Street, London, SW1V 3LX. The 70 minute Gold facial costs £119 and can be booked by visiting the Spa's
website
or call the spa directly on: +44(0)20 7798 6767.