In December in Blighty we can't imagine 40 degree heat, let alone the idea of wandering al fresco in a bathrobe. Which is precisely why Anna Selby took off to Arizona to bask where the spas are as vast as the desert itself…
If the summer holiday is hard to recall and you can't remember what the sun feels like on your skin, you can even now get a Vitamin D fix by heading for the desert. Out in Arizona, it's still in the 70s Fahrenheit and the likelihood of rain is slim in the Sonoran Desert where you'll find yourself surrounded by red rocks, red sand and gigantic Saguaro Cacti – the ones that stretch their arms up to the unforgiving sun. But sun is what we're after, right?
Arizona spas play to that strength so outside spas are particularly popular. There are pools, waterfall massages, hot tubs all out in the open. And at Royal Palms Resort, the Alvadora Spa has indoor/outdoor treatment rooms so you can have your own secluded spot in the sun. A former private estate built by New York industrialist and financier, Delos Cooke, on the outskirts of Scottsdale, Royal Palms is considered a historic building in Arizona – built in the 1920s. Cooke created a mansion on his 65 acres in the Spanish Colonial style – so plenty of courtyard gardens, fountains, colonnaded walks, ornate tiling and a pale terracotta exterior. The gardens were an intrinsic part of the design that features 900 palms, many imported from Egypt. There are lots of fruit trees – lemon, lime, orange, grapefruit, peaches and apricots – and flowers everywhere, bougainvillea spills over walls, fragrant lavender scents the air. All of these herbs, flowers, fruits, oils and minerals of the region are now used in the spa for treatments.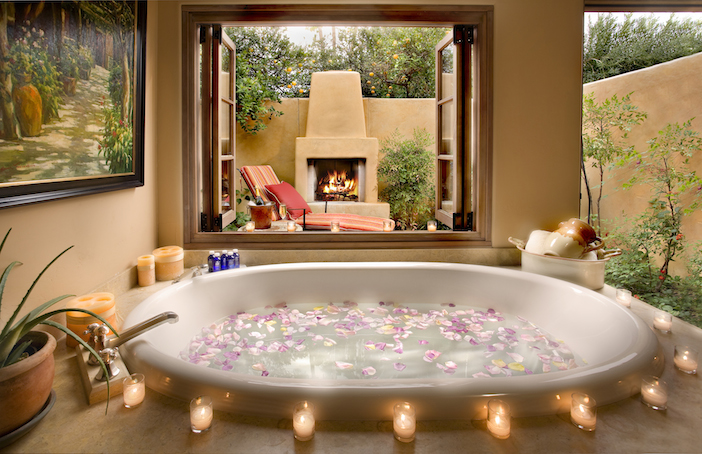 The Alvadora is not a big spa. Its focus, rather, is on the personal and private. So I go in to the treatment room to find something like a huge wet room – though there are two other rooms that form part of my suite that I haven't yet discovered. There are two treatment beds in here (it's very popular for couples) and above each one are three showerheads. These are for the Destination Earth.
Desert Sage Salt Glow – the first part of the treatment. It's a body scrub using local organic products and the showers play on different parts of my body while my skin is scrubbed smooth, the water spilling over on to the limestone floor. Afterwards I take a waterfall shower and then head to the next room where there is a mineral bath that gives me an underwater massage for 20 minutes. Lying in the bath I look out on the enclosed patio, the final "room" in my suite. Here, I take an outdoor shower, this time a "raindrop" one and then bask on a lounger for a while before the final stage. There are two loungers out here and even a fireplace for the winter – though this is hard to imagine as I'm melting even in the shade while I gaze at Camelback Mountain shimmering in the heat. The final stage is back in the first room – now dry – and a massage scented with orange blossom oil. So, scrub, tub, rub, then. And incredibly relaxing.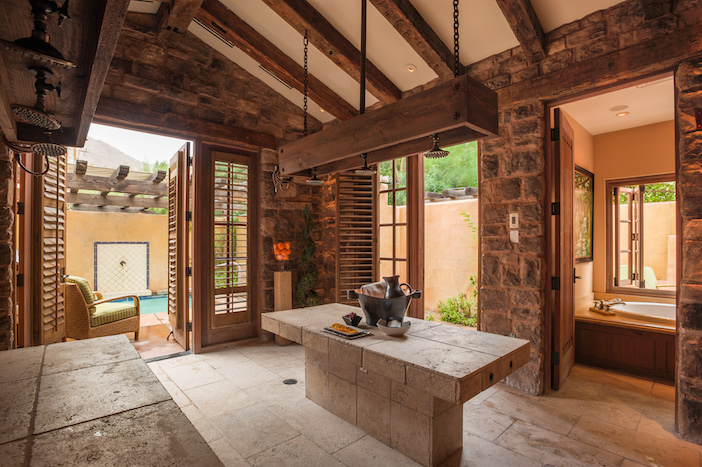 The spa has a range of luxurious and relaxing treatments for men and women and this is not a place where you come to stint on anything. Royal Palms is definitely a top-of-the-range place and its restaurant, T Cook's New American Kitchen is superb. So top recommendations: wild Texas antelope, Colorado lamb, forest mushrooms with whole cloves of garlic, English pea risotto. Like I said, not a place to stint. The restaurant itself is beautiful – wooden beams, iron chandeliers, ochre walls and a couple of palm trees that grow up and through the roof.
There is a wellness class each morning (yoga, Tai Chi, walking meditation) but this is really a place for chilling out in great comfort. If it's classes you want, head to the other side of Scottsdale and the Fairmont Princess's Willow Stream Spa. This spa is vast, decorated with cool, muted tones and low lighting (in contrast to the sun blazing outside). Outside there is a "grotto" waterfall massage and a rooftop pool with private cabanas where you can order healthy spa cuisine. Inside there is a wet steam room, a eucalyptus inhalation room, a sauna, whirlpool, cold plunge pool and a huge gym. Then there are the classes – some I've never heard of before. There's Surfset which involves a whole range of exercises while balancing on a raised surfboard (good for the core muscles). Then there's Booty Barre, a ballet-based workout for bums and legs. But my favourite has to be aerial yoga. Now to be honest, I think it's more circus arts than yoga – and they do use the same equipment as Cirque du Soleil. It is slightly daunting when faced with something that looks like a cross between a sling and giant baby bouncer suspended from the ceiling. Not to mention the fact that the class takes place in a glass box in the centre of the spa – so no shortage of spectators.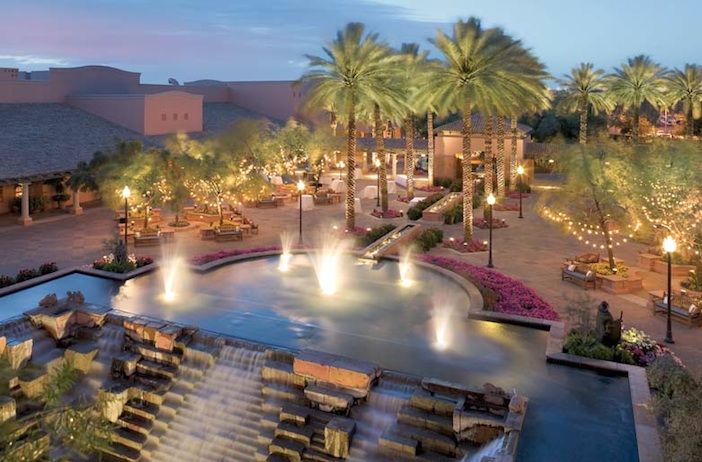 The teacher, Gloria, is tiny and in her seventies. She refers to the baby bouncers as hammocks and explains that they help to give you greater stretch and are very good for inversions. That's upside down then. And I have to admit, it does take a bit of courage to be sure you've got the thing threaded through the right way and just allow it to swing you upside down with your head a few inches off the floor. When you've done it, though, it's curiously relaxing. There's none of the pressure you get on your throat or head when you do a normal shoulderstand or headstand. And there are other postures where one leg is on the ground and one is in the hammock. Or you're standing on the hammock. And finally, and this really is blissful, you're lying in the hammock for relaxation, cocooned and gently swinging.
I'm cocooned again in the treatment room for my NovoGlow Facial, wrapped up in a duvet for a high-tech facial using NovoSerum – with platelet derived growth factors from umbilical cord serum. (Truly.) This promises anti-ageing by restoring and repairing damaged skin cells with a powerful growth factor (multiple anti-oxidants, neuro-peptides, vitamins and collagen stimulants). There are anti-bacterial and anti-inflammatory agents too alongside the more usual moisturisers. For added efficacy, there is a spinning brush to prepare and cleanse then the bt-Micro unit to help get the stuff in. Even my hands and feet are given the peptide treatment over which warmed socks and mitts are placed.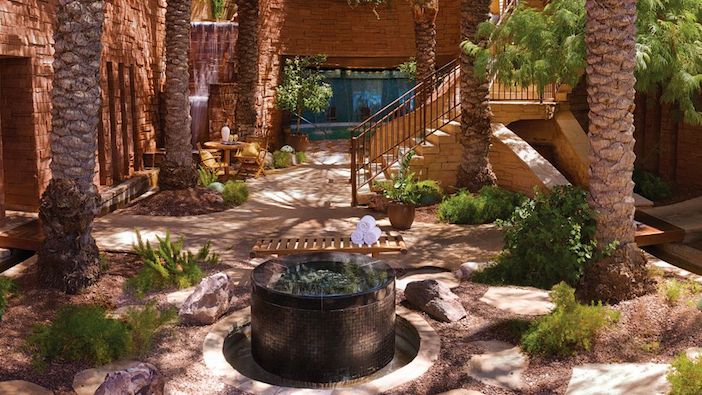 The next day, there is the Purification Ritual. This starts off with a vigorous exfoliation before I'm wrapped up in Black Silt Clay with extracts of Sarsaparilla and coffee. Not only does it promise to increase circulation and minimise cellulite, it smells good too. My face (it's getting a lot of attention over here) gets an oat polish and a hydrating aloe and prickly pear mask. (There's prickly pear lemonade in the relaxation room – quite delicious.) While the prickly pear's doing its stuff I have a scalp massage with avocado oil mixed with essences of lime blossom and sweet blood orange (all very good for the hair, apparently). I'm finished off with a massage with bergamot, citrus and aloe body lotion.
And aside from a vast menu of treatments, you can have acupuncture, a nutrition consultation and vitamin prescription tailored to your needs, fitness training programmes and diagnostics, even personal growth and life coaching. And you can even take the spa home with you. There is online, on-going support as a follow-up with an interactive e-magazine sent to your laptop. The spa service that never ends….
For more information about the Fairmont Princess Scottsdale and the Willow Streams Spa, visit www.fairmont.com.
For more information about the Alvadora Spa at the Royal Palms Hotel, Arizona, visit www.royalpalmshotel.com.
For further information on holidays to Arizona visit www.visitarizona.com.