The train to Arosa is a long slow climb up the mountain. It's the very last stop past giddying drops, pine forests, lakes and cascading waterfalls, tiny villages and wooden station houses with steep roofs and deep balconies, their window boxes overflowing with scarlet geraniums. It is summer in the Graubunden canton of Switzerland and a mixture of sunshine and showers has followed me all the way from Zurich. So when I arrive in my room at the Tschuggen Grand Hotel I am greeted by a view from my balcony of a rainbow that arcs from the mountain top to the forest below. It's quite a welcome.
But it had, in fairness, been quite a welcome already. The hotel lives up entirely to the grandness in its name. I am met at the tiny station by a driver bearing my name in a gold picture frame. One of its five restaurants has a Michelin star. The décor is opulent, the service impeccable and the mountain setting breathtaking. And, oh yes, if you still weren't sure this was an A list kind of place, Harry, William and Kate were here last year for a wedding.
The spa itself is vast: 5000 square metres. But given the mountain site, it wasn't easy to find a new piece of flat ground to build on. So star architect Mario Botta came up with the novel idea of building the spa inside the mountain. It is an extraordinary concept but it's even more of a surprise to find that this is a spa that is also flooded with light. It is, after all, underground.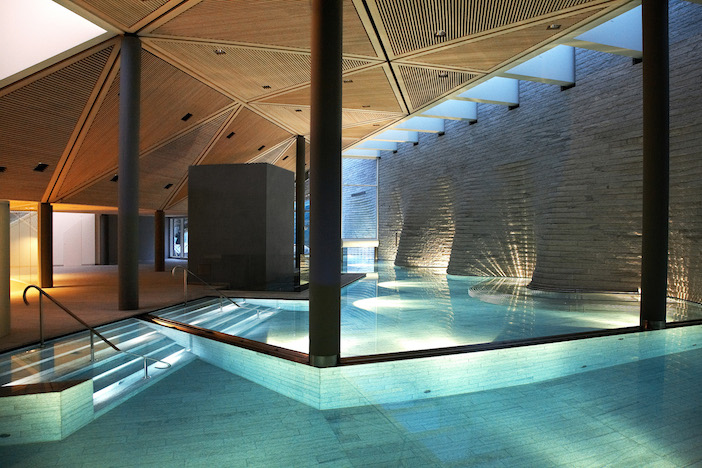 At the Tschuggen, the ideas always come on a grand scale. So the spa's light comes in from a unique (and no doubt mind-bogglingly expensive) concept. Nine glass "sails" stand on the mountainside above the spa and act as light wells to each of its four floors. By day they could be mistaken for upturned glass boats or rather graceful sculptures. By night, they are lit from within – artworks of colour and light.
What it means, when you are in the spa, is that you are always drenched in natural light. Part of the concept, too, is that you are also surrounded by natural materials. Besides all that glass (there's a glass bridge into the hotel, too), the spa's minimalist interior is composed of maple wood, white granite from the Alps and the darker rock of Arosa. There is a "grotto" on the top floor of the spa where you go through a series of showers and sprays built into the mountainside itself. This sits alongside a Kneipp course, whirlpools, warm and cooler, inside and outside pools. The steam rises from the latter in the cool morning air of the Swiss summer. In the winter, it must seem as if the water is simmering.
There's a series of relaxation areas with windows on to the spectacular mountain views, saunas and steam rooms, a suitably state-of-the-art gym and classes – from Aqua fit and Pilates to intensive work outs and plenty of personal training. In the summer they do hiking and biking – there's even one of Europe's highest golf courses. But in the winter, it's all about the snow.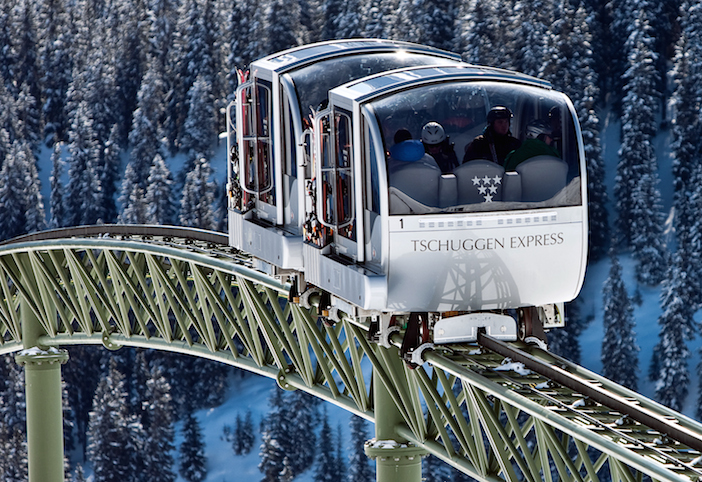 This is the only ski-in/ski-out hotel in Arosa and it has its very own funicular mountain railway exclusively for its guests. You just go to the lowest floor of the hotel and there it is next to the ski shop. It gets you to the top in two minutes. And, of course, this is no ordinary ski lift: it's a two-carriage electric train with white leather seats and total comfort to whisk you effortlessly on to the slopes.
It's pretty grand whenever you go. But if it's total exclusivity you want, go in November for the "Private Mountain" event. Before any of the public lifts open, the only people who can get to the piste are those staying at the Tschuggen. You have the mountain to yourself and it's not just the skiing that's on offer. There are accompanying ski instructors, the hotel's own special giant slalom, mouth-watering delicacies served all day concocted by Michelin chef Tobias Jochim, a jazz brunch and gastronomic dinners every night. And all that pristine snow untouched by other skiers. Of course, if the real snow comes late, the Tschuggen will produce some. Guests here are rarely disappointed.
If you want to spend some time on the snow and some in the spa (or one of you wants outside action and the other is a bit of a sybarite), the Tschuggen is going to work for you. The spa menu is extensive and focuses on tried and tested therapies rather than the more fanciful trends that can be found in some spas. So there's a combination of European spa culture mixed with Asian traditions. Clarins, Dermalogica and Sensai are the leading brands for beauty treatments, offering everything from "luminising facials" to body scrubs. There are special massages for pregnancy, relaxation and sports (good for occasional skiers who need their muscles relaxed after all that sudden exercise). There's even a Tschuggen IPad Massage to deal with problems from spending too much time with a screen.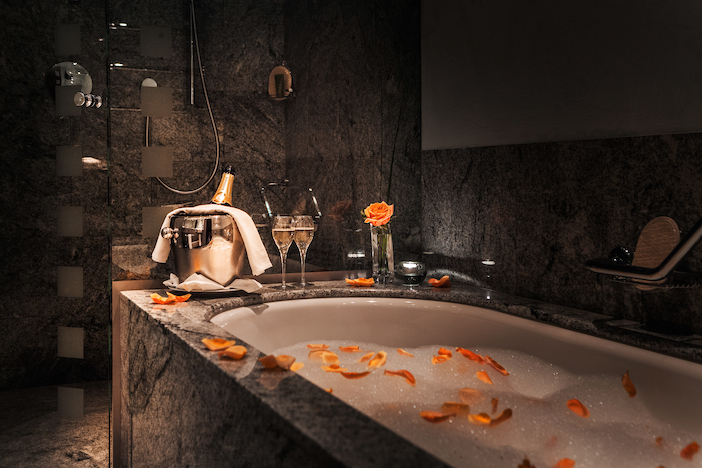 There is medical wellness, too, so you can get some anti-ageing and aesthetic dermatology if you want to go home looking as if your holiday has taken the years off. And you can have a very private spa in a suite of your own with a whirlpool, steam bath and sauna, any treatments you fancy, movies, Prosecco and strawberries.
I tried out the Tschuggen Massage: five different treatments combined in to one session. This was a very deep, firm massage that certainly found all of my knots. Nadine, my therapist, asked me what kind of pressure I'd like. "Medium," I said feebly. After a few minutes she suggested it should be a bit firmer. Resistance was futile, she was going to get those knots.
It had begun, though, with a foot massage, articulating the foot and ankle and even getting into the toes. Then it was the head and scalp, using lots of oil but a firm touch and stretching and turning the neck to get rid of all that stored stress. There was so much oil, in fact, that my hair stood on end so I looked like a wild woman afterwards. But the spa supplies a comb for you in the treatment room – as I say, they think of everything.
The body massage combined hot stones, joint articulation, a deep muscle massage and stretching (especially the arms and neck) and aromatherapy. Nadine also tried a completely new one on me – she pulled up the lowest three vertebrae in my tailbone so they all clicked! It was somewhat disconcerting but curiously releasing for lower back tension.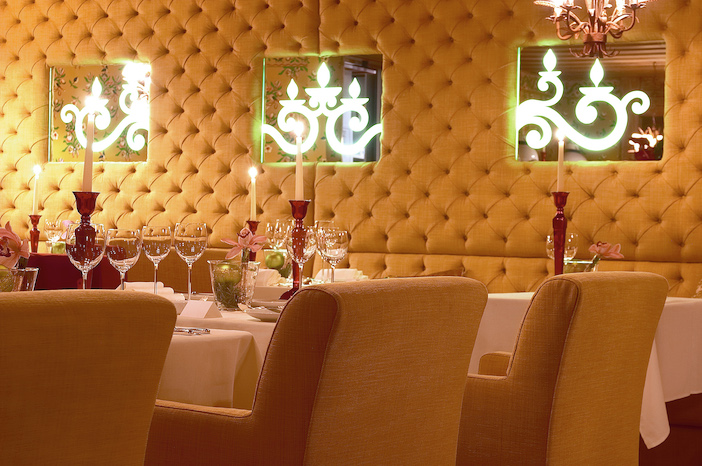 So in a state of total relaxation, I went for dinner at La Vetta, the Tschuggen's Michelin-starred restaurant. This is an intimate space and the smallest of the hotel's restaurants where the food is nothing short of extraordinary. You can choose a la carte or one of the menus carefully composed by Tobias Jochim. I decided to trust the expert and had the smallest menu – though even this came with lots of little extras from the handmade crackers (olive, cheese, crustacean) and the "aperitif" gruyere praline and spring roll to a carrot and orange "pre dessert". Along the way was a rich chanterelle ragout and a melt-in-your-mouth entrecote steak – a local speciality from cattle raised on the mountain and served with a sour cherry sauce, purple carrot and yellow beetroot – quite a colourful plate. According to Jochim, his aim is to offer guests "moments of happiness with good food". In my case, he and the Tschuggen both succeeded.
View Hotel Info, Rates & Availability
 Anna flew Swiss Air from London to Zurich. For more information visit the Swiss website.
On 28th November 2014, the Tschuggen Grand Hotel in Arosa will be launching its winter season with the "Private Mountain" event. Now in its fifth year, the Arosa ski area around the Aroser Weisshorn will once again belong exclusively to the guests of the five-star hotel. For more information, including details of the grand end-of-day party at 2,650 metres, visit www.tschuggen.ch or call the Tschuggen Grand Hotel direct on +41 (0)81 378 99 99.