At the end of his book Walking in Berlin, Franz Hessel urges his readers to get out and see the city for themselves rather than merely rely on his guide.  He wrote: "Now dear fellow citizens, please don't reproach me for all of the important and noteworthy things that I've overlooked; rather go out yourselves, aimlessly, just as I have done, on hazard's little voyages of discovery. You don't have time? That's false ambition speaking."
For many modern day travelers a city break is a carefully negotiated affair with as few days of annual leave taken as possible. Guidebooks go big on the two, three and four day itineraries, fuelled by our obsession with not missing out any essential travel experience in minimal time. I'm just as guilty of this and yet my best holiday memories and travel experiences are rarely zig zag queing to slowly ascend a tall monument/building before taking a terrible selfie to prove I was there. And so to do Berlin, Hessel-style. No lists or pre-planning just seeing and doing what we fancy.
It helps that my friend is big on lie-ins and lazy brunches. Great minds. When we check into our room at the Orania Hotel,  we go upstairs for a quick cup of tea only to realise one Ritter sport and two Nespressos later we have spent the best part of an hour lounging on our window seats that overlook the Orienplatz, languidly debating which way to walk along Oranienstrasse.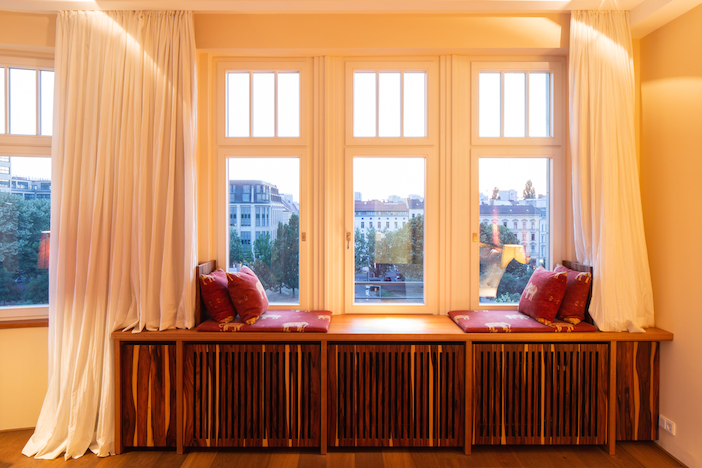 One of the main thoroughfares of Berlin, bars, restaurants, cafes and kebab shops line Oranienstrasse. First stop: Voo store, located in a courtyard just off the main street. Within the large warehouse space is a cafe area serving companion coffee, a selection of art and design mags on the walls. From Acne leather bags to a rail of puffa jackets only a true Berliner could pull off, prices are definitely designer.
At nearby Markthalle Neun, browsing and buying is an altogether more affordable experience. Open Thursday evenings (5-10pm) and Saturday and Sunday from noon until 6pm, Neun puts on various special markets. Thursday evenings are dedicated to streetfood selling Nigerian fufu, British pies and Mexican tacos. The breakfast market is every third Sunday of the month, while the quarterly Naschmarkt (snack market) sells every sweet and savoury snack imaginable. Note: no Haribo here, Markthalle Neun is a big supporter of the slow food movement.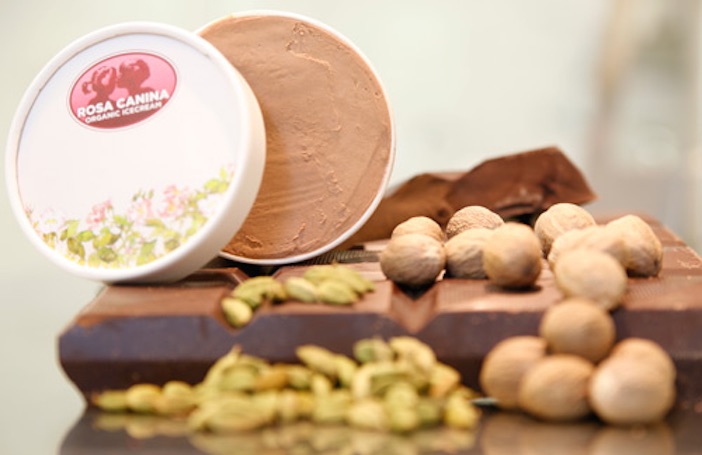 Whatever the weather, stop by Rosa Canina to sample its incredible flavours. Orange and sage is a (vegan) revelation, as is ricotta with lavender. The apple cake from Frau Zeller should also not be missed. There's also Berliner meatballs, tapas, mezze, a food truck selling fresh pasta and stalls selling fruit, veg, flowers, cheese and meats. It's the ideal way to while away an afternoon. From Markthalle Neune, it's a short walk to the Berlin Wall's East side gallery, a collection of 47 murals commissioned to different artists and one of the city's modern era landmarks.
On our walk back to the Orania, we unexpectedly land in the middle of the Zug der Liebe (the Train of Love), an offshoot of Berlin's now extinct Love Parade. Organisers of Zug der Liebe see the parade as more of a political demonstration appealing for more compassion and social justice. A caravan of trucks with booming sound systems are followed by Berliners of every age and background. As well as trendy Kreuzbergers, there are families with babies – sunglass-wearing Dads with kids in buggies nodding their heads furiously and children hopping and jumping alongside pensioners with set hair and full makeup.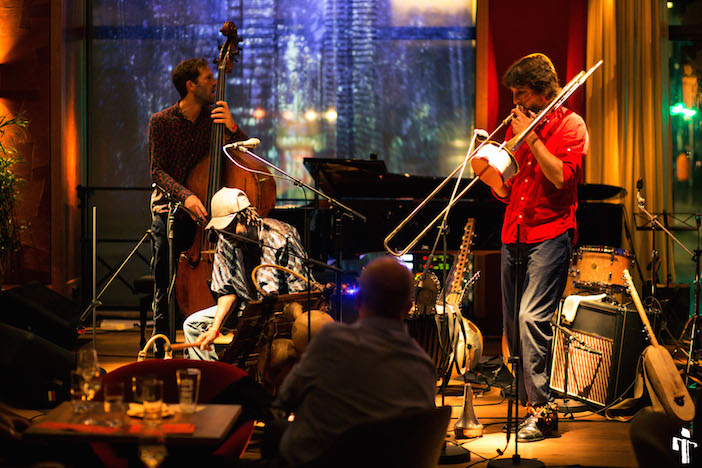 After our unexpected day rave we keep it Kreuzberg, drinking cocktails at the hotel's large restaurant bar area – with a band playing it's full of people and has a buzzy vibe a world away from some soulless hotel bars and we don't head out until gone 11.30pm. But this is Berlin and many locals are undoubtedly only just starting their night. We start with 3 euro glasses of Prosecco at Cafe Luzia. Sat at the bar it's all too easy to ask bar staff for another – and another.
Luzia's industrial features: bare brick walls, whirring overhead fans and silver pipes behind the bar are countered with the candles at entrance, upholstered furniture and warm light. Before we know it, it's time for end of the night kebabs – except in Berlin you can eat in and get fresh Turkish bread and homemade dip at the start and strong Turkish tea and Turkish delight at the end.  
Alongside kebabs and techno, Berlin's other great love is the flea market. Mauerpark's with its bearpit karaoke is the most popular and that's where we are headed but en route to it we stumble across Kreuzberger's own flea market.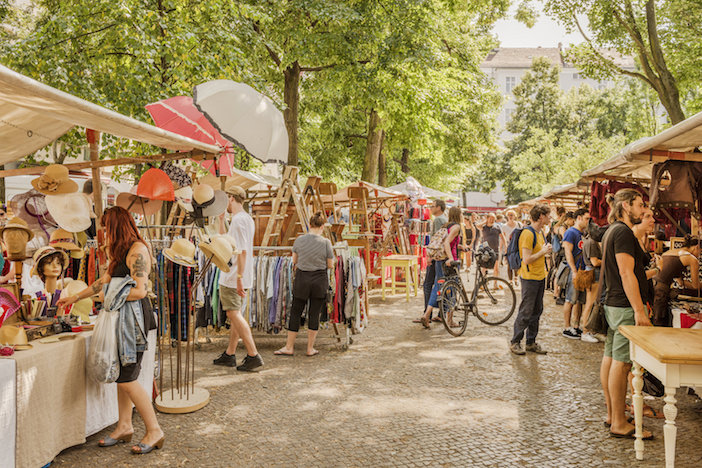 Fancy old computer speakers from Amiga 500 days, plastic shot glasses and naff China ornaments? You got it. Alongside the tat is hand-sewn baby clothes and badges, homemade shampoo bars and natural cosmetics, pretty jewellery and second hand jeans and leather jackets. The flea market is in an allotment with sunflowers and lettuces growing out of plastic drinks crates.
Before coming to Berlin, I'd heard it described as 'grey', 'austere' and 'not beautiful' too many times but like the sunflowers growing out of Coca Cola crates, the beauty of this city lies in its spirit and creativity and its endeavour to be a place of inclusivity that has learnt from the (heavy) weight of history on its shoulders. We stumble across the Künstlerhaus (Artists' House), a 19th century hospital, now arts centre; its exhibition 'Common Ground' offering innovative housing solutions across the world.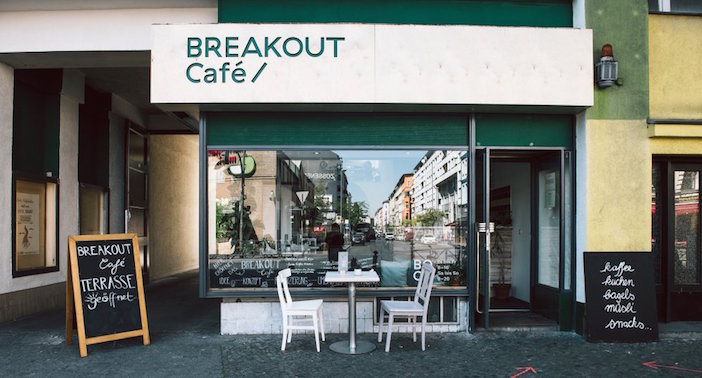 The Breakout Cafe meanwhile is a non-profit cafe supporting refugee children. Photos of some of the children are displayed on the walls. They usually come in the afternoons to not only help serve but also play and draw. A shelf of old biscuit tins contains games and colouring pencils for them.
As Hessel concludes, let us "look at the thing that is Berlin, in its combination and chaos of luxury and meanness, solidity and spuriousness, peculiarity and respectability, until we become fond of it and find it beautiful, until it is beautiful."
Berlin – and Hessel – you beauty.
For more information about the Orania, including details of their concert programme, visit www.orania.berlin.
For more inspiration to start you off on your Hessel-inspired wanderings, visit the official Visit Berlin website.