Karen Yates steps back in time to the alluring and enigmatic Galilee region of Israel and discovers far more than a place steeped in Biblical history…
"We're at the centre of everything," says Adi Taubenhouse, vegetarian, animal lover, counsellor, author and, like everyone who has grown up in Israel, ex-soldier, as he shows us round the 37-acre organic farm at Mizpe Hayamim hotel and spa. "It's not just a melting pot, but a boiling pot," he adds. He's talking about politics, people, geography and history, not only of Jewish but also Christian, Muslim and other faiths. Around us are dotted place names familiar from childhood and more recently the news: we are in the Upper Galilee region, overlooking the Sea of Galilee 10km to our south. "We're where Europe, Asia and Africa meet," explains Adi. "There are the Golan Heights and behind them Syria and Damascus," he says pointing northeast. "Lebanon is 40km north and Jordan about 70km away." We're on a slope 600m above sea level, there is snow on the mountain tops but just four hours' drive away is hot desert and the Dead Sea, the lowest place in the world. This beautiful spot is loaded with history and conflict and it really does feel like the still point of the turning, whizzing, crazy world.
Mitzpe Hayamim has its own fascinating history, too. The world's first hotel to embrace ecotourism was build on the edge of a shrubby mountain in 1921 for Baron Rothschild and later bought by a doctor with a vision to combine traditional and holistic medicine for his patients. In 1983 it was bought by the present owner, who wanted to create a hotel and spa with an attached farm to supply the guests with fresh and healthy food, a concept way ahead of its time.
Adi is keen to show us that the animals, like the soil, are not exploited, almost everything is organic and the goats, sheep and cows are treated holistically – no antibiotics are given here. Here people believe animals are children of God and that happy animals produce the happy milk that is pasturised in the hotel's own dairy and turned into 27 varieties of cheese including sheeps' milk zfatit, goats' milk Gouda and Manchego and cows' milk Emmental; labneh (strained yogurt); yoghurt; cottage cheese and many other dairy products offered to guests for breakfast or taken to the hotel's bakery and used in the bread and cakes that are baked daily. Even the pasteurisation process is natural: milk is heated to 75C then made into cheese using traditional Dutch methods.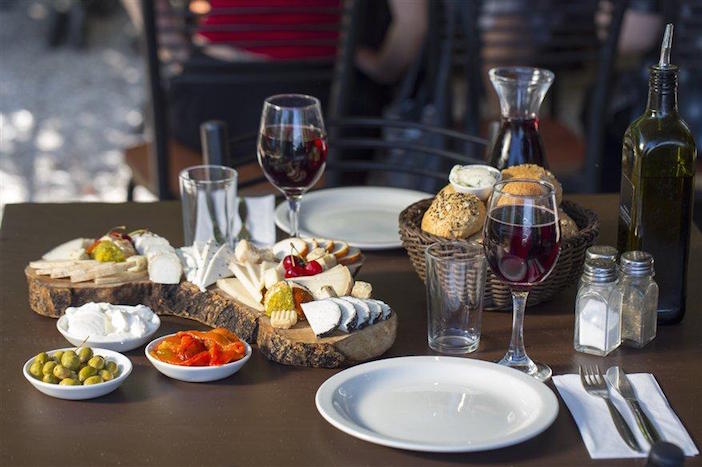 It has to be said that Israeli breakfasts are knockout (and this applied everywhere we stayed). At Mizpe Hayamim, whatever you fancy will be waiting for you, from the farm's own fresh fruit and vegetables, just-baked organic loaves and rolls of every size and shape, bagels, sweet pastries, organic cereals, any number of cheeses and cooked dishes from shakshuka (eggs baked in a spicy tomato sauce) to rice dishes and salads. The list goes on.
While the hotel also has a buffet for supper (my heart sank at the word 'buffet' but it was the best ever with an equally vast choice of dishes), the Muscat restaurant is the real showstopper. Where possible, all ingredients, from the meat to the herbs, are from the farm and on the evening we ate there standout dishes included steamed beetroot with organic homemade cheese, roasted nuts, basil and hazelnut oil, plus a fillet beef carpaccio with roasted pistachios to start; followed by lamb osso bucco, beouf bourguignon, and charcoal-roasted chicken marinated with fresh za'atar leaves, lime and Persian lemon with seared green beans. Puddings included dates filled with pistachios and served with date honey and rum and raisin ice cream, cannoli filled with goats' cheese, a goats' cheese kadaif with pears and tarte Tatin. If some of that sounds Middle Eastern and some doesn't, there's a reason: since the State of Israel was founded in 1948, the mix of people comes from all over the world. The notion of Israeli cuisine is fairly recent so the food you'll find in hotels and restaurants usually includes local favourites with Italian and French accents.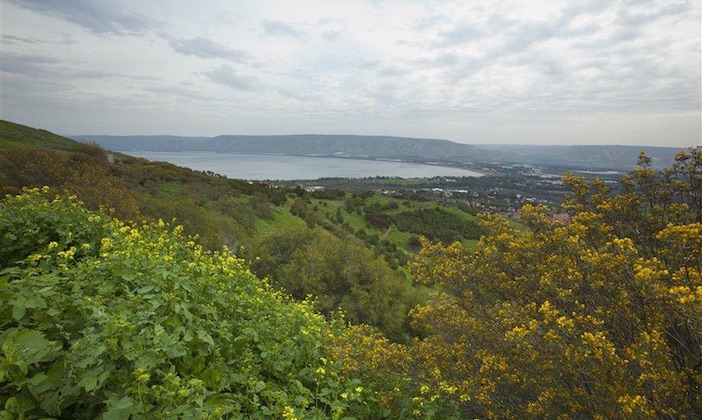 Other high points of Mitzpe Hayamim include vast suites (mine had a view over the Sea of Galilee), spa treatments galore, a swimming pool, a gym, tea corners where you can help yourself to freshly picked mint and other herbs to make tea and tuck into just-baked homemade cakes, and since the aim of the hotel and spa is to relax and rejuvenate, a ban on mobile phones in communal areas and children under 10. If all that isn't enough to soothe the senses, the air is fragranced with the relaxing scent of rosemary, geranium and ylang ylang. People wander around in white dressing gowns on their way to and from the pool or spa with a slightly blissed-out expression, and no wonder.
The hotel makes a great base from which to explore other parts of Galilee. As Adi said, this is a true melting pot and a real land of contrasts, and in the nearby remote hillside village of Beit Jann on the Meron Ridge, near the border with Lebanon, live the Druze, who arrived 1,000 years ago and whose mother tongue is Arabic. Here you will find a modern oil olive press run by a Druze father and son, to whom local people bring their olives (at 940m above sea level it's too cold for oranges but olives thrive) to be turned into oil in just 30 minutes. People come from as far away as the Golan Heights, even though other presses are nearer their homes, because they trust this small family outfit and know it's the oil from their own olives they will be given back in bottles. Nothing is wasted – even the excess (stones and other matter) is used for heating.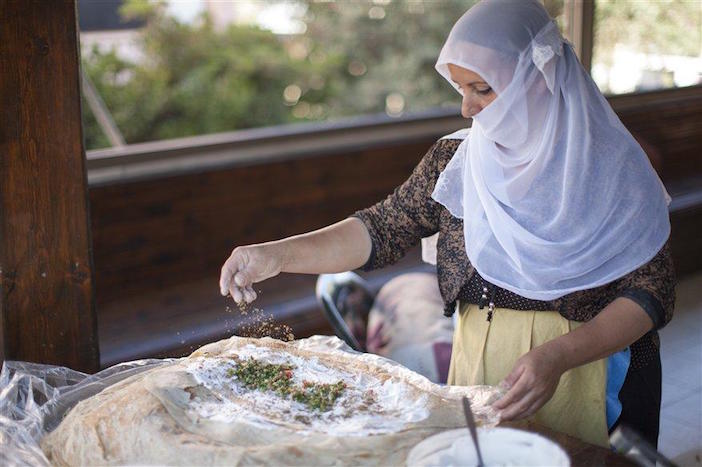 In the same village, Dr Dabour combines Galilean tradition with new technology to transform organic olive leaves, pomegranates and Argentine orchid extract into skincare products. Certainly those I tried were lovely and the cleansing milk I'm now using daily is superb. All are made without animal ingredients, animal testing or additives. Dr Dabour also creates flower waters, soaps, teas and spice blends, and employs local Druze women who might otherwise find it difficult to get work outside the home.
Another place within easy reach of the hotel is Kfar Kadem in Hosha'aya, Nazareth, Lower Galilee, where you can experience life as it would have been 2,000 years ago. You can even dress up in Jewish biblical costume, if you are so inclined, as you learn how to grind the olives the old-fashioned way. The day we visited, we were greeted by the joyous Menachem Goldberg, who had become a grandfather for the first time that morning. "Do you do everything as they did in ancient times?" we asked. "Oh no, I'm firmly in the 21st century," he replied. "I love my iPhone and Swiss watch!" It's a hands-on experience in a naturally beautiful spot – at one point an electric-blue kingfisher flashed past – and you really can imagine being here when Mary's parents and therefore Christ's grandparents might have passed through.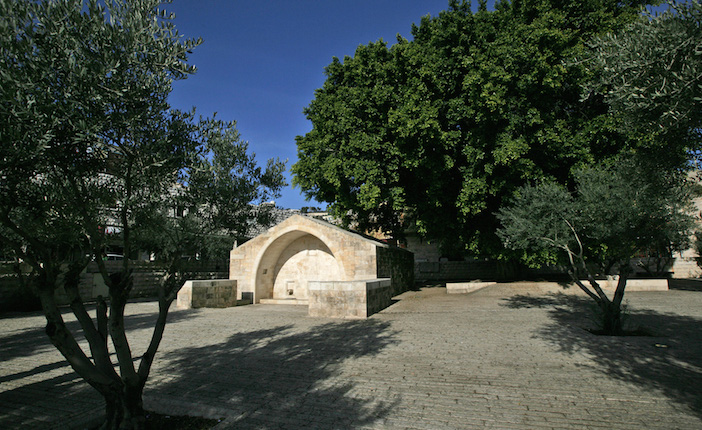 At the family run Rish Lakish in Zippori, also in Lower Galilee, there's plenty to learn from Ayala Noymeir, who is studying for a PhD in olive oil production, is an international taster of olive oil and a competition judge. "Israeli olive oil is becoming really good," she says. "It's up there with Italian and Spanish oils now." In the family home they built themselves with walls made from bales of hay covered with mud, olive oil to repel water and an egg-white glaze, Ayala explains exactly what we should be looking for in a quality oil and that there are four enemies: light (always store in a dark green glass bottle), plastic (ditto), heat (ditto, and don't keep the bottle near your stove top) and oxygen, which slowly ruins oil. A boutique oil, like those produced here, should last three years, compared to one year for a mass-produced version.
Our last but not least stop in the Lower Galilee was one of my favourites. Tulip winery is next to Kfar Tikvah, which means village of hope, and its residents have special needs. All are 21 (the age at which the Israeli state passes on responsibility for welfare to the parents) to 82. It's the brainchild of Dr Siegfried Hirsch, who bought the hill and the then abandoned kibbutz and set up the village to give people with disabilities a 'home for life' and create an environment where they can lead active, productive lives and integrate with society. All are high-functioning and paid to work in the labelling and bottling of the wines, making crates, helping out in the visitor centre, gift wrapping and so on.
Nathan is a youthful 65 and a long-term worker here. He couldn't wait to meet us and show us a book of photographs all about…him, the subject of a photographer's project. Nathan clearly loves working here, meeting the people who come to visit the winery and has never missed a day's work. We certainly enjoyed meeting him.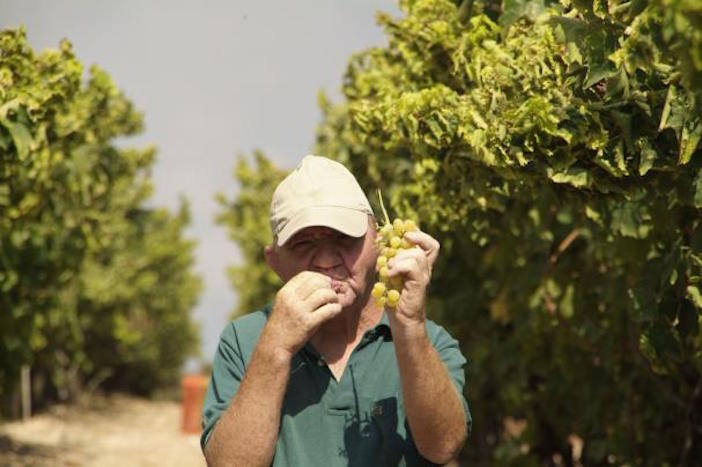 Just in case you're wondering, the wines aren't bad either. The winery was set up in 2003 with the intention of producing the best wine from the Israeli terroir at the best price and to contribute to the community (10 per cent of the profits from the 220,000 bottles produced each year goes back into the village). Clearly it has succeeded; American wine critic Robert Parker gave Tulip Mostly Shiraz (shiraz and cabernet sauvignon) 88 out of 100 points; the White Tulip (gewürztraminer and sauvignon blanc) 90; the Syrah Reserve (syrah and petit verdot) 90; and the flagship Black Tulip (cabernet sauvignon, merlot, cabernet franc and petit verdot) 89. The latter's colourful label was drawn by competition winner David Ashkenai, who is also disabled, and aims to show that we can label wines but not people.  I couldn't agree more.
For more information about Israel, please visit www.thinkisrael.com. For more details of Mizpe Hayamim, including information on rates and activities, visit www.mizpe-hayamim.com. And for more information about the Tulip Winery and to purchase their produce visit www.tulip-winery.co.il.
El Al offers flights to Israel from London Heathrow and London Luton. For more details and to book visit www.elal.co.uk.