Each January a slew of prolific writers, poets and musicians gather together from across the globe to attend the Galle Literary Festival. Hosted in this enchanting city on the west coast of Sri Lanka, it's not hard to see how such a thing exists, or why such a strong calibre of speakers choose to assemble here. From Colombo Fort to Galle, a three and a half hour slow-train prompts instant experience of the beguiling idiosyncrasies that this very special part of the world presents.
Light fixtures swing you in and out of darkness as train carriages rattle passengers further south, flanking the Indian Ocean by mere metres at a time. If you time this just right, you may catch sunset across the water as you go – burning hues of pink and orange are fronted by swaying silhouetted palm trees in the evening's sub-tropical breeze. From the moment you step foot here, it becomes obvious Sri Lanka is nothing short of a burgeoning, creative paradise.
Galle city was built by the Portuguese in 1588 and later extensively fortified by the Dutch. In 1988 the fort became a designated UNESCO world heritage site, attracting almost 3million foreign hotel night stays a year by 2018 (Sri Lanka topped Lonely Planet's No.1 country to travel to in 2019). Countless impressive buildings erected throughout its bespeckled history provide the source of much inspiration for any visitor – the towering British-built lighthouse is perhaps the most recognisable, and thus, also the most well-photographed.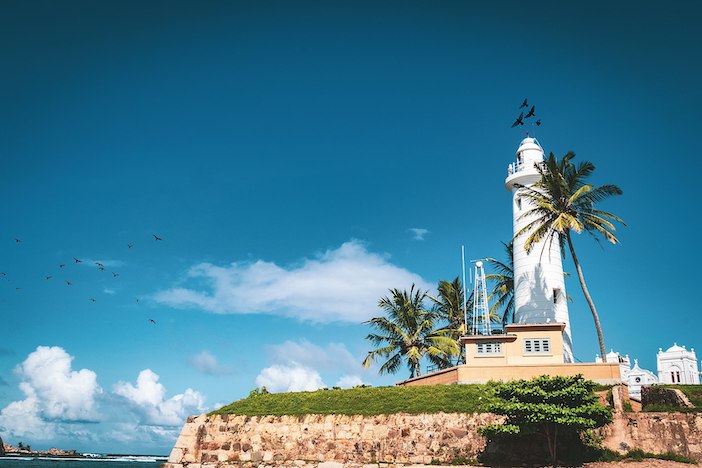 Inside the old-town walls, cute cafés (visit the Peddler's Inn) sit alongside smart restaurants (dine at The Fort Printers), quirky craft shops (shop at Luna) and discreet boutique hotels (poke your head into The Fort Bazaar) – each one colouring every step of the old city with a modern energy that encases its more traditional, historical vibe.
I visited Galle in April – a month in which the Sinhala and Tamil New Year is celebrated, meaning festivals abound at this time of year. I stayed at Le Grand – a modern, luxury five-star hotel that opened in October 2018 – handily located a few minutes' walk from the fortress' external walls. Le Grand boasts sleekly designed bedrooms – some with luxuriant freestanding bathtubs and, or their own infinity pools. Here, or at the main pool, you can sip fresh mango juice or passionfruit cocktails against wide-open views onto the Fort and the never-ending Indian ocean. A miniature private beach sits at the far reach of the gardens' coconut trees – the perfect place in which to dip one's toes – or perhaps, ink – Le Grand being the choice accommodation for many a literary festival participant.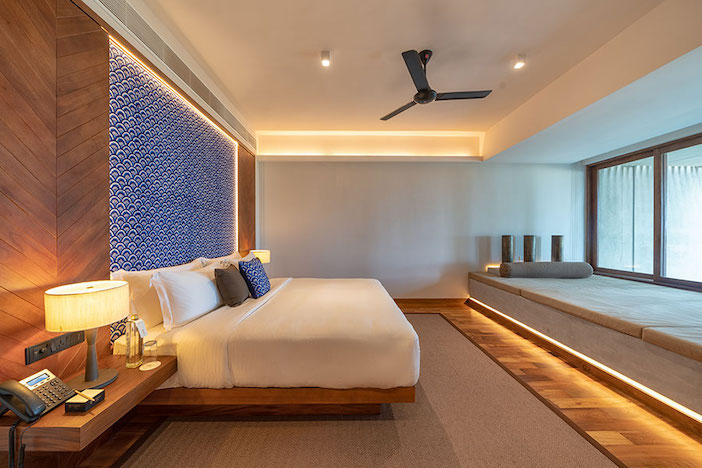 Before visiting Sri Lanka, I had been recommended to read a book called The Suicide Club – a tale far less morbid than it sounds. The story is authored by Herman Gunaratne, a professional planter whose (book's) leaves document the golden era of Ceylon tea, working in and around the many Sri Lankan plantations and plotting his 'plucking' adventures accordingly. This charming story indulges a certain nostalgia for the Ceylon of yesteryear (still evident through much of the rest of the country), but also shines a light on the hardships of making tea and the painstaking efforts that the various growers still go to, to produce the very best leaves that can be.
Today, Herman is particularly known for his virgin white tea, one harvested using white gloves at night – when cooler temperatures mean better preservation of flavours that are high in antioxidants. His Handunugoda Estate, a short journey from Galle, makes for a pleasant day trip, while Herman's words remain a must-read for anyone with an interest in the wider social history that surrounds the beating-heart of this country's second greatest industry.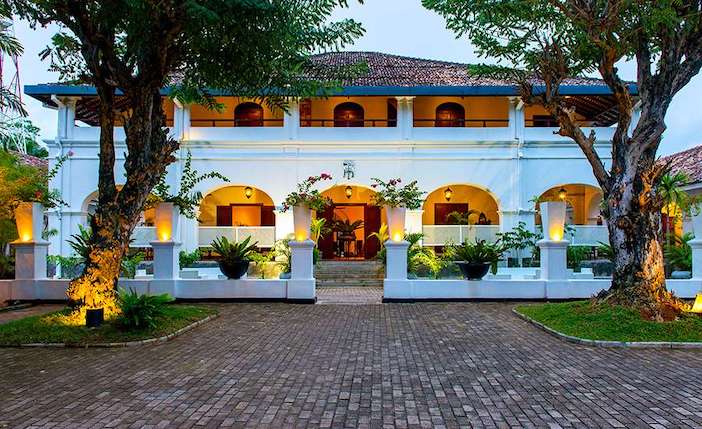 While Tea menus abound within Sri Lanka, a superb place to take in a cup is at Tamarind Hill – an old colonial mansion, now turned boutique hotel, under the same ownership as Le Grand. Before leaving Galle province, I stayed here for a couple of nights, and it remains a true highlight of my entire trip. This place is a haven of peace. From stepping through the front door, guests are immediately transported into waves of cool and elegant calm, contained within white-pillared walls that are home to fabulous furnishings – think dark mahogany chaise-longues, heavy wood and glass-panelled bedroom doors and vast tapestries – one of which tops the house's twenty-four seater dining table.
Each of the eight bedrooms, and two suites, contain more beautiful 'of the era' furniture, a four-poster bed, and sumptuous brass etched bathrooms decked out with ayurvedic coconut-infused products, and – most importantly- space for some of the most restful sleep around. The food and beverage offering here is first class – the egg hoppers and fish curry with fresh sambol at breakfast is a true local culinary flavour exposé and one of the best meals over the ten days I spent. The evening menu provides further soft spice, wrapping around other regionally sourced ingredients – worth a visit even if you're not staying here. The Singapore-style crab is a particular highlight (if you can handle the silver tong'd-cracking of it!).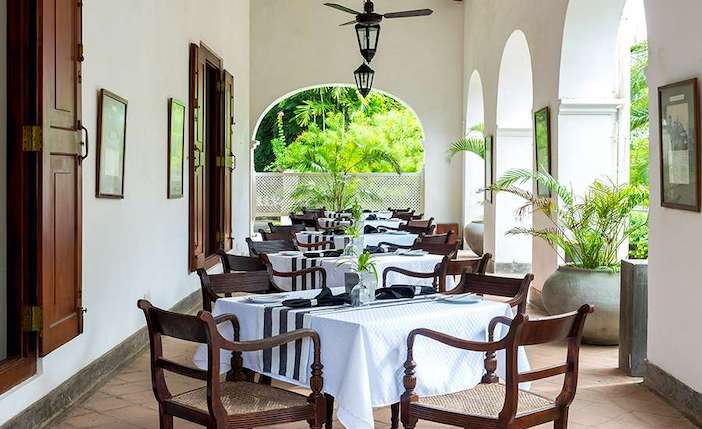 Of course, while the past in Sri Lanka was often golden, and more recent history has had its serious challenges, the last few months have had darker occurrences still. My stay was unfortunately marred a few days after leaving Galle, when on Easter day three terrorist attacks occurred – heartbreaking news for so many people who have worked so hard to regain a bright and very peaceful existence.  The government has since elected a new President (the former Defense Secretary who ended their previous 30-year conflict), travel advice has been rectified and all is looking up again for this brilliant, exceptionally hospitable destination.
I personally can't recommend visiting this beautiful country enough. I'll be back without question. Sri Lanka is a place where people, places, scenery and localised scent means every day spent here brings its own inspiring story – just ask any author worth their coconuts.
For more information about Le Grand Galle and Tamarind Hill, including details of experiences and offers, visit www.legrandgalle.lk and www.asialeisure.lk.
And for more information about the Galle Literary Festival, visit www.galleliteraryfestival.com.