On a short tour of Tunisia, Yolanda Zappaterra ventures away from the capital and finds some unexpected cultural delights among the north coast's tourist resorts…
I've always loved a good bit of topiary, ever since Stephen King used it to such dramatically chilling and thrilling effect in The Shining. So travelling along the pristine highways of Tunisia, gazing out on a sprawling city that seems to have more cranes than minorets dominating its skyline, I'm immediately well-disposed to a country that sees fit to decorate miles and miles of its dual carriageways with all manner of the art. Curly corkscrews, tapering towers, box shapes and Picasso-esque African heads are just some of the shaped trees visible, and interspersed as they are with colouful splashes of floral displays, the effect is one of whimsical playfulness that's as unexpected as it is welcome – begging the question, what did I expect of Tunisia?
Unlike, say, Morocco to its west or Egypt to its east, Tunisia is something of a mystery to many UK holidaymakers. Why this should be is a puzzle – after all, it is just as secular as and arguably more liberal than those regional neighbours, and it's actually more inviting than both of them in terms of travelling independently and in any region. Western dress is the norm, and with a smaller number of people employed in tourism there is less hassle from vendors and a generally more relaxed attitude towards visitors of both sexes, but in particular towards women. Indeed, as a woman, it was heartening while here to learn that women hold more than 20 per cent of seats in both chambers of Parliament and that the Constitution of Tunisia, adopted in January 2014, guarantees rights for women. And, with a recently elected secular government led by a party, Ennahda, that in 2012 declared it would not support making sharia the main source of legislation in the new constitution, and veteran human rights activist Moncef Marzouki as president, we should all be beating a path of support and economic encouragement to this fledgling democracy.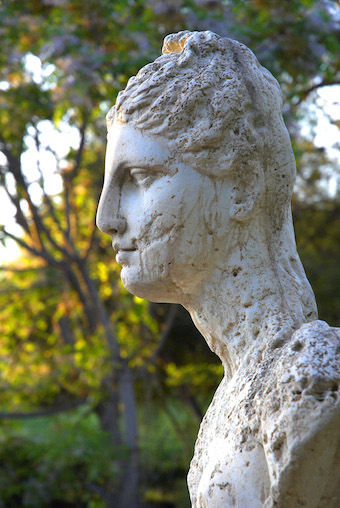 Yes yes, you say, that's all well and good, but what will we find once here? Well, for starters of course, in Carthage, you'll find one of the world's great archaeological sites. Set majestically on the Gulf of Tunis, this originally Phoenician city, founded in the 9th century BC, became an important civilisation and centre of trade long before the Punic Wars and its eventual capitulation to the Romans in 146 BC, when Roman Carthage – whose remains we see today – was established on the city's ruins. It's an extensive site that actually takes in some ten different locations, most of them hard to find and with minimal interpretation. While this can be frustrating if you're trying to get a sense of the site and its history and culture, it does mean you're left to your own devices to quietly take in the echoes of the numerous civilisations that left their mark here.
Myths such as the story of Dido and Aeneas mingle with near-mythological figures such as Hannibal in a rich history that's laid out chronologically at the Carthage Byrsa Museum, set at the site of the Punic residential remains of the Byrsa Quarter, built in Hannibal's time. The museum displays many casts of everyday objects and statuary discovered here (many of the real things having being hauled off to Tunis's unmissable Bardo Museum) along with mosaics and funerary objects, and the site offers wonderful insight into the daily life and construction feats of the Punic era around 200 BC, including shops and multi-storey buildings. But Byrsa is just one of several sites that make up the ruins of Carthage; equally alluring and evocative are the Punic tophet, where stelae and tombs mark seven centuries of burials, the amphitheatre, the Roman villas and the stunning Antonin baths – the third largest in the world.
Contextualising the Roman era of Carthage culturally and artistically enhances its appeal tenfold, and 120 miles south along the coast, at Sousse Museum, there's a great opportunity to do just that. Here, hidden within the Kasbah of the medina, are some of the country's most beautiful mosaics , featuring everything from Neptune driving a chariot pulled by two seahorses to a mesmerising Gorgon set in a disorientating Escher-like design, and elegant, understated monochrome still lives. Best of all, a large Byzantine baptismal font from Bekalta offers the kind of detail that you rarely get a chance to see at such close quarters. Other rooms contain funerary objects from Punic, Roman and Christian eras that are no less absorbing, and all of it combines to create a museum that's so evocative that to come out of it and be thrown into the surrounding medina is a serious culture shock… But then that's a large part of Tunisia's charm.
Unlike some Muslim countries, where tourism and daily life rarely intermingle beyond resorts and medinas, Tunisia offers a genuine mix that spans the gamut from highbrow Sousse and lovely local beaches along the north coast – Raf Raf in the northwest and the nearby beaches and lowkey resort town of Bizerte being two standouts – to more lowbrow Hammamet, 60 miles north of Sousse.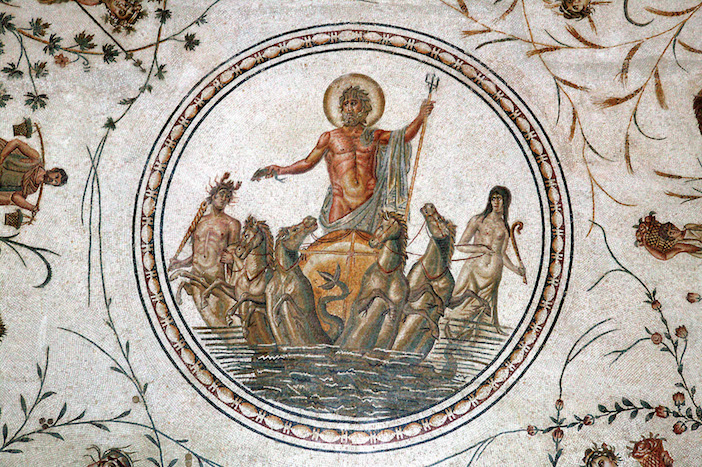 As the first tourist resort in Tunisia, Hammamet is probably best known for its theme park, Carthageland, and the tourist-filled marina at Yasmin Hammamet. But there are little treasures to unearth too in Hammamet proper; at the downright bizarre Dar Khadija museum, where 25 compellingly naff but fun tableaux span 2,000 years of Tunisian life, and at the more compelling but far less visited International Cultural Centre. Set in extensive sea-facing gardens, the centre features an outdoor theatre and an elegant 1930s villa, Dar Sebastian, built around a central courtyard pool and visited in post-war years by Churchill and Rommel, and later by Ghandi, Mubarek and other world figures. The villa exudes a calm charm that marries Islamic and Art Deco features which act as the backdrop to changing exhibitions both in the house and in the grounds. On our visit, the art was singularly less impressive than the space (proving perhaps that some experiences remain the same the world over).
For a very different, and arguably better, experience with fine art, the Gallery El Artista in the preposterously pretty Sidi Bou Said is a worthwhile stop, and offers affordable paintings, illustration, ceramic work, jewellery and other arts, all of it made by local artists, much of it on-site in the warren of pleasurably wanderable rooms. But then, Sidi Bou Said is a little work of art in itself. Up and down gentle inclines, cobbled steps take in hundreds of whitewashed buildings with glistening blue paintwork, occasionally opening out onto a picturesque courtyard or square filled with, yes, little blue tables and chairs. The artifice is no less charming for being artifice, and eventually one of the little cobbled streets leads to a site that is truly original and authentic, and one of the best examples of Arabic Islamic architecture in Tunisia.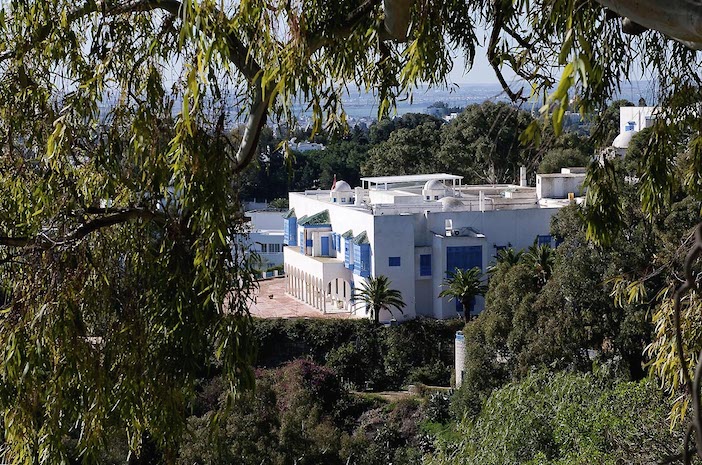 The Ennejma Ezzahra Palace hides its treasures well behind an unadorned blue and white exterior whose delicate marble-columned portico is the most elaborate thing about it. But inside, it's a different matter altogether. Like a mini Alhambra, the wow factor is ramped to the max in this former home of a Baron and current home of the National Sound Archive. Carved stucco and plasterwork and sculpted cedar wood ceilings are just some of the crafts featuring on a series of rooms set around a long central indoor courtyard that draws your eyes up to the top floor housing a lovely library, the journey up to it interrupted by wall hangings, mosaics, ceramics, marble columns and a frieze of stucco with intaglio engravings that lets shards of light play on the Persian carpets, Chinese porcelain, Turkish cushions and crystal and blown glass from Italy. In every room, a jaw-dropping example of skilled craftwork is waiting to be found; in the baroness's bed chamber, our guide points out 5,000 carves pieces of wood above a cosy sleeping alcove covered with gold leaf to resemble a honeycomb.
The house and everything in it were lovingly put together over a decade by the multicultural polymath Rudoph d'Erlanger, whose appreciation of visual arts and crafts was matched only by his love and knowledge of Arab music, a subject he studied in such depth that his book, xxxx, is regarded as the most comprehensive and authoritative work on Arabic music (check) in the world. Fittingly then, a key element of the house are a lovely theatre in which some 60 concerts are held every year, and close by, in what used to be the servants' wing, an exhibition of musical instruments that includes more than 250 pieces in use across all Tunisia's regions and genres.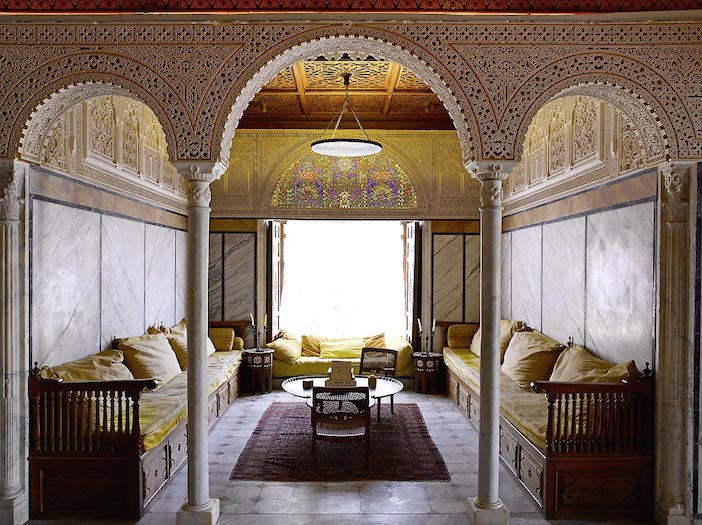 Back out in the lovely grounds, gazing out at the bay of Tunis and back at the house, it strikes me that the Ennejma Ezzahra Palace is a perfect metaphor for modern Tunisia; a winning blend of ancient and modern, modest and opulent, with a warm understanding of the value of craft, culture, commerce, education and… out of the corner of my eye, I spot a little path bordered by, yes, a mini-topiary hedge.
Three places to eat:
Le Bon Vieux Temps
56 Rue Hedi Zarrouk, 2026 Sidi Bou Said
Tél: (216) 71 74 47 88, http://www.aubonvieuxtemps.net/contact.htm
Chez Achour
Rue Ali Belhouane, 8050 Hammamet
Tel (216) 72 28 01 40
Restaurant Cafe Seles
Bab El Gharbi, Medina, Sousse 4000,
Tel (216) 97286862, www.caféseles.info.
Yolanda stayed at the five-star Regency Tunis Hotel (www.regencytunis.com) in Carthage (double rooms from £111 prpn) and at the Bizerte Resort (www.bizerteresort.com) in Bizerte (double rooms from £60prpn). Tunisair www.tunisair.com operates five flights per week from London Heathrow to Tunis, with prices starting from £237. Heathrow Express www.heathrowexpress.com trains take 15 minutes between Paddington and Terminals 1 and 3, and run every 15 minutes. For information on Tunisia, visit Come To Tunisia's website.