At times like these, when borders are suddenly back in fashion, travelling to somewhere like the South Tyrol makes perfect sense. It reminds you that often they are simply arbitrary lines on a map. The South Tyrol is in Italy, but it was part of the Austro-Hungarian Empire until it was annexed after the First World War. Even now, more than 60% of its inhabitants speak German as their first language; a decent chunk speaks something called Ladin, which you won't find anywhere else; and Austria only shelved their ongoing claim to it in 1992.
It doesn't feel quite like Italy, but neither does it feel completely Austrian. In Sesto, where I stayed, you are closer to Frankfurt than you are to Rome. What is it then? Maybe just somewhere of itself, which makes it uniquely interesting from a traveller's point of view. Oh, and the skiing's great too.
Appropriately, my venture into this most-Austrian part of Italy started with a flight to a snowy Innsbruck airport, from where we crossed the Brenner Pass and into the South Tyrol. Two hours later, we found ourselves at the Bad Moos Resort and Spa, looking at slopes that make up part of the 100km of pistes in the Drei Zinnen ski area. From my balcony, I spied the Holzriese, Italy's steepest piste, which gouges an apparently vertical line through the pine forests that cloak the surrounding mountains.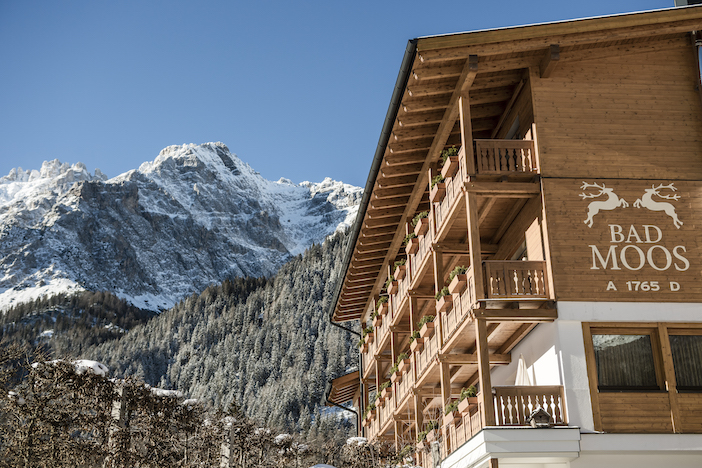 By this time, the lifts were shut, so I occupied myself with a session in the hotel's impressive spa. After an awkward moment with the automatic doors that separated the indoor and outdoor pools, I found myself under the night sky, bathed in warm water, staring up at a crescent moon. If there is a way to banish the January blues once and for all, this is it.
The next morning dawned cold and sunny, perfect for a hot-air balloon flight through the Alta Pusteria, where the Dolomite Balloon Festival was underway. Having assisted in the assembly and inflation of the balloon, we clambered into the wicker basket and watched nervously as Martin, our pilot, fired the afterburners. We drifted up, leaving our cares on the valley floor. Some of my co-passengers professed they'd gone weak at the knees at this point, but subsequently admitted it had something to do with Martin's passing resemblance to Hollywood hotshot, Bradley Cooper. Arguably, Tom Cruise might have been a better bet, as we re-enacted that famous scene from Top Gun and did a low-altitude fly-by of the church spire in Dobbiaco.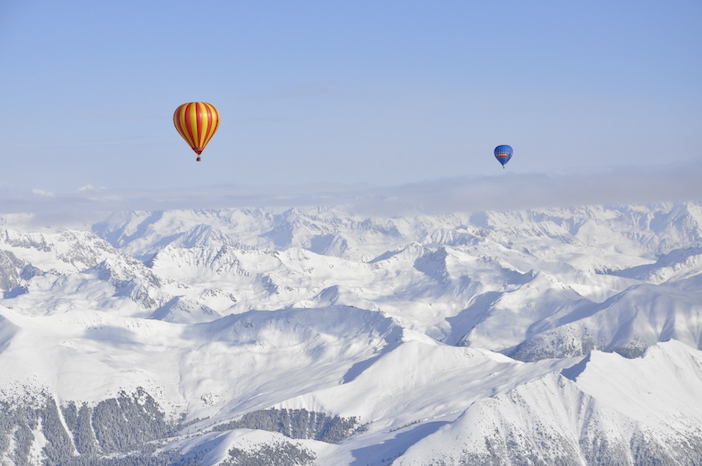 After a post-ballooning ritual where Martin set fire to our hair and doused the flames with a slug of prosecco – yes, really – we headed for lunch at Michelin starred restaurant, Tilia. Here, chef Chris Oberhammer conjures delicious plates of food from a larder of local ingredients. A pre-starter of lentil soup with white truffle and a chocolate praline dessert book-ended an excellent way to celebrate, in a more conventional way, our first balloon flight.
A brief digression here, but if you are a skiing gourmet or have pretensions as such, Italy should be your number one choice. Stodgy tartiflette and plastic wurst mit pommes are replaced by pappardelle with game ragu, filled pasta, mountain cheeses and cured meats. Moreover, the wines of the Piedmont and South Tyrol are superb, the coffee is the best in the world and apres-ski becomes aperitivi, which is a much better way to round off one's day. Dinner that evening required a skidoo ride up to the Jora mountain hut, where we enjoyed more delicacies: Alpine char, beetroot consommé, ravioli with potato and ceps, roast veal and local apricot with yoghurt and poppyseed.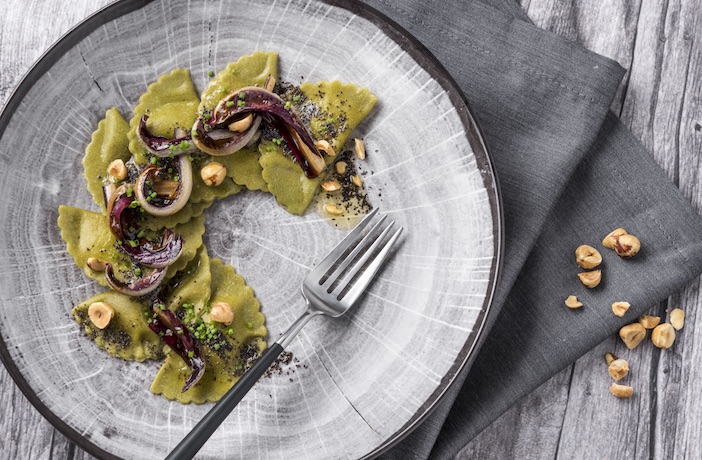 It is a wonder I managed to squeeze into my ski trousers the next morning, but the local grappa does a good job of incinerating anything that your own system can't deal with. Even if there wasn't much snow this early in January, the Drei Zinnen pistes were in good condition because of a widespread snow-making operation, which is becoming a must-have for low-lying ski resorts. Allied to this, the lift network is quick and modern, queues are non-existent and there was plenty of steep stuff and fun descents to keep me happy. There is not quite enough here to entertain keen skiers for a full week, but you can always make use of the Dolomiti Superski pass, which gives access to 1,200 km of pistes in 12 neighbouring ski areas.
That evening, lying back in the outdoor swimming pool and watching the fat flakes drift down to meet a swift end in the steaming water, I had a moment of clarity: tomorrow would probably be a powder day and my itinerary made no mention of skiing. After a moment's self-pity, I realised I was being a total plonker, told myself to be grateful for my good fortune and tried to catch a snowflake on my tongue before it met a watery grave.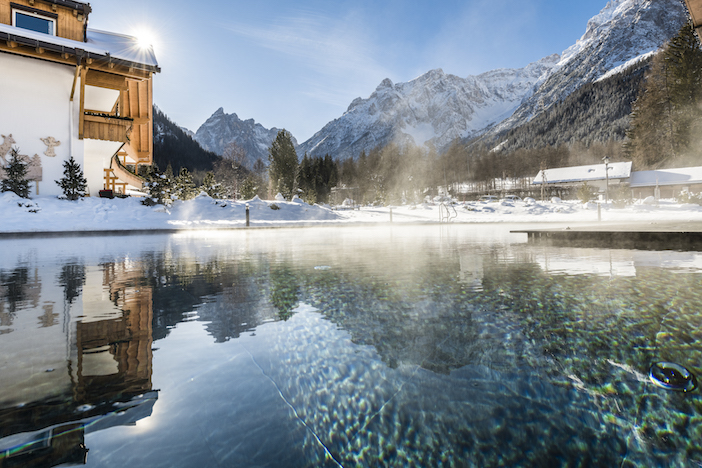 Nevertheless, Mr Grumpy did emerge on the gondola up to Kronplatz, which is a half hour train ride down the valley from the nearby village of San Candido. Thick snow covered the trees and the sun threatened to break through the clouds, but I was wearing jeans and en route to Lumen, a new museum of mountain photography that has been carved into an old cable car station.
Entry is €17, which seems a lot on top of the lift pass you'll need to get up there, but once inside you'll see no expense has been spared in the alteration of the fabric of the building and the exhibits. And if you are a mountain nerd like me, it really is great; an opportunity to step back from the slightly frenetic business of sliding down snowy hills on planks of wood and take a more considered view of one's environment.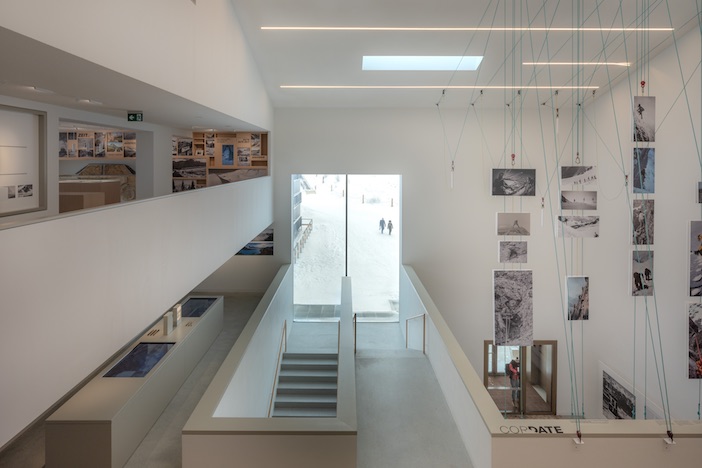 My mood continued to improve when we sat down to lunch at the in-house restaurant, Alpinn. Placed in a three-sided glass box, it is a minimalist counterpoint to the standard Alpine look and there wasn't a wooden beam or cuckoo clock in sight. The kitchen is overseen by chef, Norbert Niederkofler, who has three Michelin stars at his restaurant in the Rosa Alpina hotel in nearby San Cassiano. No surprises then, but lunch verged on the historic and was a fitting way to sign off our trip in style.
Rolling unsteadily across the tarmac at a still snowy Innsbruck, I knew it wasn't a case of if-, but when will I be back. The food, the warm welcome from people who actually seem happy to see you, the skiing, the spectacular scenery – what more could one wish for?
For more information about the South Tyrol, including details of events and what to see and do, visit the official tourism website at www.suedtirol.info. For more information about Bad Moos Resort & Spa, visit www.badmoos.it.